« KUHNER: President's socialist takeover must be stopped | Main | Mark Steyn on Names for Hurricanes »
September 03, 2010
Obama Justice Department Sues Sheriff Joe Arpaio of Arizona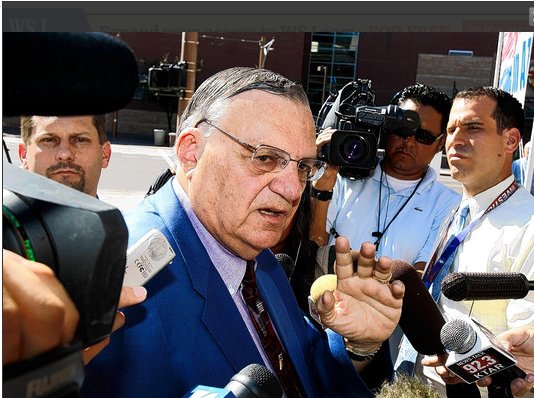 U.S. Sues Arizona Sheriff Over Policing Probe
The Justice Department filed a civil lawsuit Thursday against Sheriff Joe Arpaio of Arizona's Maricopa County, accusing him and his agency of stonewalling a probe into policing practices that some call discriminatory against Hispanics.
The suit is the latest move in months of legal sniping between the two sides. They are also fighting over whether federal prosecutors improperly contacted employees of the sheriff's office directly to seek testimony, instead of going through lawyers.
Robert Driscoll, a lawyer representing Mr. Arpaio and the Maricopa Sheriff's Office, didn't have an immediate response to the suit.
Mr. Arpaio is the elected sheriff for Maricopa County, where Phoenix is located. He has become a vocal critic of illegal immigration and has carried out operations aimed at detaining immigrants and turning them over to federal law enforcement for deportation.
Civil-rights groups have long called Mr. Arpaio's policies discriminatory. Soon after Attorney General Eric Holder took office last year, the Justice Department said it was investigating those complaints and looking into possible violations of Hispanics' civil rights.
The Justice Department suit, filed in federal court in Phoenix, said the Maricopa County Sheriff's Office receives millions of dollars in federal funding and is required to cooperate with federal investigations as a condition of receiving those funds.
"The actions of the sheriff's office are unprecedented," said Thomas Perez, assistant attorney general for the department's civil rights division. "It is unfortunate that the department was forced to resort to litigation to gain access to public documents and facilities."
Robert Driscoll, a lawyer for Mr. Arpaio and the sheriff's office, said, "I think they're just trying to distract from the fact they have no underlying case. What they don't want to do is to allege that there is any discrimination by the Maricopa sheriff's office, because if they have to prove that they can't."
The two sides met last week to try to work out a deal and evidently emerged with differing views of what occurred. A U.S. official said Justice Department lawyers believed Mr. Driscoll had agreed to the department's document request. But after the Justice Department sent him a letter outlining terms of agreement, Mr. Driscoll responded with a letter laying out certain conditions for cooperation, the official said.
Mr. Driscoll didn't dispute that description of events. "We are never going to agree on everything, but I thought we could go a long way to meeting their requests," he said.
Mr. Arpaio blamed the breakdown on the Justice Department, saying his lawyers tried to cooperate with Washington at last week's meeting.
"They smiled in our faces and then stabbed us in the back with this lawsuit," he said. "The Obama administration intended to sue us all along, no matter what we did to try to avert it."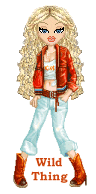 Wild Thing's comment........
Its official. They filed on Sheriff Joe!
Three lawsuits! Does anybody in the country not think this is harrassment? Where are our senators? Why are they not screaming at the top of their lungs? Where are the other states?

No wonder Obama likes Hugo Chaves. Birds of a feather. This is just another way of controlling state through intimidation.
The message to all who oppose Hussein is clear. Submit or face the consequences.

"The actions of the sheriff's office are unprecedented," said Thomas Perez, assistant attorney general for the department's civil rights division. "It is unfortunate that the department was forced to resort to litigation to gain access to public documents and facilities."
This coming from the same Justice Department that has repeatedly refused to turn over documents to the Civil Rights Commission regarding the Black Panther case. Ironic, eh? The same Thomas Perez who can't find intimidation in Black Panthers wielding clubs outside a polling place.
And Obama's defiant refusal to show his records is also "unprecedented"!
Obama has his boot on Sheriff Joe.
"The economy? Jobs? Who cares about that, I gotta slap down a sheriff for doing his job."

Sheriff Joe's reply should be as such:
"You're either with us, or you're with the Cartel."
From The Washington Times...... an article titled........."Signs in Arizona warn of smuggler dangers"
Drivers advised to travel north!
The federal government has posted signs along a major interstate highway in Arizona, more than 100 miles north of the U.S.-Mexico border, warning travelers the area is unsafe because of drug and alien smugglers, and a local sheriff says Mexican drug cartels now control some parts of the state.
The signs were posted by the Bureau of Land Management (BLM) along a 60-mile stretch of Interstate 8 between Casa Grande and Gila Bend, a major east-west corridor linking Tucson and Phoenix with San Diego.
They warn travelers that they are entering an "active drug and human smuggling area" and they may encounter "armed criminals and smuggling vehicles traveling at high rates of speed." Beginning less than 50 miles south of Phoenix, the signs encourage travelers to "use public lands north of Interstate 8" and to call 911 if they "see suspicious activity."
Pinal County Sheriff Paul Babeu, whose county lies at the center of major drug and alien smuggling routes to Phoenix and cities east and west, attests to the violence. He said his deputies are outmanned and outgunned by drug traffickers in the rough-hewn desert stretches of his own county.
"Mexican drug cartels literally do control parts of Arizona," he said. "They literally have scouts on the high points in the mountains and in the hills and they literally control movement. They have radios, they have optics, they have night-vision goggles as good as anything law enforcement has.
"This is going on here in Arizona," he said. "This is 70 to 80 miles from the border - 30 miles from the fifth-largest city in the United States."
He said he asked the Obama administration for 3,000 National Guard soldiers to patrol the border, but what he got were 15 signs.
.
This is also important to know .......................
BYRON YORK IN THE WASHINGTON EXAMINER:
Perez is pursuing his goals with a lot of muscle, powered by a major appropriations increase in President Obama's 2010 budget. "I am going to be calling each and every one of you to recruit you, because we've got 102 new positions in our budget," Perez told the liberal lawyers last year. "One hundred and two people, when added to a base of 715 people. … that's a real opportunity to make a difference."
YORK: Perez is playing a leading role in the Justice Department's lawsuit against Arizona's new immigration law. He is promising a huge increase in prosecution of alleged hate crimes. He vows to use "disparate impact theory" to pursue discrimination cases where there is no intent to discriminate but a difference in results, such as in test scores or mortgage lending, that Perez wants to change. He is even considering a crackdown on Web sites on the theory that the Internet is a "public accommodation" as defined by the Americans with Disabilities Act.
To do all this, Perez has come up with some novel ideas. For example, in a recent lending discrimination case, he forced the defendant — who settled the case without admitting any wrongdoing — to pay not only the alleged victims but to funnel $1 million to unrelated "qualified organizations" to conduct social programs.
Posted by Wild Thing at September 3, 2010 08:47 AM
---
Comments
Obama and Holder are doing all they can to ensure illegals and drug cartels overrun Arizona and the rest of the country.
Posted by: BobF at September 3, 2010 09:57 AM
---
I hope there is enough room on the gallows for Perez when "WE THE PEOPLE" clean up our country.
Posted by: Eddie (Enemy of the State) at September 3, 2010 10:53 AM
---
Laura Ingraham sat in for oreilly last nite and had on some libiot lawyer, who accused the Sheriff of being Bull Connor.
They are trying to turn this into a race issue.
Laura did well and held her ground and wanted to know where the water hoses were that the Sheriff joe was using.
Posted by: Mark at September 3, 2010 12:40 PM
---
Bob, they really are, and when it gets to every State and honeslty it really might.....oh gosh that is so scary.
Posted by: Wild Thing at September 3, 2010 11:05 PM
---
Eddie, he is sooo horrible, he really fits right in with the kind of people Obama surrounds himself with. There is a glee in this perez jerk about how he wants to go after decent people.
Posted by: Wild Thing at September 3, 2010 11:07 PM
---
Mark, thank you for sharing that about Laura, she is such a good person and she can really do well against the enemy.
Posted by: Wild Thing at September 3, 2010 11:09 PM
---