« Enough's Enough: Obama Has Conceded Ineligibility | Main | Lookout! Government Peering at You With X-rays on Highway »
September 14, 2010
Checking In With Our Troops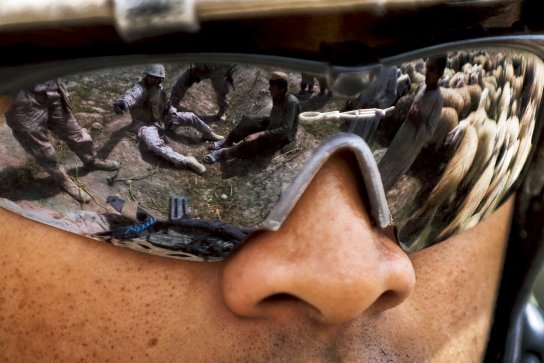 U.S. Marine Corps Cpl. Anthony Patris reflects a scene in his sunglasses as his interpreter speaks with Afghan boys after an improvised explosive device detonated in Pinjadoo in Afghanistan's Helmand province, Sept. 6, 2010. The explosion did not injure any Marines or Afghans. Patris is a vehicle commander assigned to Headquarters Company, 3rd Battalion, 3rd Marine Regiment. U.S. Marine Corps photo by Sgt. Mark Fayloga
.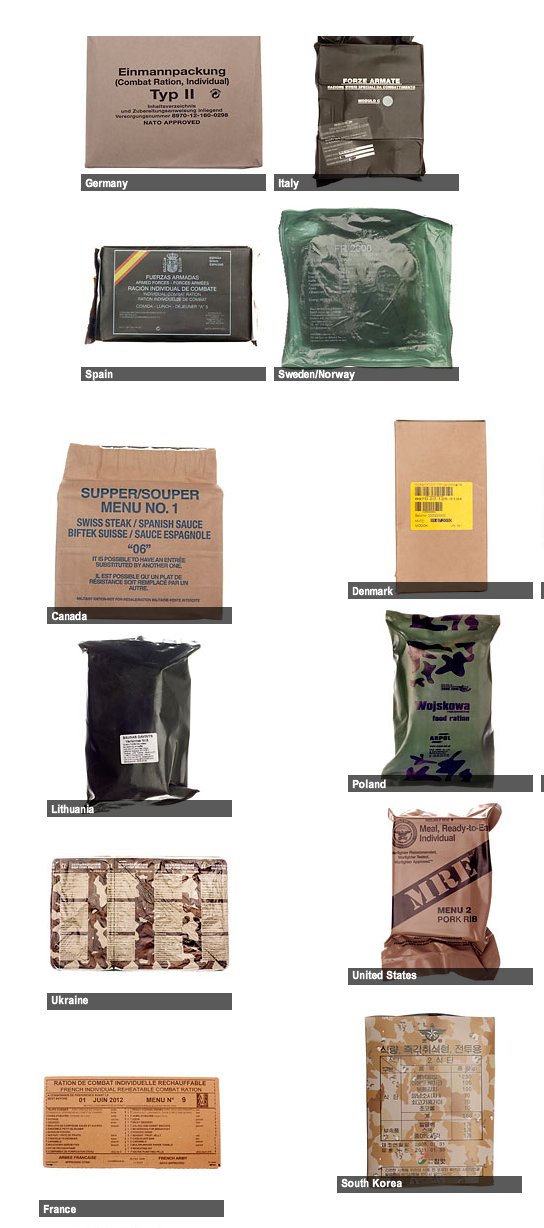 Troops from nearly 50 lands dine on combat meals in Afghanistan — each reminding them of where they'd rather be.
You can CLICK here to click on each one to read about them.
A Taste of Home in Foil Packets and Powder
EARLY in the war in Afghanistan, among the international troops who mingle at Bagram Air Base, a single French combat ration (cassoulet, perhaps, with deer pâté and nougat) could be traded for at least five American Meals Ready to Eat, better known as M.R.E.'s.
Recently though, the barter values have changed.
A fellow journalist who just got back from an embed with the French told me that today they look forward to visiting the Americans for a meal. American rations — hamburgers, chili, peanut butter, candy — they say, are "fun."
Each year, among the countries with troops in Afghanistan — the current number is 47 — tens of millions of dollars are spent researching how to fit the most calories, nutrition and either comfort or fun into a small, light package. The menus and accompaniments are intended not just to nourish but also to remind the soldier of home. Some include branded comfort foods — Australians get a dark-brown spreadable yeast-paste treat called Vegemite, for example — while others get national staples like liverwurst (Germany), or lamb curry (Britain's current culinary obsession).
Some of the contents are practical. Italians get three disposable toothbrushes per day of combat. Americans get pound cake, which military folklore says reduces the need for toilet breaks.
Other items are just, well, quirky. For nine years now, I've been travelling mostly with the Americans when I'm in Iraq and Afghanistan, and one item they're known for is the Assorted Charms that are one of several hard candies randomly distributed with M.R.E.'s.
Never eat the Charms, the troops say; they're unlucky. It's just a superstition, of course — I've never met a soldier who could tell me why they were unlucky — but the G.I.'s take it seriously. I sometimes think that if I ever got separated from my unit in the field, I'd just follow a trail of discarded unopened Assorted Charms to find them again.
Among the soldiers I have known, the peanut M&Ms are the hands down favorite item (it used to be Skittles), and they're currency. Want to swap out your shift pulling guard duty? A packet might well buy you the favor.
The soldiers like to mix and match some of the ingredients to create their own drinks and meals. Army Rangers have been taught at least as far back as the Vietnam War how to make Ranger Pudding — roughly, it's water mixed with cocoa powder, instant coffee, melted chocolate, Tootsie Roll, sugar and coffee creamer.
"Combat espresso," on the other hand, is brutal. The creamer, instant coffee and sugar are poured directly into one's mouth and then washed down with water. In 2004, I survived on those things for two weeks with a Marine company during the battle for Falluja.
In combat, eating is often the only good thing about a day. When a soldier or marine sits down to warm up his M.R.E., he's not being shot at, he's not losing friends. It's almost a ritual, and the very act of opening one of these packages suggests safety, however brief it may be.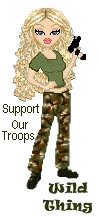 Wild Thing's comment........
Interesting write up about the food swaps and from the NY Times, that surprised me too.

Posted by Wild Thing at September 14, 2010 04:44 AM
---
Comments
Luckily our guys are getting toilet paper.
I hope these MREs are good. I remember when they first came out and the troops traded them for the old C rations. From what I have heard the MREs have changed for the better.
Posted by: TomR,armed in Texas at September 14, 2010 10:44 AM
---
Oh yeah life in the field Ham n' Limas for Thanksgiving...Mmmm...mmmm...Sheeeeeeeeeeeit and the REMF always got the hot meal.
Posted by: Mark at September 14, 2010 06:52 PM
---
Tom and Mark thank you for sharing about the MRE's.
Posted by: Wild Thing at September 15, 2010 12:12 AM
---