« Working Hard To Destroy Business and Those That Hire, Obama Says NO To Bush Tax Cuts For Higher Incomes | Main | Wellesley, Massachusetts Public School Students Taken To Mosque on Field Trip and Pray To Allah »
September 16, 2010
Carla Bruni Shares Some Insight On Michelle hater of America Obama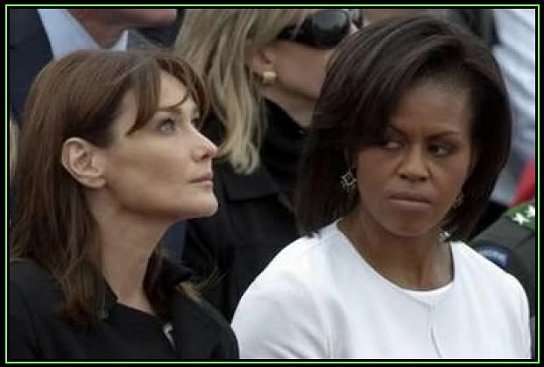 Catty Carla Bruni lifts lid on Michelle Obama's 'hellish' job

Michelle Obama thinks being America's First Lady is 'hell', Carla Bruni reveals today in a wildly indiscreet new book.
Miss Bruni reveals that Mrs Obama replied when asked about her position as the U.S. president's wife: 'Don't ask! It's hell. I can't stand it!'

Details of the private conversation, which took place at the White House during an official visit by Nicolas Sarkozy last March, emerged in Carla And The Ambitious, a book written in collaboration with Miss Bruni.

In it, she says one term as French president 'will be enough' for her husband and suggests he might take tips from his friend Tony Blair: 'Why not start making money?'
According to a friend quoted in the book, the Sarkozys have been 'impressed and inspired' by Mr Blair's fortune built up since he left Downing Street.
Miss Bruni also takes a thinly veiled swipe at Princess Diana when talking about a visit to an African hospital full of Aids victims earlier this year.
She says she refused requests by French cameramen for a photograph of her carrying a baby in her arms 'like Lady Di', adding: 'There's something obscene in promoting yourself when you are giving of yourself.'
In the book, the Italian model 42, accuses French government officials of trying to 'kill' her husband with too much work, and claims Mr Sarkozy lets himself be 'bullied' into complying.

Comparing herself to other leaders' wives, Miss Bruni says: 'I'm so different. I was a model. I sing, and I want to continue to sing. And on top of that you expect me to be subtle?' And she admits: 'I am a femme fatale, my dear.'
She also recounts a telephone row with Mr Sarkozy's ex-wife Cecilia, who warned her that Mr Sarkozy had 'not yet turned a new page' after their marriage.
Miss Bruni replied: 'Not only has he turned a page but he's changed books altogether. And you are the only person on earth not to have noticed it.'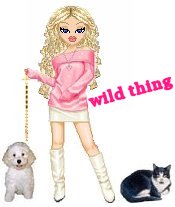 Wild Thing's comment........
Believe me Carla, it is Hell for us having Michelle Obama as First Lady. Poor Michelle ( NOT) traveling the world on taxpayer funded junkets while wearing outlandish outfits that make you look like a reject from the bar scene in Star Wars.
I think this is hilarious, this will tick of Michelle I would suppose and that makes it a double pleasure. Michelle was giving Carla lots of mean looks when they had to be together in France for a few days. I don't think Michelle or Obama have any real happiness in either one of them. They just look really miserable all the time.
Regarding the title they gave for the write up..."Catty Carla Bruni lifts lid on Michelle Obama's 'hellish' job"......yes Carla is a tad catty. hahahha but if I had to spend time forced on me to be with Michelle Obama I would be worse then catty. hahaha I would probably call in sick. hahha
Posted by Wild Thing at September 16, 2010 02:55 AM
---
Comments
Of course it would be hell for her. She's representing a country she's never been proud of.
Posted by: BobF at September 16, 2010 10:55 AM
---
Speaking of the French, I just finished a book titled "The Law" by Frederic Bastiat. If you haven't read it, please do. It's a short book but somewhat hard to read in that it was written 160 years ago. It was definitely worth the effort.
Posted by: Jim at September 16, 2010 04:22 PM
---
And the French Embassy has said the quotes were untrue. hahahahahahahaha!
Don't forget everyone "Dexter" season 5 is coming to Showtime. When have you ever rooted for a serial killer?
Posted by: Eddie (Enemy of the State) at September 16, 2010 05:17 PM
---
Bob, exactly, good point, she has no love for America.
Posted by: Wild Thing at September 17, 2010 12:37 AM
---
Jim, thank you I will check it out.
Posted by: Wild Thing at September 17, 2010 12:41 AM
---
Eddie, oh wow hahaha thanks for the update.
And yes we are looking forward to the season 5 of Dexter.
Posted by: Wild Thing at September 17, 2010 12:43 AM
---