« Obama's R.O.E. Called 'Courageous restraint' Is Putting Troops Lives At Risk | Main | "MUJAHIDEEN" Muslim Day Parade ....Muslims Taking Over .... A Photo Essay »
September 27, 2010
Adopting a Soldier: Wisconsin couple gives Soldier a new Family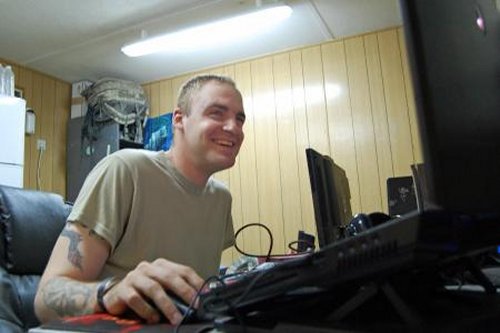 Spc. Christopher Sandri, an infantryman with Company A, 3rd Battalion, 69th Armor Regiment, 1st Advise and Assist Brigade, 3rd Infantry Division, United States Division
Adopting a Soldier: Wisconsin couple gives Soldier a new Family
By Sgt. Mary S. Katzenberger
BAGHDAD

When Spc. Christopher Sandri travels home for leave this month, he plans on enjoying home-cooked meals and fishing for bass.
Sandri, an infantryman with Company A, 3rd Battalion, 69th Armor Regiment, 1st Advise and Assist Brigade, 3rd Infantry Division, United States Division – Center, said the best moments of leave, however, will be those spent with his parents, John and Dorean Sandri of Green Bay, Wis.
Chris said he feels strongly about this because until two years ago, he didn't have parents to visit while on leave. Nor did he have parents to send him care packages while he was deployed to Anbar province from October 2007 to April 2008.
Chris said what was even more painful was standing on the parade field alone after redeploying April 2008 to Fort Stewart, Ga., while other soldiers went home with their families.
"I pretty much sucked it up and went to the barracks," Chris said.
Chris, a Laurel, Md., native, was born Christopher Kroll on October 14, 1983, and was practically raised by his grandparents because his biological mother was unable to do so.
While Chris had maintained a strained relationship with his mother since joining the military and leaving Maryland, the relationship worsened after he left the U.S. for an assignment in Germany.
"She wasn't happy I couldn't contact her all the time," Chris said. "The longer and longer I was over in Germany, the more and more she just grew away from me."
After three years and a 6-month deployment to Afghanistan, Chris moved to Fort Stewart, Ga. It was then, over a phone call, that Chris's biological mother ended all contact with her son.
"Her exact words that day when I called her were, 'I have no son anymore,'" Chris said. "At the time, it didn't bother me because we were in the middle of training; it didn't click."
Chris said two "rough" years later—by chance—he met his future adoptive mother, Dorean, through an online chat server.
Dorean, an executive secretary for the not-for-profit organization, Adopt a U.S. Soldier, read Chris' profile and upon realizing he was a soldier, suggested Chris meet her husband, a Vietnam War veteran. Once Chris conversed with the man, the three adults became very close and talked frequently.
Through months of communication the Sandris heard about Chris' Family history. Knowing Chris had nowhere to go over the holidays, the couple invited him to spend Christmas of 2008 with them in Green Bay; Chris accepted.
The visit was a meaningful experience for Chris, especially when one evening, while sitting in the garage, John Sandri asked the soldier if he would consider becoming his and Dorean's son. The question caught Chris off guard at first, and he said he needed to think about it. It only took Chris two days to decide.
"It was like alright, I'm going to do it—I don't have anybody else to trace back to." Chris said. "I actually found out [part of the reason] behind it was because [John and Dorean] can't have children."
Chris Kroll and his soon-to-be parents submitted the necessary paperwork to the courthouse. In early 2009, the Soldier officially became known as Christopher Sandri.
Chris said since the adoption, it has been easy fitting in with the family.
"If there's one thing I've got to admit about John and [Dorean], their whole family—every last one of them—is nuts," Chris said with a laugh.
Chris said he has especially appreciated being able to talk to his adoptive father about things that have happened during his deployments. On the soldier's last visit to the Sandri household prior to his current deployment, he said his adoptive father broke down into tears when sharing some of his memories from the Vietnam War, in which he served as a medevac pilot.
"It brought me to tears," Chris said. "He sat down and he looked at me, and figured it's only fair that if he spilled it all out to me then it won't make me feel awkward if for some reason during my career I need to talk to somebody."
Chris said Dorean always lets him know he's wanted and that she loves him completely.
"It makes a difference knowing that if I have a hard day at work, I can get online and gripe to my parents," he said. "My father will take it like a champ and find a way to make me laugh and my mother will be not too far behind with a promise of fresh made cookies coming in the mail."
"All in all, John and Dorean are the best thing that's ever happened to me," Chris said.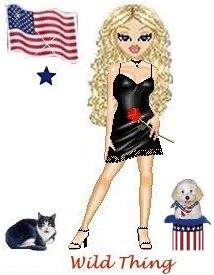 Wild Thing's comment.........
Wonderful story! I love to learn about all the ways people care and support our troops. So many times too the friendships become lifelong.
Posted by Wild Thing at September 27, 2010 03:47 AM
---
Comments
Posted by: Mark at September 27, 2010 07:26 AM
---
Best Wishes to the Sandri family. Great story WT. Thanks
Posted by: Jim at September 27, 2010 10:44 AM
---
Stories like this make a day better for everyone.
Posted by: TomR,armed in Texas at September 27, 2010 05:56 PM
---
Thank you everyone for being here.
Posted by: Wild Thing at September 27, 2010 11:44 PM
---