« Excellent Rick Perry Ad About Democrat Opponent Bill White | Main | Sarah Palin Confronted In Homer, Alaska By A Fraud »
August 10, 2010
Virginia Lawmakers Blast Gates Plan to Cut Major Military Command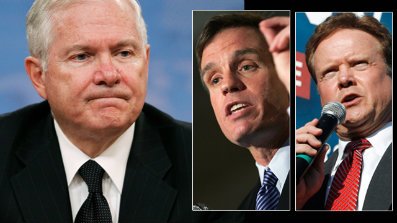 Virginia Lawmakers Blast Gates Plan to Cut Major Military Command
Defense Secretary Robert Gates on Monday announced a plan to shed a major military command in Virginia as part of his effort to strip billions from the Pentagon budget, drawing heated objections from state lawmakers who call the center essential.
Gates, in a lengthy press conference Monday afternoon, outlined his plan to eliminate Joint Forces Command in Norfolk, Va., and seek deep cuts elsewhere in the budget. He acknowledged the economic impact the closure could have for thousands of workers in the Norfolk region, but stood by his decision as a critical step in bringing defense spending under control.
"I am determined to change the way this department has done business for a long time," Gates said.
Gates estimated that the Virginia command accounts for 2,800 military and civilian positions, as well as 3,000 contractors, at an annual cost of at least $240 million. Though some employees could be reassigned elsewhere, Gates said a "substantial number" of full-time workers would have to find other positions or leave the Defense Department.
Virginia lawmakers slammed the decision, condemning the move with a steady stream of written statements while assembling for a press conference Monday afternoon in Norfolk. Aside from concerns over jobs, they argued that the command could actually help the Pentagon save money.
"I can see no rational basis for dismantling JFCOM since its sole mission is to look for efficiencies and greater cost-savings by forcing more cooperation among sometimes competing military services," Sen. Mark Warner, D-Va., said in a written statement. "In the business world, you sometimes have to spend money in order to save money."
He vowed to work with the congressional delegation to retain as many jobs connected to the command as possible. Norfolk is one of 10 major U.S. military commands.
Sen. Jim Webb, D-Va., also called the move a "step backward" and one that could hurt military capability. "I will carefully examine the justifications for this decision as well as its implications for the greater Norfolk community," he said.
Rep. Glenn Nye, D-Va., pledged to do the same, ripping the announcement as "short-sighted and without merit."
"I appreciate the department's attempt to rein in spending, but I have yet to see any substantive analysis to support the assertion that closing JFCOM will yield large savings," he said.
Norfolk Mayor Paul Fraim agreed with Warner that the command could save money. He told FoxNews.com that the station is "valuable" and the congressional delegation has the "leverage" to negotiate with the Pentagon.
"I think we want to resist this," Fraim said. He said the simulations and other exercises conducted at Joint Forces Command are critical and must be performed somewhere.
The mayor said the other installations that have made Norfolk a national military hub will stay regardless of the Joint Forces Command decision.
Gates on Monday also detailed other efforts to reduce waste and duplication, including a plan to cut the Pentagon's use of outside contractors by 10 percent next year and rein in the growth of senior leadership positions. Gates called for a freeze on the number of employees working for his office, defense agencies and combatant commands for the next three years and a cut of at least 50 general and flag officer positions and 150 senior civilian executive positions over the next two years.
Gates declined to say how much money would be saved by shutting down the command, which holds more than a million square feet of real estate in Suffolk and Norfolk. Some savings will be offset by the cost of shifting some jobs and roles elsewhere, he said.
Rep. Ike Skelton, D-Mo., chairman of the House Armed Services Committee, released a statement saying Gates' proposals "appear to efficiently find savings" in the Pentagon budget. He said he would hold a hearing when Congress returns from its August recess.
The Virginia-based command trains troops from different services to fight together.

Joint Forces Command was the largest single cut announced Monday.
Six Virginia lawmakers issued a written statement opposing the cut last month after a board of advisers first proposed the idea. The lawmakers, including Webb and Warner, called the proposal "illogical" and potentially "harmful" to military capability.
The Pentagon has already announced a target of cutting $100 billion over five years. And earlier this year Gates ordered a top-to-bottom paring of the military bureaucracy in search of at least $10 billion in annual savings needed to prevent an erosion of U.S. combat power.
Gates took aim at what he called wasteful business practices and too many generals and admirals, and noted that "overhead" costs chew up as much as 40 percent of the Pentagon's budget.
Big cuts are essential considering the recession and the likelihood that Congress no longer will give the Pentagon the sizable budget increases it has enjoyed since the attacks of Sept. 11, 2001, Gates and other defense leaders have said.
The current defense budget, not counting the cost of fighting in Iraq and Afghanistan, is $535 billion; the administration is asking for $549 billion for 2011.
Most full combatant commands correspond to regions of the world, such as Pacific Command, but others are organized around a concept or mission rather than geography.
JFCOM lists its mission as training troops from all services to work together for specific missions. It tries to make sure equipment used by different services works together, and looks for gaps in capabilities within military services that could be filled by a specially trained joint force.
The command is headed by a four-star military officer, the highest grade currently in use. Marine Gen. James Mattis was its commander until named last month to replace Army Gen. David Petraeus as head of U.S. Central Command. His replacement will be Gen. Ray Odierno, now the war commander in Iraq. Odierno's job will be to eliminate his own office, officials said.
The plan Gates outlined is similar to one suggested last month by the Defense Business Board, a panel of company executives who advise the Pentagon. The board said Gates should cut the number of civilian employees by at least 15 percent. The panel also identified Joint Forces Command as contributing to much of the contractor bloat because it had more contractors than government employees on its payroll.
.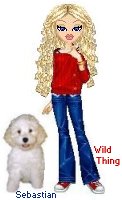 Wild Thing's comment.......
Sheesh! The only spending that this bunch of bozos can cut is in the military! ??!! The Kenyan Clown is determined to destroy our military.
Defense is constitutional mandated. It should be the last thing cut.

The ONLY federal employees facing the possibility of job cuts under this administration are Defense Department employees. And Robert Gates, ass-kissing flunky extraordinaire is right out there cutting jobs in the middle of the worst recession in decades. Cutting jobs of the only competent federal workforce there is. Closing the base will mean not just re-assigning the personnel but thousands of civilian jobs will be lost in the community.

....Thank you Mark for sending this to me.

Mark
3rd Mar.Div. 1st Battalion 9th Marine Regiment
1/9 Marines aka The Walking Dead
VN 66-67


Posted by Wild Thing at August 10, 2010 05:49 AM
---
Comments
I thought they were going to cut Cinclantflt( Commander in chief Atlantic Fleet) but I guess no but JFCOM(Joint Forces) This is bad news anyway you slice it.
I was talking to a Senior Chief Petty Officer (ret) Another RVN VET 62-85 and he still keeps in touch with his friends in the Navy. He was saying the biggest problem is most of the Ships at Sea are all undermanned. He said what they need is more Sailors and fewer Admirals.
It was great to talk to him cause he was in alot of the places I was. I said, hell if they cut the Gator Navy, the Marines will have to row their own boats. He said no he didn't think the Gators would be cut. That means all the commands at Little Creek would still be intact. That is ASW(anti-submarine Warfare), Gators and other coordinations for Navy-Marine operations would be ok.
But this is by itself bad news. It means the White House id desparate and the first place the commie's look to cut funding is the Military.
I wonder if this is the beginning of the standing down the Military.
Posted by: Mark at August 10, 2010 07:15 AM
---
I just saw the reason, Marine General Mattis was in charge. He is as close to a clone to Chesty as there ever was. He must've rubbed some people the wrong way.
Two it is very unusual for the Marines to have more than one 4-star General. Politics as ususal, democrat style.
Posted by: Mark at August 10, 2010 08:39 AM
---
So, the Virginia Democrats are whining. It reminds me of Ted Kennedy. He hated the military except that part that brought money to Mass. Gates does plan to get rid of some flag(Generals and Admirals) positions which is good. As far as eliminating a Command, I would much rather Congress saves money by cutting it's own pensions.
Posted by: TomR, armed in Texas at August 10, 2010 10:06 AM
---
Seems that I saw a story a few days ago where Virginia was the next to push back on the healthcare law. Hmmm.
Posted by: Jim at August 10, 2010 01:46 PM
---
Actually, Gates *might* be right on this one. The Obamunists are wrong to cut defense in a dangerous world, of course. However, some defense programs are less important, and more bureaucratic, than others.
With deficits soaring and combat operations pretty much wrapped up in Iraq, it's inevitable that there will be a draw down in costs and infrastructure dedicated to supporting that fight.
If history teaches us anything, it's that politicians will cut way too much and usually in the wrong places (F-22 Raptor anyone? The Obamunist cancelling that program was the dumbest move since Jimmuh Carturd cancelled the B-1 in 1977). If Gates can get ahead of that curve and cut the lower priority and more bureaucratic items, like this one in Virginia, to spare the essentials, all the better.
Gates also promised to conduct a "zero-base review" of all defense intelligence programs, meaning an examination of each and every program and its budget. If only *all* of the federal government, not just the DOD, was doing this. Justify your existence from scratch, not just because "we've always done this".
On the other hand, *some* sort of joint command and interservice coordination is important. Nobody wants another "Operation Eagle Claw", where a lack of joint coordination ruined the mission.
Posted by: Curmudgeon at August 10, 2010 03:07 PM
---
We're heading through Norfolk soon and this is all RED STATE payback from Obamanation...
DiXie is DiXie in OLD VIRGINIA!
Posted by: darthcrUSAderworldtour07 at August 10, 2010 08:05 PM
---
Huge thank you to all of your for your input about this.
Posted by: Wild Thing at August 11, 2010 02:20 AM
---