« OMG Must See Video of Yet Another Reason Why I Am NOT A Democrat! ~ Meet Democrat Chris Young LOL | Main | Democrat Rep. Bobby Bright (Ala.) Jokes About Speaker Pelosi Dying and Audience Laughs »
August 27, 2010
This Is One Of The Most Pathetic Things I Have Ever Seen ~Desperate Ed Schultz Pleads With Listeners To Support MSNBC
SCHULTZ: "You have no idea, in my bones, in my very soul, in my heart I want to kick Fox's ass. I want to drive them into the ground I want to spike the ball, I want to kick 'em in the teeth on the way back to the huddle, And then I want to turn around and lift my leg on 'em,..... they lie, they cheat, they steal..........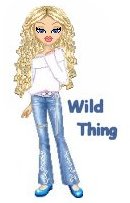 Wild Thing's comment........
Ed Schultz is nuts. Fox Derangement Syndrome.
He sounds like Anthony Weiner on the house floor.
Just so you know, Bret Baier triples the Ed Show in the ratings.
Not only that but he is a total liar.....LIAR. Check out the chart below.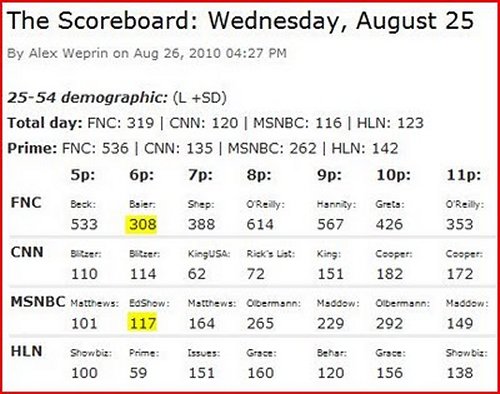 Posted by Wild Thing at August 27, 2010 07:45 AM
---
Comments
Ed Schultz is nothing but an A-hole.
Posted by: BobF at August 27, 2010 08:57 AM
---
Sounds like a desperate nut case off the meds.
Posted by: TomR, armed in Texas at August 27, 2010 10:24 AM
---
F'king pathetic. Another Al Franken. The "Voice of the Bison" must have been kicked in the head too many times when he was in the football pile.

Posted by: Jack at August 27, 2010 10:55 AM
---
Did they ever think, that what they say may have someting to do with their ratings, the anger and vitriol just drips like slime out of every pore.
And then there is larry King good ole softball Larry. His ratings are low because he's just boring.
Posted by: Mark at August 27, 2010 06:08 PM
---