« Virginia Lawmakers Blast Gates Plan to Cut Major Military Command | Main | Germany Shuts Down Hamburg Mosque Linked to 9/11 »
August 10, 2010
Sarah Palin Confronted In Homer, Alaska By A Fraud
Sarah Palin confronted an unhinged leftist in Homer, Alaska who hates her… But wants her as governor. How crazy is that!
H/T Gateway
From the video: Sarah Palin engaged in a back and forth with a protester in the city of Homer, AK. After the first few talking points the protester ran out of ammo and Ms. Palin cleaned up the mess. What began as a confrontational moment ended with the former Alaska Governor telling her detractor "we probably have a lot in common" and the protester agreed.

.

UPDATE: Apparently, the "lame-stream" media is now commenting on Sarah Palin's eyebrow movements.
Sarah Palin responded :
The LSM has now decided to use this brief encounter for another one of their spin operations. They claim I – wait for it – "appear to roll my eyes" when the lady tells me she's a teacher. Yes, it's come to this: the media is now trying to turn my eyebrow movements into story lines. (Maybe that's why Botox is all the rage – if you can't move your eyebrows, your "eye rolling" can't be misinterpreted!) If they had checked their facts first, they would have known that I come from a family of teachers; my grandparents were teachers, my father was a teacher, my brother is a teacher, my sister works in Special Needs classrooms, my aunt is a school nurse, my mom worked as a school secretary for much of her professional life, we all volunteer in classrooms, etc., etc., etc. Given that family history, how likely is it that I would "roll my eyes" at someone telling me that they too work in that honorable profession? Stay classy, LSM.
HERE is one of the articles from the liberal media:

Did Sarah Palin Roll Her Eyes at Teaching?
Sarah Palin was up in Homer, Alaska, recently, fishing with her Discovery Channel crew in tow, when she was met with an unpleasant protest: a giant banner reading "Worst Governor Ever," unfurled nearby by local Kathleen Gustafson. For whatever reason — maybe she wanted to win over a heart and mind — Palin decided to go over and talk to the woman. Part of the conversation was filmed on a camera phone by Billy Sullivan (who owned the property), despite the best efforts of Todd Palin and Palin's security to block his view. The whole exchange is a little uncomfortable to watch — Gustafson tells Palin she sold out and became a celebrity, Palin offers mock gratitude in return. But all in all, it's nothing to write home about — except for one moment (which comes at the 1:10 mark). When Palin asks Gustafson what she does for a living, and Gustafson tells Palin she's a teacher, Palin and her daughter groan and exchange eye rolls as if to say, "Of course, only a teacher would be such a liberal nut." Belittling teachers? Palin really is a maverick.
.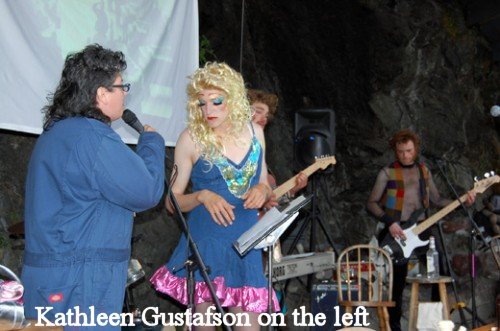 UPDATE OMG LOOK at this...............................

(HOMER TRIBUNE/Randi Somers) – Director Kathleen Gustafson (left) steps in to provide harmony as Hedwig (Atz Lee Kilcher) polishes up his performance at Pier One on Aug. 28.
Kathleen Guftafson is not a teacher.
Kathleen Gustafson Radio Stunt? ****UPDATE: Singer in a Drag-Queen Band Too?***Much More, this was a Complete Setup that Backfired****UPDATE: Gustafson a "Theater Tech"?
by MacRanger of Macs Mind blog

Been digging around on Mrs Gustafson.
Seems she's a personality of sorts on KBBI AM 890 Homer Alaska. Far cry from just being a "school teacher" don't you think?
Wanna bet she set this up as a publicity stunt. It would appear after getting aptly handled by Sarah she should have stayed at home.
UPDATE: Here's a story about her singing abilities with a drag-queen band. Whoohoo!
UPDATE II: So far no confirmation of Gustafson's claim to be a school teacher. However she is President, Board of Directors, Kachemak Bay. Family Planning Clinic (KBFPC) in Homer, AK. Figures.
UPDATE II: According to the Alaska Teacher Certification website there is a Kathleen Gustafson registered, but unknown if this is her.
UPDATE III: It's not unless she lives in Juno.
UPDATE IV: More to come, but this wasn't at all what it was purported to be. Much of it surrounds Shannyn Moore, whom Palin threaten to sue a while back and who along with a group of bloggers is a member in good standing of the Palin Derangement Syndrome Club.
Want to guess who else is a member of the club?
UPDATE VI: According to the Kenai Peninsula Borough School District website there is no Kathleen Gustafson registered as a teacher in the district which includes Homer.
UPDATE VII: Actually there is. A Kathleen Gustafson does appear on this PDF from the district. According to the document she's not a teacher but a "Theater Tech" at Homer High School. I wonder how the school district would feel about her misstating or more appropriately impersonating a teacher.

.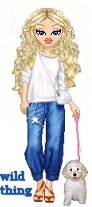 Wild Thing's comment........
Sarah Handled this "teacher" VERY WELL! LOL
If you hate your governor and thought this person was terrible wouldn't you be cheering if they left office early? Hahahahaha
This whole thing is just so funny. It's hilarious that her haters expect her to go "Howard Dean crazy" but she always remains polite and therein she takes control of every confrontation.

....Thank you Mark for sending this to me.

Mark
3rd Mar.Div. 1st Battalion 9th Marine Regiment
1/9 Marines aka The Walking Dead
VN 66-67


Posted by Wild Thing at August 10, 2010 05:50 AM
---
Comments
It sounded like the woman had a few talking points thoes were blown out of the water then Sarah ate her lunch.
Posted by: Mark at August 10, 2010 09:01 AM
---
A liberal lying. How unusual. Yes, Sarah handled her easily.
Posted by: TomR, armed in Texas at August 10, 2010 09:52 AM
---
I'm just shocked!
I mean, an inexperienced, backwater hick like Sarah Palin, is actually able to hold a meaningful political conversation with someone? What is the world coming to?
What a contrast to the Congressman, who a few months back pushed and shoved a person who dared ask him a question. What a contrast to Charlie Rangel's obscenity laden diatribes when confronted.
Unless one is completely blind, there is no comparison here, as to who is the most informed individual and who would make the best leader.
But then again, she's really never done anything, has she?
WHAT A CROCK!!!!!!
Posted by: Sean at August 10, 2010 10:45 AM
---
Mark, haha I think your right, that is just what happened.
Posted by: Wild Thing at August 11, 2010 02:17 AM
---
Tom, amazing how they go after Sarah just for a possible expression on her face. That kind of hate is scary.
Posted by: Wild Thing at August 11, 2010 02:19 AM
---
Sean, LOL that was great!
Posted by: Wild Thing at August 11, 2010 02:19 AM
---