« it Is Us | Main | Show Me ObamaCare...I Do Not Lilke This Uncle Sam »
August 05, 2010
New Cigarette Law Snags Cartons For Troops Too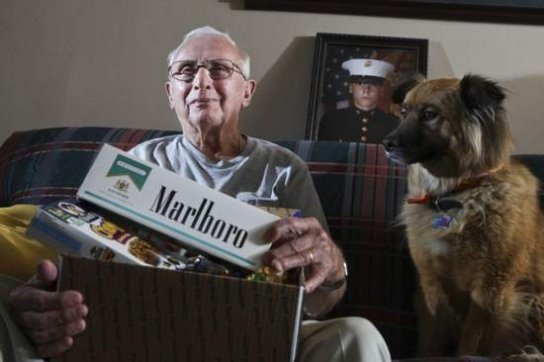 Due to the PACT act (Prevent All Cigarette Trafficking), grandfather and retired military man Jack Gray can't send his grandson's -- Lance Cpl. Thomas Gray -- favorite type of cigarettes through the U.S. Postal service to where the 19-year-old is stationed in Afghanistan. (By Matt Stone, The Courier-Journal) Aug. 3, 2010 (CJ)
New cigarette law snags cartons for troops too

A new federal law intended to make sure mail-order cigarette sellers don't avoid taxes is frustrating well-meaning people who want to mail smokes, including a Louisville man who can no longer send Marlboro Menthols to his grandson, a Marine serving in Afghanistan.
"Why punish a serviceman with this act when he can't even have a cigarette over there," Jack Gray said. "That's not believable."
It's an unintended consequence of the Prevent All Cigarette Trafficking Act, or PACT Act as it's known for short, said a spokeswoman for the bill's sponsor, Sen. Herbert Kohl, D-Wisc.

Besides foiling mail-order sellers that avoid taxes, the law also seeks to prevent minors from circumventing age limits by buying cigarettes through the mail.

In response to the law, which was passed and signed by President Obama in March, the U.S. Postal Service adopted a new policy at the end of June that nearly bans mailing cigarettes and smokeless tobacco. Most exceptions require they be sent via Express Mail, which allows the post office to confirm the package is delivered to an adult.

But Express Mail isn't available in Iraq or Afghanistan.

Gray found out about the new law recently when he went to mail a package to his grandson, which he does occasionally.
"It was a bolt out of the blue," Gray said.
"We are working to fix it as soon as possible," Kohl spokeswoman Dawn Schueller said Tuesday. Rep. Duncan Hunter, a California Republican, filed a bill July 30 to create an exemption for mailing tobacco to members of the Armed Forces in combat zones. The bill has been referred to a committee.
UPS hasn't delivered cigarettes to consumers since 2005, spokeswoman Susan Rosenberg said, adding that the decision came as various states passed restrictions. She said the postal service was the last major commercial carrier delivering cigarettes to consumers.
A FedEx spokeswoman said the company only ships tobacco products between licensed distributors.
Several national groups such as the American heart and lung associations supported the PACT Act for its restrictions on minors buying cigarettes over the Internet and the crack down on sales that avoid taxes.

But the new law has prompted frustrated discussion on a Website for parents of Marines and led to the creation of a Facebook page calling for the law to be changed.
Gray said his grandson, Lance Cpl. Thomas H. Gray, 20, a 2008 Valley High graduate, has been in Afghanistan since April. Gray said he mailed him cigarettes at least four times before the new policy.
"He can't get the kind of cigarettes he likes over there," Gray said, adding that he hasn't talked to his grandson in a couple weeks, so they haven't discussed the policy change.
Native Americans in New York, who sell cigarettes by mail-order and otherwise didn't have to enforce state taxes, are challenging it in federal court.
"But this is not a case of trying to sell cigarettes," Gray said of his situation. "This is a case of trying to get a cigarette to a guy that's over there in a combat zone. He's gonna smoke 'em. He ain't gonna sell 'em."

The bill included a provision that allows cigarettes to be mailed to individuals "who are not minors for noncommercial purposes."
"We included that provision specifically to allow care packages to service members," Kohl spokeswoman Schueller said, acknowledging that the Postal Service used Express Mail to verify the age of the recipient.
"We're just following the law, said David Walton, a USPS spokesman in Louisville. "The ban is not something that we initiated. It's a law that's very exacting."

As for sending the package without declaring what's inside, Walton said packages being mailed overseas require a customs form and anyone caught lying about the contents could be prosecuted.
Denra Riley, president of the Fort Campbell Enlisted Spouses' Club, said she's aware of complaints about the new law, including from her husband, Sgt. First Class Christopher Riley of the 184th EOD Battalion out of Fort Campbell.
"I can't help him out any more and it kind of does stink to be a spouse and not be able to send your husband things he" wants, she said.
"We do have a lot of soldiers complaining about it and I have heard a few spouses, myself included, that kind of don't agree with it," she said.
Riley said she thinks it would be a bigger issue, but "people are still going to do it. They're just not going to put it on the forms any longer."

But Gray said he doesn't want to do that.
"I don't advocate breaking the law," he said. "But it's just wrong, plain flat out wrong, to punish a Marine over there because of a tax law over here."

.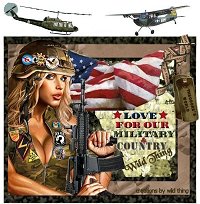 Wild Thing's comment.......
I really don't like it when someone pushes their own agenda on others. When it comes to our troops IMO they should be able to get things they need and or want. Obama and his ilk don't get that being in the military is NOT the same as being a civilian and he keeps wanting to treat the mililtary like some kind of baby sitter in war time instead of warriors highly trained for what they do.

I will also add that I know this will never happen, but I would like to see that those serving would not have to pay for anything. Let them get pay and keep it, do whatever they want with it or blow it on something fun whatever. But they should not have to pay for anything not even toothpaste. I would rather see my tax dollars paying for things our troops need then, taking all that crap Pelosi etc. stuck in the various stimulus packages.

....Thank you Mark for sending this to me.

Mark
3rd Mar.Div. 1st Battalion 9th Marine Regiment
1/9 Marines aka The Walking Dead
VN 66-67


Posted by Wild Thing at August 5, 2010 08:48 AM
---
Comments
Geesh I wonder if he's related. My fathers name was Thomas and so was my great Uncle. Why hassle the troops they get enough as it is. And these money spending bureaucrats will get their fair share from the troops when they come home. They can't cut'em a huss now.
Posted by: Mark at August 5, 2010 06:15 PM
---
Mark, I agree, leave our troops alone.
Posted by: Wild Thing at August 5, 2010 06:52 PM
---
Do You remember when Hilary tried to redirect the guy who had the duty to carry the foot ball to serve food? These people understand nothing.
Posted by: Avitar at August 6, 2010 01:08 AM
---