« Arizona Sheriff Babeu : Arizona Sheriff: 'Our Own Government Has Become Our Enemy' | Main | FL-22 GOP Candidate ~ Lt. Col. Allen West. Col. West America's Best! »
August 03, 2010
Heroism in Ambush May Yield Top Valor Awards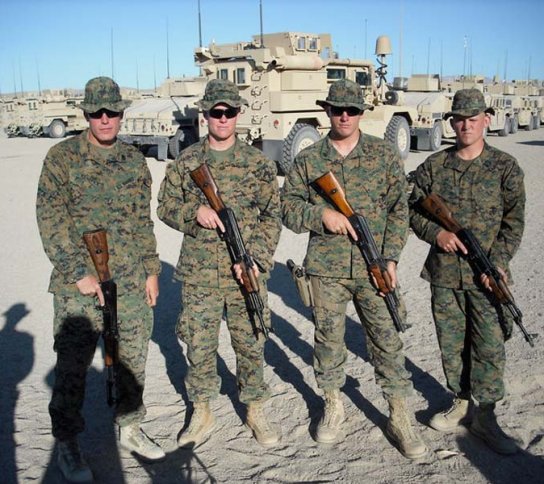 From left to right: Gunnery Sgt. Aaron Kenefick, 1st Lt. Michael Johnson, Cpl. Dakota Meyer and Hospitalman 3rd Class James Layton

Heroism in ambush may yield top valor awards
By Dan Lamothe

With no air or artillery support, the Marines of Embedded Training Team 2-8 were trapped deep in a kill zone in eastern Afghanistan. Their radios worked only sporadically, and dozens of insurgents fired on them repeatedly from three sides.
"We're surrounded!" Gunnery Sgt. Edwin Johnson yelled into his radio in the early-morning hours of Sept. 8, 2009. "They're moving in on us!"
At least twice, a two-man team attempted to rescue their buddies, using an armored vehicle mounted with a .50-caliber machine gun to fight their way toward them. They were forced back each time by a hail of bullets, rocket-propelled grenades and mortars. An enemy bullet hit the vehicle's gun turret, piercing then-Cpl. Dakota Meyer's elbow with shrapnel. He shook it off, refusing to tell the staff sergeant with him because he didn't want to make the situation worse, according to U.S. Army documents outlining a military investigation of the ambush.
What he did next will live on in Marine Corps lore — and, some say, should earn him consideration for the Medal of Honor.
After helicopter pilots called on to respond said fighting was too fierce for them to land, Meyer, then 21, charged into the kill zone on foot to find his friends. Under heavy fire, he reached a trench where the pilots had spotted the Marines, by then considered missing.
He found Johnson, 31; Staff Sgt. Aaron Kenefick, 30; 1st Lt. Michael Johnson, 25; Navy Hospital Corpsman 3rd Class James Layton, 22; and an Afghan soldier they were training — all dead and bloody from gunshot wounds. They were spread out in the ditch, their weapons and radios stolen.
"I checked them all for a pulse. There [sic] bodies were already stiff," Meyer said in a sworn statement he was asked to provide military investigators. "I found SSgt Kenefick facedown in the trench w/ his GPS in his hand. His face appeared as if he was screaming. He had been shot in the head."
Rather than give up, Meyer, of Greensburg, Ky., fought to bring his buddies back home. Bleeding from his shrapnel wound and still under fire, he carried their bodies back to a Humvee with the help of Afghan troops, and escorted them to nearby Forward Operating Base Joyce, about a mile to the northeast of Ganjgal.
Meyer's five-page, handwritten statement to investigators is part of a 300-plus page report compiled by Combined Joint Task Force 82, then based at Bagram Air Base, in the days following the ambush. The military has declined repeatedly to release the full report, but Marine Corps Times obtained a declassified version that not only outlines heroism on the battlefield by numerous troops, but raises new questions about the mission's failure, the Army officers in charge and why repeated, frantic pleas for air and artillery support from troops on the ground were ignored.
Meyer's name was redacted from the report, but parents of the fallen Marines said he is responsible for retrieving their sons from the battlefield. Reached for comment July 15, Meyer declined to discuss the battle, and said he has avoided reading media coverage of it.
Then an infantry rifleman with 3rd Battalion, 3rd Marines, out of Marine Corps Base Hawaii, he worked closely with Layton, Lt. Johnson and Kenefick, who was posthumously promoted to gunnery sergeant, in a four-man training team based at FOB Monti in Kunar province. He considered them close friends, he said. He left the Corps in June, after his four-year active-duty commitment expired.
"The main thing that we need to get from that day is that those guys died heroes, and they are greatly missed," he said. "This isn't about me. If anything comes out of it for me, it's for those guys."
A Medal of Honor?

The Marines weren't the only ones killed that day. Some of the Afghan soldiers present fought alongside U.S. forces bravely, but nearly a dozen of them were cut down by gunfire, many after failing to heed the instruction of U.S. forces to keep down, according to witness statements. A 10-man squad working with the pinned down Marine trainers was initially identified as missing, but it was later determined that it was due to a scattering of Afghan forces after their leadership took heavy losses.
Thirteen U.S. military trainers, 60 Afghan soldiers and 20 Afghan border police officers were outside the wire that day to meet with village elders, according to a report by a McClatchy News journalist traveling with the unit when it was ambushed. At least eight Afghan troops and an Afghan interpreter were killed while fighting about 150 insurgents, and a U.S. soldier, Sgt. 1st Class Kenneth Westbrook, died Oct. 7 at Walter Reed Army Medical Center in Washington from wounds sustained in the attack.
Army officials announced in February that "negligent" leadership at the battalion level contributed "directly to the loss of life which ensued" by refusing repeated pleas for artillery support from U.S. forces on the ground and failing to notify higher commands that they had troops in trouble. Three unidentified officers — likely captains or majors — were recommended for letters of reprimand, potential career killers, but no additional punishment is expected.
Two investigations were conducted, with the first headed by an Army major in the first few days after the ambush and the second, focusing primarily on command post failure, overseen by Army Col. Richard Hooker and Marine Col. James Werth in November, said Marine Lt. Col. Joseph Kloppel, a spokesman for Marine Corps Forces Central Command, out of Tampa, Fla.
In February, the military released a five-page summary report of its investigation, void of many details, including which units were involved. With first-person statements from more than 35 U.S. troops, the full report covers much more ground, and describes in grisly detail chaos on the battlefield and in the operations center, based at FOB Joyce and overseen by Task Force Chosin, an Army unit comprising soldiers from 1st Battalion, 32nd Infantry Regiment, 3rd Brigade Combat Team, 10th Mountain Division, out of Fort Drum, N.Y.
The battalion, then commanded by Army Lt. Col. Mark O'Donnell, was not disclosed in the summary report. It said an acting battalion commander was in charge at the time of the attack.
The full report describes in great detail Meyer's heroism and that of several other U.S. troops trapped in the middle of a violent maelstrom.
Investigating officers said at least two service members in the field that day "stand out as extraordinary examples of heroism worthy of the highest recognition." The names of the troops cited for bravery were redacted from the report, and it is unclear if Meyer or another service member may be under consideration for the Medal of Honor or another high-level award.
Susan Price, Kenefick's mother, said Marine officials have told her it is likely her son and the other casualties will receive at least a Bronze Star with V device for their bravery under fire. No Marine has received an award for valor related to the battle yet, and the process has been stalled while the Corps researches possible high-level awards, Price said she believes. She can handle that: Meyer deserves consideration for the nation's highest honor, she said.
"He risked his life to bring back the bodies of our heroes," she said. "In my heart of hearts, I believe he deserves it. He had to have said, 'I have to go in and get them, and whatever happens, happens.' "
Another possible contender for a high-level award could be Layton. He rushed to the lieutenant's side to provide medical treatment to a gunshot wound in the right shoulder, putting himself in harm's way in the process, according to several witness statements. Layton was shot in the face with an AK47 burst, while Gunnery Sgt. Johnson was hit in the right side, face and chest, Meyer said in his statement.
"His arms were up as if he had seen the enemy there," Meyer said of the gunny. The body armor and gear for the five troops was "spread out through the trench," although it is believed they all kept their protective equipment on, suggesting the enemy removed it. Investigators also determined it is unlikely they were executed at close range.
Doug Sterner, a Vietnam veteran consulted frequently by Congress as an expert on combat valor issues, said Meyer's actions sound worthy of Medal of Honor consideration, while Layton's sounds worthy of consideration for the Navy Cross or Silver Star, the nation's second- and third-highest awards for valor.
"I would think this action is certainly something where his commander should consider submitting him for the Medal of Honor," he said of Meyer's actions. Sterner said he is hopeful they will consider him for it despite the fact that when he found his buddies, they were already dead.
"To me, that's a moot point," Sterner said. "We don't leave anybody behind, and we go to extreme lengths to recover their remains."
Neither the commandant's office nor the Marine Corps Awards Branch comments on possible combat awards, spokespersons for each said. MARCENT is reviewing Meyer's actions for possible awards, Kloppel said. A recommendation will eventually be made to Marine Corps headquarters, which can either authorize an award or push it up to a higher command — which would be necessary for the Medal of Honor or the Navy Cross.
'They knew we were coming'

The full report reveals a variety of other details not previously disclosed by the military in its five-page summary — including actions that potentially contributed directly to U.S. deaths.
One example: In the five-page summary released early this year, investigating officers said the mission called for a meeting with Ganjgal village elders. That's true, but the situation was far more complicated than acknowledged publicly.
In fact, the mission in Ganjgal was a follow-up to another operation in the region, and included not only meeting with village elders, but clearing the area of the enemy, according to witness statements. On Sept. 3, a joint force composed of Afghan National Army soldiers, Afghan border police, and U.S. embedded trainers and mentoring teams conducted a mission in Dam Dara village, about a mile from Ganjgal. The troops were met "with a cordial response" from the villagers, but ambushed by a three- to five-man insurgent team wielding small arms on a ridge south of Ganjgal while leaving the area.
Following the attack, tribal elders in Ganjgal met with Afghan troops and renounced the Taliban. The elders invited the Afghan troops to return to discuss renovation plans for a mosque and conduct a census of military-age males. Afghan forces began planning their return to Ganjgal for Sept. 7, but decided to delay it a day due to "competing mission requirements" for the border police, the investigative report says.
No designated air support was available for the Ganjgal mission on Sept. 8, but Afghan military leadership, in conjunction with U.S. trainers, decided artillery support would be sufficient, especially because they were promised that helicopter gunships designated for another Sept. 8 operation in the nearby Shuryak Valley by a sister Army battalion — Task Force Lethal, comprising soldiers in Kunar province with 2nd Battalion, 12th Infantry Regiment, 4th BCT, 4th ID, out of Fort Carson, Colo. — could be redirected to assist Chosin in Ganjgal, if necessary.
Before the mission, military leadership learned that Taliban leaders met in Ganjgal on Sept. 7 to plan an ambush of U.S. forces. Twenty fighters were in Ganjgal that day, with at least 20 more expected to come.
Despite the potential danger, U.S. and Afghan forces didn't wave off on the mission the following day. Leadership decided that delaying the mission "would be perceived as stifling" the Afghan troops' initiative. In a witness statement, an intelligence and operations officer for the Marine training team said they didn't want to delay the mission out of concern for the village elders' lives.
In retrospect, it backfired.
"The mission was definitely compromised," an Army staff sergeant and scout squad leader on the battlefield with Task Force Chosin said in a sworn statement. "The elders/police could have easily tipped the enemy off. They knew what day we were coming. All I know is that they were already in position and waiting and they had a ton of ammo."
The incident has been used as an example for officers in Afghanistan on how things can go wrong. It also has resulted in tightened requirements meant to ensure leadership stays involved in an operation from pre-mission planning through execution — a downfall in Ganjgal, where senior battalion leadership was not fully involved.
Army and Marine officials said investigations into what went wrong are now complete. It is unclear if the Army officers cited in the five U.S. deaths ever received the letters of reprimand.
.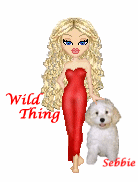 Wild Thing's comment..........
What really burns me is a piece of garbage like Kerry gets himself a Silver Star, no less, for doing nothing. Yet these real heroes still have not been awarded anything yet, while they try to determine what awards to hand out.

I also found this to go with this write up, it is from the same author as above and a blog for notes from those that were there:
More comments from grunts in the infamous Ganjgal ambush
Marine Times
Posted by Dan Lamothe
Today, Marine Corps Times published online my story outlining the heroism of Cpl. Dakota Meyer, a rifleman and scout sniper who found himself in the middle of horrific ambush in eastern Afghanistan last year that ultimately claimed the life of five U.S. troops.
To get that story, I relied heavily on more than 300 pages of sworn witness statements and other documents compiled by Combined Joint Task Force 82, which conducted the investigation in Afghanistan in the days following the Sept. 8, 2009, attack in Ganjgal, a remote village in Kunar province. Even though the documents were already redacted when I received them from an outside source, the military has repeatedly declined to release them despite a Freedom of Information Act request that has been pending for months.
The statements of Meyer and a few other troops made it into the story, but given the gravity of the situation, it seemed relevant to share additional comments from some of the other troops who survived here. All names were redacted from the documents I obtained. The statements here are published with acronyms spelled out in brackets on first reference for our civilian readers. I've left spelling and punctuation as it was in the reports.
From an Army sergeant sniper with 10th Mountain Division who watched the ambush from an observation position above the valley:
"… Multiple requests for air [support] were made and it kept getting pushed back. We were told multiple times through an hour that air will be there in [redacted] min. Fire missions were repeatedly called up by ground troops and ourselves and many were denied… Repeatedly assets were requested for support but no asset urgency was shown."

From an Army staff sergeant scout squad leader with 10th Mountain Division, on how officers back at the tactical operations center responded to repeated requests for support from artillery, helicopters or a ground quick reaction force:
"They ask for indirect [fire] and in return get 20 questions. The people in the TOC need to let the [redacted] do his thing and trust what he is asking for. Also when [redacted] asked for help to retrieve bodies nobody helped. They called [redacted]. Why should you have to call [redacted] in a situation like that. It should be just go. There was U.S. out there. It doesn't matter if its [redacted] or Marine. … Also, they wanted a plan of action to find the missing Marines. Well, they were looking for them. That's all you can do. All in all just butt out and the information will get passed up when it does. So many times [redacted] asked crazy questions. The fight was long and heavy and I assure anyone, he was doing everything he could. My feeling is that the Marines and [redacted], [Afghan National Army], [Afghan Border Police] were left out to dry. It's a horrible feeling but that's how I feel about it. QRF? Air? Nothing but endless questions."

From an intelligence officer with the Marine training team, on the carnage he saw:
"I don't think [personal protective equipment] really matter around there because everybody was getting shot. It had to be at least an hour since they were missing, since we lost them on the radio… Everything was soaked, my book was soaked in blood. Like my notepad that I was writing stuff on everything would fallout of my pockets. I had magazines in my cargo pocket, like empty magazines. I had to grab magazines from the [major] so I could get more ammo."
Compare the details in those remarks to the five-page summary report released in February by the International Security Assistance Force on behalf of Combined Joint Task Force 82 in February. A bit sanitized, perhaps?
.

....Thank you Mark for sending this to me.

Mark
3rd Mar.Div. 1st Battalion 9th Marine Regiment
1/9 Marines aka The Walking Dead
VN 66-67


Posted by Wild Thing at August 3, 2010 06:48 AM
---
Comments
People up the chain of command should be ashamed that this even took place. It was a first class Cluster F***. When the call came for air support
It should have rained down hell on those Taliban fighters, we're fighting
a war incase Obumbo has forgotten that inconvenient truth,, Heads should
Roll, How do you ask someone to fight with one hand tied behind their back. It's the same with Iraq, Obumbo say's his policies have won the War. Really??? It sounds like he said I quit..
Posted by: Gator at August 3, 2010 10:45 AM
---
These deaths fall squarely on Obama. He forced the most absurd ROE on our troops that have seriously curtailed the ground forces' ability to call in supprt when needed.
Obama deserves nothing less than impeachment for failure to defend and uphold the Constitution and to act as an effective CIC.
Posted by: Billy Ray in Cowtown at August 3, 2010 01:57 PM
---
These casualties were the result of excessive ROEs ordered by obama and Karsi and implemented by Gen McChrystal. obama knows as much about military operations as I know about community organizing, nothing. Too bad we don't have generals with the honor to retire in opposition to piss poor political leadership. Like Gen Singlaub did in opposition to Jimmy Carter's ignorant plans for pulling out of S Korea.
Posted by: TomR, armed in Texas at August 3, 2010 02:40 PM
---
LBJ's Albatross was Vietnam, Afghanistan will be Obamas and hopefully with the same End for Obama…
Posted by: Gator at August 3, 2010 03:28 PM
---
The people up the chain shouldn't be ashamed, they should be Courts Martialed and sent to Leavenworth. To have American Fighting Men in need of fire support and deny that support is criminal.
TomR is right. McChrystal implemented those ROE's. Men died because he wouldn't stand up to Obama and raise the BS Flag.
Posted by: BobF at August 3, 2010 05:58 PM
---
Thank you everyone sooooo much.
Posted by: Wild Thing at August 4, 2010 12:48 AM
---