« Disgrace: DOJ Fails to Protect Military Voting Rights | Main | Heroism in Ambush May Yield Top Valor Awards »
August 03, 2010
Arizona Sheriff Babeu : Arizona Sheriff: 'Our Own Government Has Become Our Enemy'
Arizona Sheriff Babeu on Team Obama: "They Don't Want to Achieve Border Security"
Sheriff Paul Babeu responded to Team Obama tonight:
"What I can tell you is that the president has looked at this purely from a political concern rather than a public safety concern… The president only four months ago said that border is secure with Janet Napolitano. And, then begrudgingly because the eyes of America were on this issue then they said, "Well, we'll give you 1,200 armed soldiers but you've got to split them between four border states." Well that's not going to work because it's a half-hearted measure designed for failure. Because they don't want to achieve border security. Whether it's purely for political reasons because they're setting us up because they just put up this sign for our citizens to stay out. They dragged us into court at a time when we need help and partnered with the ACLU."
Sheriff Babeu received death threats from the Mexican mafia in early July for cracking down on illegal immigration.
.

Obama Targetting Law Enforcement Officials

Arizona Sheriff: 'Our Own Government Has Become Our Enemy'
Pinal County (Ariz.) Sheriff Paul Babeu is hopping mad at the federal government.
Babeu told CNSNews.com ...................that rather than help law enforcement in Arizona stop the hundreds of thousands of people who come into the United States illegally, the federal government is targeting the state and its law enforcement personnel.
"What's very troubling is the fact that at a time when we in law enforcement and our state need help from the federal government, instead of sending help they put up billboard-size signs warning our citizens to stay out of the desert in my county because of dangerous drug and human smuggling and weapons and bandits and all these other things and then, behind that, they drag us into court with the ACLU," Babeu said.
The sheriff was referring to the law suits filed by the American Civil Liberties Union and the U.S. Department of Justice challenging the state's new immigration law.
"So who has partnered with the ACLU?" Babeu said in a telephone interview with CNSNews.com. "It's the president and (Attorney General) Eric Holder himself. And that's simply outrageous."
"Our own government has become our enemy and is taking us to court at a time when we need help," Babeu said.
Babeu and Sheriff Larry Dever of Cochise County Ariz., spoke by phone with CNSNews.com last week about the May 17 ACLU class-action lawsuit, which charges the law uses racial profiling and named the county attorneys and sheriffs in all 15 Arizona counties as defendants. The Department of Justice filed a lawsuit on July 6, charging the Arizona law preempted the federal government's sole right to enforce immigration law.
"If the president would do his job and secure the border; send 3,000 armed soldiers to the Arizona border and stop the illegal immigration and the drug smuggling and the violence, we wouldn't even be in this position and where we're forced to take matters into our own hands," Babeu said.
Dever said the federal government's failure to secure the border and its current thwarting of Arizona's effort to control illegal immigration within its borders has implications for the entire country.
"The bigger picture is while what's going on in Arizona is critically important, what comes out of this and happens here will affect our entire nation in terms of our ability to protect our citizenry from a very serious homeland security threat," Dever said. "People who are coming across the border in my county aren't staying there. They're going everywhere USA and a lot of them are bad, bad people."
According to U.S. Customs and Border Protection (CBP), about 250,000 people were detained in Arizona in the last 12 months for being in the country illegally. Babeu said that that number only reflects the number of people detained and that thousands more enter the country illegally each year.
The CBP also reports that 17 percent of those detained already have a criminal record in the United States.
Both Babeu and Dever said they want to remain involved in the legal battle over the law, which many experts predict will end up being decided by the U.S. Supreme Court.
Dever has hired an independent attorney to represent him in the ACLU case and his attorney has already filed a motion of intervention in the DOJ lawsuit so the "(Dever) will have a seat at the table."

.
And this as well that was posted yesterday. .......
Mexican Drug Cartel Allegedly Puts a Price on Arizona Sheriff's Head
$1M offered for Arpaio, $1K to join cartel
On the day parts of Arizona's immigration law, SB 1070, went into effect, Maricopa County Sheriff Joe Arpaio is in the news for another reason: there's a price on his head - allegedly offered by a Mexican drug cartel.
The audio message in Spanish is a bit garbled, but the text is clear.
It's offering $1 million for Sheriff Joe Arpaio's head and $10,000 for anyone who wants to join the Mexican cartel.
A man who wants to remain anonymous says his wife received the text message Tuesday evening. It also included an international phone number and instructions to pass the message along.
"She showed it to me..I was kind of disgusted..I reported it to the Sheriff's department yesterday..they said they were going to direct the threat squad on it."
Lisa Allen of the Sheriff's office says they believe the message originated in Mexico.
Although the Sheriff has received numerous death threats in the past, they believe this threat is credible because of its timing.
.

Fox News' Griff Jenkins gets an up-close look at how police are upholding Arizona's law now that it's in effect

.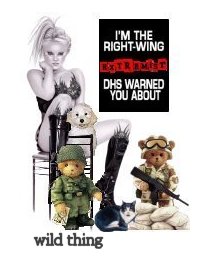 Wild Thing's comment........
Go get 'em, Sheriff! And if you see a metrosexual, "mongrel" (to use his own words), jug-earred nerd travelling through you county licking an ice cream cone like an 11-year old girl, please ask for his papers.

Our government is supposed to be Of the people and by the people of the USA..not some other country.
Obama's government is the enemy of the "Bill of Rights"
Obama's government is the enemy of the US Constitution.
Obama's government is the enemy of the 50 (not 57) States.
Obama's government is the enemy of border security.
Obama's government is the enemy of the truth.
Obama's government is the enemy of privacy rights.
Obama's government is the enemy of property rights.
Obama's government is the enemy of equality.
Most importantly, this government is my enemy.
However, this government is the friend of Mudslimes.

That makes both Sheriff's have a price on their heads and for what....for wanting to obey our laws and protect and to serve. BUT NOT Obama. He does NOT want to obey our laws.
"We are not going to just shoot the bastards, we're going to cut out their living guts and use them to grease the treads of our tanks; we're going to murder the lousy bastards by the bushel." Gen. Patton Speech; 3rd Army Speech - England; 31 MAY 1944 - 6th Armored Division

....Thank you Mark for sending this to me.
Mark
3rd Mar.Div. 1st Battalion 9th Marine Regiment
1/9 Marines aka The Walking Dead
VN 66-67


Posted by Wild Thing at August 3, 2010 06:47 AM
---
Comments
Sounds like they could use a couple of A-10
Warthogs on the boarder...
Posted by: Gator at August 3, 2010 10:35 AM
---
Yes Chrissie, our government has become the enemy of the people. I do hope they are enjoying their tyranny because their days are numbered.
Posted by: Eddie (Proud Cracker) at August 3, 2010 10:38 AM
---
Sheriffs Arpaio, Babeu and Dever have their shit in order. They and America are being sacrificed for the socialist/Marxist agenda of obama and company. Buy more ammo!
Posted by: TomR, armed in Texas at August 3, 2010 02:43 PM
---
Gator, it sure does.
Eddie, I pray every day that is true that their days are numebered and these two Sheriff's and the Gov. will be allowed to do the good they want so badly to do with a pat on the back for it too.

Tom, DITTO all you said.
Posted by: Wild Thing at August 4, 2010 12:50 AM
---