« Guess what part of the Constitution goes next!??!! | Main | WWII POW's Reunite For First Time In 66 Years »
July 26, 2010
Vlad Putin Rides His Harley Into Biker Rally

Vlad Putin roared into a biker rally in Ukraine on Saturday riding a Harley Davidson.
Prime Minister Vladimir Putin has lept on a Harley Davidson and roared into an international biker convention in southern Ukraine.
Around 5,000 bikers from Europe and beyond gathered in Sevastopol for the annual festival Saturday on Ukraine's Crimea peninsula.
Putin, in Ukraine for talks with the country's new Russia-friendly leadership, had his black shirt sleeves rolled up as he motored toward a stage along a dusty road on the three-wheeled bike. In sunglasses, black jeans and black fingerless gloves.

.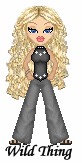 Wild Thing's comment........
KGB bikers! Who knew!
Let's compare it to Obama on a bicycle with a flat tire. Remember when Obama lectured us about checking the air in our tires to help with global warming. hahaha
Not to be outdone, obama is going on a ride too: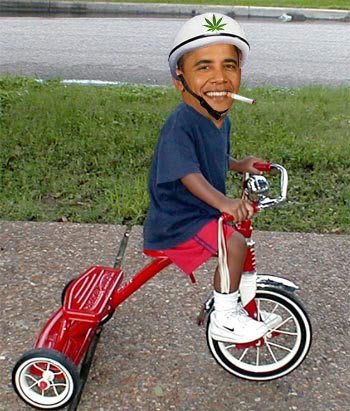 Posted by Wild Thing at July 26, 2010 07:49 AM
---
Comments
Putin made a fool of George Bush. Now he is going to wrap obama around his little finger. Putin means what he says and has his strategy laid out. Wish he had the same capitalistic philosophy as we Americans have.
Posted by: TomR, armed in Texas at July 26, 2010 10:26 AM
---
Too funny.
I agree TomR, but he may be more capitalistic than Obumnuts.
Posted by: Bob A at July 26, 2010 12:54 PM
---
Vladimir Putin is as Soviet Russian as they come.
He first job after graduation was KGB in the 1970's.
Stationed in East Germany through the 1980's, he did not leave his post in Dresden until the fall of the Berlin Wall, the collapse of the East German regime and the Soviet withdrawal and dissolution in 1990.
His autobiography "In the First Person" describes his rise to power from his communal up bringing in Leningrad.
Our leader in the White House in 2010 is but a child on the world stage.
Putin and other world leaders have had ours for lunch without masticating.
Posted by: Carlos at July 26, 2010 04:10 PM
---
Looks like helmets are not a requirement in Russia go figure. Putin on a bike all right.
Posted by: Mark at July 26, 2010 07:12 PM
---
Tom, your so right about what Putin has done. When Bush made that famous thing he said about looking into Putin's eyes I felt so badly, and wished I could have said. Mr. President, please oh please do not be taken in by this KGB guy.
Posted by: Wild Thing at July 26, 2010 11:53 PM
---
BobA., haha I thought so too. I laughed when I first saw it and then to think of obama throwing out the baseball in comparison.
Posted by: Wild Thing at July 26, 2010 11:58 PM
---
Carlos, thanks so much for all of that. Interesting I did not know that much about his past.
Posted by: Wild Thing at July 27, 2010 12:00 AM
---
Mark, thanks for pointing that out. I was so into that he did this in comparison to obama I had not even noticed the no helmet.
Posted by: Wild Thing at July 27, 2010 12:05 AM
---