« Oklahoma, South Carolina and Utah May Follow Arizona's Lead on Immigration Law | Main | John Bolton :" I Would Reverse All Of Obama's Policies" »
July 12, 2010
US Forces Fighting The Taliban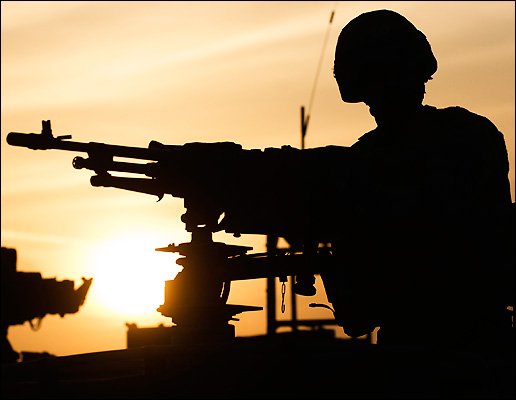 By Paul McNamara, Defence Correspondent

THE red cross-hairs of the sniper's scope rest upon the Taliban gunman's head.
Over the intercepted radio transmissions the interpreter translates every word the sniper sees across a river 450m away.
"The Ghost Patrol haven't seen me," he tells his insurgent comrades.
"I've got my gun, I'm coming to join you now."
At the last minute Sgt Jonathan Holmes lowers his sight to the Taliban's leg.
"HAVE I GOT CLEARANCE TO SHOOT?" he screams to his commanding officer, Lt Eric Fitzgerald.
"AM I CLEAR?" he repeats.
With a quick nod, the humid plum orchard we are crouched in behind a three foot wall, sweltering in 50 degree heat, turns silent.
Suddenly, three shots ring out and the Afghan gunman is on the ground.
Minutes later he's picked up by a different team of NATO troops to be interrogated and given medical assistance.
A year ago he would be dead by now, but US forces are being forced to change their tactics to win over a hostile local population.
The News of the World is on patrol with the troops of America's elite 82nd Airborne deep inside Afghanistan's deadliest region – the Arghandab district of Kandahar.
Their, and our, lives are in the hands of one Brit, Major General Nick Carter.
He's the commander of all troops in Southern Afghanistan, and the military mastermind behind "the biggest offensive of the Afghan war so far".
And this week our reporting staff joined the troops on the ground to see how preparation for the imminent mission to secure Kandahar - the birthplace of the Taliban - is going.
But on the ground it is hard to believe security is close at hand in this region.
While dozens of Taliban fighters are being killed every day, reinforcements are constantly trickling in to replace them.
So, can the war be won before President Obama and Prime Minister Cameron lose patience and start to pull their troops out?
If victory is possible, it will be won by men like those from Delta Company, the 2nd Battalion 508th Parachute Infantry regiment.
Taliban commanders have dubbed them 'The Ghost Patrol' because they've killed so many insurgents without ever being seen.
Sgt Holmes has personally killed 20 Taliban - the furthest from 950m, and he once killed four in the space of ten minutes.
Today, Holmes explains why his tally is not even higher: "He wasn't shooting at me, he was just carrying his gun.
"But given half the chance he'd have turned it on all of us pretty damn quick," he adds explaining why he maimed the gunman.
This is the doctrine introduced by the now-disgraced ISAF commander General Stanley McChrystal - 'courageous restraint'.
In essence, no force until there is proof beyond any doubt the target is an insurgent.
And no lethal force unless it is unavoidable.
Holmes is quietly furious.
"All I know is this whole war would be a lot easier if they wore uniforms.
"But they don't so I'll soldier according to the rules before me, and they'll carry on with no rules whatsoever."
More of his comrades have been killed here in the Arghandab than anywhere else in Afghanistan, sometimes in firefights, but most often by IEDs.
Patrolling in this heat wearing 70lbs of equipment, making sure you cast your eye over every square inch of land for tell-tale signs of a homemade bomb is exhausting.
On average every man loses up to 4lbs in sweat on each patrol.
We walk through a mix of dusty dirt track roads through Afghan villages talking to local elders, yomping slowly through the fertile fruit orchards of plums and pomegranates, and jumping over six foot walls.
You never return by the same route you came - it's far too tempting for would-be bomb makers.
The background noise is a constant hum of gun fire and homemade bombs going off.
In the two days before we arrived in the Arghandab two more soldiers were killed here.
That evening Lieutenant Colonel Guy Jones explains why this area is so important to Kandahar.
But he is constantly stopped mid sentence by status reports of yet another one of his men blown up by an IED.
"This is a very important thoroughfare into Kandahar for trade, so the Taliban are fighting fiercely to maintain their grip," he said.
Again another update - his soldier is out of theatre, but the surgeons are not hopeful.
How many times had he heard that since arriving here a year ago?
"Too many times."
The soldier died the next morning, leaving behind a widow and four fatherless children.
Over the coming months the death count here is set to rise.
Maj Gen Nick Carter, is realistic about the difficulties he faces over the coming months, but optimistic some security can be brought to Afghanistan's most lawless and Taliban loyal province.
But a couple of days on the ground in the Arghandab however highlights just how monumental the challenge he faces is.
Exact percentages of secure villages are not available, but walking around with Delta Company it's evident for every one secure there are multiples under the control of the insurgents.
"Today was easy," explains sharp-shooter Holmes.
"But there are plenty of places around here it's a lot more difficult.
"Just a couple of miles north are a whole load of villages completely under Taliban control and we don't really have any presence there.
"Four village elders in the villages we do have a strong presence have been executed in the past couple of weeks.
"And last week a child suicide bomber killed 40 dignitaries at the wedding of an ANP officer a few villages over."
How long does Holmes think peace around here will take?
"That's way beyond the thinking of a sniper," he says.
"But the only thing I do know is that nothing happens quickly in this country."
The very next morning a huge bang wakes everyone just before dawn.
A Taliban member has blown himself up trying to set a mine. It's just 400m from our base.
Over the past six months the troops have constantly found IEDs, and even captured a homemade mortar.
"It was surprisingly accurate," said Sgt Holmes, 25.
"Like everything about the Taliban, it's very simply made, but tough as anything and capable of real damage."
It looks like a ten-year-old's home-made telescope; a black metal tube welded to a tri-pod, the front end attached to a car jack to elevate for perfect aiming.
Just two weeks ago the hugely successful and pro-West district governor Haji Abdul Jabbar was assassinated with an IED.
And Kandahar has problems that are much bigger than just harbouring the Taliban.
Before he can even attempt to eradicate insurgents, he has to address warlord-owned militias terrorising the local population with protection rackets.
Their cast iron grip on the country's south is so tight that even NATO forces have to pay to guarantee safe passage of military supplies from Pakistan.
And staggeringly, many of the hired thugs are former Afghan National Police officers that UK money has helped train.
Maj Gen Carter said: "The ANP and militias are big problems that need to be solved.
"A lot of our supplies come by land - such as food, fuel, basic military supplies.
"For safe passage we have to pay local 'private security firms' - militias, who owe their allegiances to local warlords and power brokers."
Many of the rent-a-thugs running the protection rackets have been trained by NATO forces.
He said: "The private security firms poach many of the good ANP and ANA soldiers we've trained over the last two to three years."
Militias pay Afghan employees $500 (£342) a month, well above the rate for Afghan soldiers or police of around $250 (£171) per month.
These militias are one of the first things Carter wants to address.
He said: "They thrive of the fact it's an insecure environment and if they can keep the environment unstable then that's good for business - they're creating their own demand."
He said: "We recruited police officers locally, assigned locally, if we were lucky they were eventually trained and they were deployed back into where they were initially assigned.
"The problem with this level of insurgency is that clan, neighbour, tribe is likely to get after them to make them work more in support of clan tribe, rather than the general population."
The system has just changed, but it will be some time before the ANP is able to ably police its own land.
Kandahar is a very different beast to rural Helmand - to put it in context, the village outskirts have the same problems as Helmand, while the city centre is more hostile than the darkest days in Northern Ireland.
But securing Afghanistan's second city is the key to bringing our troops home.
Maj Gen Carter added: "Speak to any Afghan and they'll tell you if you have a peaceful Kandahar, you will have a peaceful Afghanistan."
.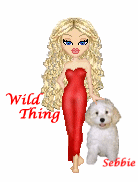 Wild Thing's comment.......
God bless our warriors and keep them safe.
Side note:
"Sgt. Holmes is a very brave soldier, his Dad fought in Vietnam as a Special Forces soldier. God Bless Sgt. Holmes and his family and a special thanks for Sgt. Holmes' sacrifice to our country, and his sacrifice to us for keeping this country safe from those who are bent on the destruction of our way of life."
Posted by Wild Thing at July 12, 2010 03:54 AM
---
Comments
What more can be added. If obama don't change the ROE's there's no point in staying and hanging the troops out to dry. If we are not there to win then its useless. It seems we are taking orders from the Afghanistan government. They can't even run their own country and we are listening to them. Wrong this is all wrong.
Posted by: Mark at July 12, 2010 03:14 PM
---