« Small Business Manager Tells Joe Biden: "Lower Our Taxes" | Main | Durbin Asks Obama To Appoint Carp Czar »
June 27, 2010
Toon Time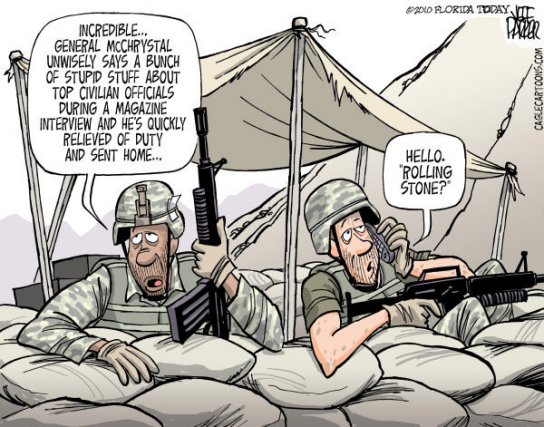 .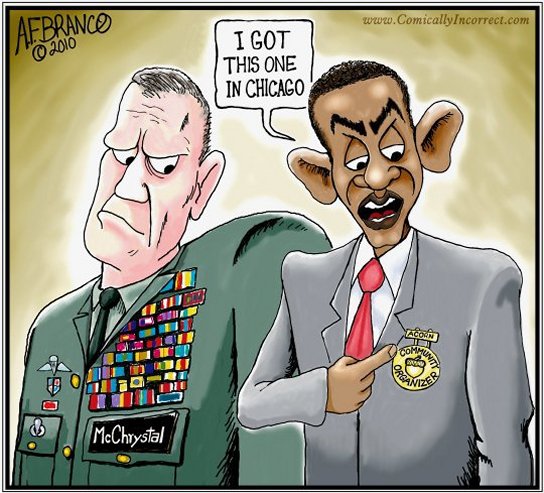 Posted by Wild Thing at June 27, 2010 06:55 AM
---
Comments
McCrystal is the military version of a progressive liberal. Obama threw him under the bus just like he did Jemimah Wright.
Posted by: BobF at June 27, 2010 09:37 AM
---
I wonder if McChrystal will vote for obama again in 2012.
Posted by: TomR, armed in Texas at June 27, 2010 10:48 AM
---
Being a Military 'type' this seems to be a huge contradiction. Which of course explains the ROE's
and the overly concern for the Civilian population. Karzai kept hammering that too many civilians were being killed. Karzai seems to be a Calderon type where he says one thing in public and another in private.
We still had Soldiers and Marines brought up on charges in Iraq, for "over-reacting" and lost their careers over the incident. So how much the ROE's change, remain to be seen.
Petreaus is a better man than McChrystal but he can only go so far or he will get the ax too. Any way you slice it, its not good for the troops.
Posted by: Mark at June 27, 2010 11:46 AM
---
BobF., yes interesting how there is no loyalty among these progressives at all.

Tom, LOL good one, I wonder too.

Mark, your right and that ticks me off so much. How our troops want so badly to do what should and needs to be done, then they react as they should and get in trouble for it. GRRRRRRRRRRRRRR
Posted by: Wild Thing at June 27, 2010 07:27 PM
---