« Gov. Brewer to Senator Schumer: Secure the Border First | Main | Flotilla Choir Presents: We Con the World....A Must See Video »
June 04, 2010
Gov. Jan Brewer Remarks At Metting With Obama
Arizona Gov. Jan Brewer following her meeting with President Obama at the White House today, June 3, 2010. Brewer said she is "encouraged" following the meeting, that there will be a better dialogue between her state and the Federal Government on the issue of Border Security. She said Obama promised to send officials to meet with her state officials on the issue within two weeks. Brewer also said she hopes it will lead to greater movement on securing the border with Mexico. Brewer just smiled when asked if she thinks Obama has actually read the Arizona Immigration Law.
Brewer said she was "encouraged" by the meeting. She was asked if she thought Obama understood the Arizona law. She responded by saying, "You know, he's a well-learned man and a lawyer. If he has read the law, I'm sure he understands the law."
Then then the reporter then asked if she believes Obama has read the Arizona anti-illegal Immigration Law? Her response was priceless! Just a big broad smile! She did not elaborate!
Gov. Jan Brewer appeared to obtain few results from her meeting with Obama Thursday,Obama assured her that he would send White House staff members to her state to talk with officials about efforts to secure the U.S.-Mexico border and he provided no details about where the 1,200 National Guard troops will be deployed along the U.S.-Mexico border.


.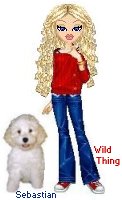 Wild Thing's comment.......
This is soooo stupid on Obama's part and an intentional snub to her and to AZ. There she was with him and he had to say he would send some of his freaking staff to let her know what he planned. He makes me sick!
The federal government is willfully violating federal laws. I swear Im living in bizzaro world.
Posted by Wild Thing at June 4, 2010 05:50 AM
---
Comments
I wouldn't mind seeing her and Michelle Bachmann on the ticket in 2012. This woman has got a set of titanium kahonas. She went into the lions den and came out with her head held high...fearless.
Posted by: BobF at June 4, 2010 11:13 AM
---
We got the people waiting in the wings all right.
1200 guard troops will they have weapons this time or just stand around and be door man for the incoming Mexican hordes.
Posted by: Mark at June 4, 2010 04:29 PM
---
Obama can't come to Az because he doesn't have valid citizenship papers. He's a Kenyan wetback.
Posted by: Billy Ray at June 4, 2010 09:01 PM
---
BobF., great way to put it and so true too.

Mark, we sure do, it is interesting how when the times get like they are now, the warriors always will stand out no matter what. I love that so much.
Billy, LOL good one!!!
Posted by: Wild Thing at June 5, 2010 03:28 AM
---