« Obama's Chief of Staff Rahm Emanuel Tied To BP Adviser | Main | Congressman Peter King: "I Believe That the Obama Administration's Foreign Policy is Responsible For What Happened With the Flotilla" »
June 08, 2010
Super Tuesday Primary Election-11 States Today
Harry Reid and Michelle Obama exercising????

Twelve states are holding primary contests Tuesday

Arkansas Sen. Blanche Lincoln faces off against Lt. Gov. Bill Halter in a Democratic primary runoff, while in Nevada Harry Reid will finally get an opponent in the Republican race to challenge the Senate majority leader.
California Sen. Barbara Boxer, who is potentially endangered, will learn her challenger as voters in the state also decide who will win the Democratic and Republican nominations for the seat being vacated by term-limited two-term Republican Gov. Arnold Schwarzenegger.
Democrat state Attorney General Jerry Brown, the former governor, wants his old job back. He will face either former eBay CEO Meg Whitman or state Assemblyman Steve Poizner.
In Nevada, three viable Republican candidates are hoping to take on Senate Majority Leader Harry Reid. Tea Party favorite Sharron Angle has surged of late against businessman Danny Tarkanian and former state lawmaker Sue Lowden.
In the race for South Carolina governor, nothing is out of bounds, as months of attacks in the Republican primary have led up to a last-minute scandal throwing the race into chaos.
Establishment favorites also are challenged in primaries for House seats in Montana, New Jersey and Virginia. Also holding contests are Iowa, Maine, North Dakota and South Dakota.
A special election runoff is also being held in Georgia to fill the seat of Rep. Nathan Deal, who quit to focus on his Republican primary for governor, being held July 20.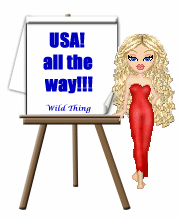 Wild Thing's comment.......
Prayers for our cuontry. I pray Conservatives get out and vote more then ever before, and Conservatives win.
Posted by Wild Thing at June 8, 2010 05:48 AM
---
Comments
Those two are as inspiring as a case of Herpes.
Posted by: Mark at June 8, 2010 06:56 AM
---
Posted by: Wild Thing at June 8, 2010 11:51 PM
---