« Today Is Flag Day! I Love Our Flag and What It Stands For! | Main | South Carolina Pol Questions Dem Senate Candidate's 'Mental Status' »
June 15, 2010
Netanyahu Warns: Dark Days Ahead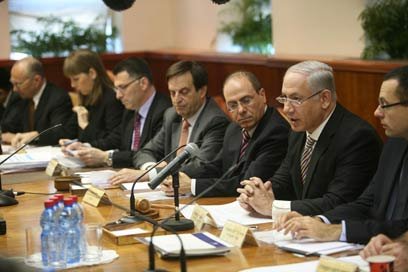 Netanyahu warns: Dark days ahead

Prime minister says committee probing flotilla raid is Israel's best possible option as it 'strengthens our ability to fight in the international political arena', but also warns against 'surprises', even from allies.
Prime Minister Benjamin Netanyahu predicted rough waters ahead for Israel on Monday. "Be prepared for difficult days," he told a Likud faction meeting, in which he also announced the establishment of an inquiry committee to probe the IDF flotilla raid.
"Dark forces from the Middle Ages are raging against us. I have received calls from concerned officials in the Balkans and Eastern Europe who are very worried about these developments."

Earlier, at the cabinet meeting, Netanyahu told ministers to expect "surprises", even from Israel's allies. However he said the committee would work in favor of Israel, and not against it.
"This committee strengthens our ability to fight in the international political arena. If we had done nothing, I assume we would have had worse problems in the world. There is a certain price we are paying, but under the present circumstances it is our best move," he said.
"The flotilla to Gaza was not a one-time thing. We find ourselves in the midst of a difficult and continuous battle against the State of Israel. The flood of hate is being led by Israel's enemies all over the world," Netanyahu added.
"They are trying to pinch us with the metal pinchers of missiles and terror, and revoke Israel's right to defend itself as well as the rights of IDF soldiers to protect their own lives."
.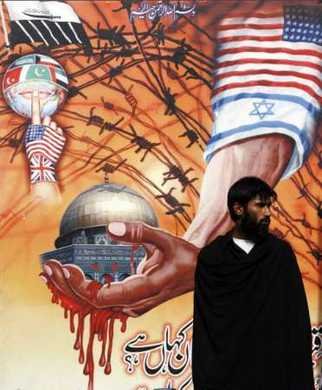 Iran Sending Ships to Run Israeli Blockade of Gaza
A man stands in front of an anti-U.S./Israel Banner in Iran as hundreds of protesters nearby took part in a a march against Israel and its allies in Lahore June 13, 2010.

* First ship left Iran Sunday, another leaves this week
* Iran says will continue until Gaza blockade lifted
* 100,000 Iranians volunteer to crew ships - report

Iran is sending aid ships to blockaded Gaza, state radio said on Monday -- a move likely to be considered provocative by Israel which accuses Tehran of arming the Palestinian enclave's Islamist rulers, Hamas.
One ship left port on Sunday and another will depart by Friday, loaded with food, construction material and toys, the report said. The boats would be part of international efforts to break Israel's isolation of the Gaza Strip.
"Until the end of the Gaza blockade, Iran will continue to ship aid," said an official at Iran's Society for the Defence of the Palestinian Nation.
While Israel has long suspected Iran, which rejects the Jewish state's right to exist, of supplying weapons to Hamas, Tehran says it only provides moral support to the group.

Public opinion in Muslim countries was outraged by the killings. An official of the Iranian Red Crescent Society's youth organisation said some 100,000 Iranians had volunteered as potential crew for aid ships, Iran daily reported.
A senior Iranian official said earlier Iran's elite Revolutionary Guards were ready to provide a military escort to aid ships heading to Gaza if Supreme Leader Ayatollah Ali Khamenei so commands.
But the Guards' deputy head, Hossein Salami, said there were no plans to do so. "Such a thing is not on our agenda," he was quoted as saying by the official IRNA news agency on Monday.
Any such military mobilisation would risk a major confrontation with Israel, which fears Iran's nuclear enrichment programme is aimed at developing atomic bombs.
The Jewish state regards Iran's nuclear ambitions as a mortal threat. Iran says its nuclear programme is meant solely to yield electricity or isotopes for medicine and agriculture.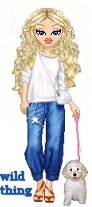 Wild Thing's comment.......
Bibi's right.... Anyone paying even remote attention to the current state of the world can see the storm clouds gathering.
Posted by Wild Thing at June 15, 2010 04:40 AM
---
Comments
I've been saying since the first incident that there will be a World War by the end of the year.
You've got the Turkey-Iran connection. You've got the Iran - North Korea connection. You've got the North Korea - China connection. And I'm sure Iraq would fit in there somewhere. And other allies of Iran are Germany and France, although I don't think they would get involved.
Israel, well.. all they really have is the US connection, and Obama has really turned his back on them. And the UK is really the only true ally that we could count on to back us up. Maybe Australia. Maybe Canada.
As for Russia, well, you never know which way they would go.
The shadows like the Cold War from the 1950s to the 1980s may be coming back. And unfortunately, most have nuclear capability. One of my greatest fears is that we, in our lifetime, will see a nuclear detonation, that isn't a test. And there isn't anywhere to hide. I'm not a peace loving-tree hugger, but with Obama in office.... we are screwed if this happens.
Posted by: Steele at June 15, 2010 05:52 AM
---
Steele, you point out some important things thank you. I agree the next one will be as you said.
Posted by: Wild Thing at June 15, 2010 06:36 PM
---