« LIAR Obama Breaks Promise To Arizona Gov. Jan Brewer, Hillary Clinton Says Obama To Sue AZ. Over SB1070 | Main | Not Hiring Ilegals Opens Up Job Opportunities For Americans! »
June 19, 2010
Give U.S. Troops Time To Win, Generals Say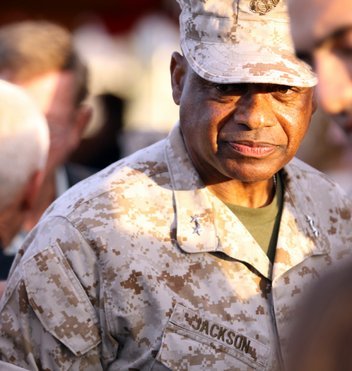 Maj. Gen. Anthony Jackson, commander of Marine Corps Installations West.

Give U.S. troops time to win, generals say
Questions mount over Afghanistan

As skepticism mounts over President Barack Obama's plan to quell the insurgency in Afghanistan and begin withdrawing combat forces next summer, military leaders from San Diego to Kabul are urging Americans to give the troops enough time to prevail.
Marines are used to long odds, and the fight in Iraq once seemed unwinnable before U.S. forces — including thousands of troops from Camp Pendleton — helped pacify Anbar province, Maj. Gen. Anthony Jackson said Wednesday during a meeting of the San Diego Military Advisory Council.
"We are not there to tame Afghanistan. That is for the Afghan people to do. We are there to ensure that our homeland is not attacked again and that the Afghan people have the opportunity to make choices not based on terror," Jackson said.
Jackson noted that Alexander the Great, Genghis Khan, the British and the Russians didn't last long in Afghanistan. Now, again, it appears that time is on the side of the insurgents.
"They have 100 years, the Taliban does — in their mind — to win. We've been given a timeline for our combat troops: a year. Don't believe it," Jackson said. "I think I can say that fairly, you don't accomplish those things in a year."
Congress appears to be losing patience six months after Obama called for a surge of 30,000 more troops, many of them Camp Pendleton Marines sent to the Taliban stronghold of southern Afghanistan.
On Wednesday, U.S. Secretary of Defense Robert Gates told a Senate panel, "I think that we are regaining the initiative."
But some legislators cast doubt on Gates' view that U.S. forces are "making headway" in Afghanistan. Several Senate Democrats expressed frustration over the military campaign there. They included Byron Dorgan of North Dakota, who questioned whether it would ever be possible for the Afghan government to rein in tribal leaders, and Patrick Leahy of Vermont, who said, "We've committed so many lives, so much money here, and we've neglected so many things inside the borders of the United States."
Obama has directed that combat troops start pulling out from Afghanistan by July 2011. A growing chorus of people inside and outside the military say that timeline could prove unrealistic.
In a separate hearing Wednesday, Gen. David Petraeus, head of U.S. Central Command, said he might recommend a push-back in the timeline if security in Afghanistan has not improved significantly by next summer.
"I did believe there was value in sending a message of urgency — July 2011 — as well as the message the president was sending of commitment: the additional, substantial numbers of forces," Petraeus testified before the Senate Armed Services Committee.
"But it is important that July 2011 be seen for what it is: the date when a process begins, based on conditions, not the date when the U.S. heads for the exits. We're doing all that is humanly possible to achieve those conditions."
Jackson commands Marine Corps Installations West, which includes Camp Pendleton, Twentynine Palms and other Western bases where Marines train for advanced combat operations.
He drew a parallel between the counterinsurgency fight in Afghanistan and Marine efforts to pacify the western region of Iraq, where the insurgency had been most violent.
"You lose good people in those wild places. But the Marines were tenacious. They stuck to their mission," Jackson said.
With help from soldiers, aviators and Navy Seabees, the Marine Corps became the "20th tribe" in Iraq and eventually the strongest tribe, he said.
All the other generals living in his Fallbrook neighborhood are serving in Afghanistan now because the 1st Marine Expeditionary Force took control of Marine operations there this spring.
Nearly 10,000 troops from the force, which is based at Camp Pendleton, are fighting in Helmand province, where poppy fields supply much of the world's opium and Taliban funding. Five Marines from that contingent died there during combat last week.
Maj. Gen. Richard Mills, the head Marine in Afghanistan, also assumed command this week of NATO forces in the southwestern provinces of Helmand and Nimruz.
Efforts to clear the area around Marjah, in Helmand province, after a major Marine operation there in February have been more difficult than expected, the head of international forces in Afghanistan, U.S. Army Gen. Stanley McChrystal, conceded recently. Plans to sweep the Taliban out of their spiritual birthplace in neighboring Kandahar province this summer also have been delayed.
Last week, Brig. Gen Joseph L. Osterman, head of the Camp Pendleton-based 1st Marine Division in Afghanistan, dispatched a battalion of reconnaissance Marines to help in Marjah.
"This operation is designed to drive the insurgent forces even further from the populated area of Marjah, pursuing the enemy in the process and making it increasingly difficult to affect Marjah from exterior areas that serve as insurgent havens," Osterman said from Afghanistan.
The United States gained major ground during the early years of the war but has lost the momentum, said Eli Berman, a research director for the University of California Institute on Global Conflict and Cooperation.
"Now that the insurgency is entrenched, it is very, very difficult to get it out," said Berman, who has traveled to Afghanistan twice.
Because of the country's mountainous geography, weak central government and widespread corruption, among other reasons, the task of winning over the people there is much more daunting than it was in Iraq, he added.
"It is very difficult in the Afghan context to convince the local population that a viable government is possible," Berman said.
"At the same time that the international force is fighting the insurgency, they also have to develop the government and the economy. In Iraq, you could concentrate most of the effort on fighting the insurgency, but in Afghanistan, you have to try to do all three."
The way it looks now, the time frame to begin troop withdrawals in a year seems "totally unrealistic," said Kabul-based Candace Rondeaux, senior Afghanistan analyst for the International Crisis Group.
"It will be a huge turning point" if the current schedule holds, Rondeaux said. "It will plunge (Afghanistan) into civil war."

.

NEVER FOGET what THIS ASSHOLE Obama said !!!....
.

Wild Thing's comment........
Dang it I can't stand Obama, he is soooo dangerous to our troops. He gives them the worst R.O.E.'S and then is not even supportive of them. He has said he does not want Victory and the list goes on and on of the things he has said and done against them.
Our troops want to win, they are warriors and they are sooo good at what they do.

....Thank you Mark for sending this to me.


Mark
3rd Mar.Div. 1st Battalion 9th Marine Regiment
1/9 Marines aka The Walking Dead
VN 66-67


Posted by Wild Thing at June 19, 2010 08:49 AM
---
Comments
If history serves me right there was another great General by the name of Jackson, first name Thomas. This General Jackson reminds me of him and what I've read of him.
This is another General who puts his troops first and couldn't care less about politicians. STonewall was like that.
Posted by: Mark at June 19, 2010 09:20 PM
---
Mark, thank you so much for sharing about the the Jackson.
Posted by: Wild Thing at June 20, 2010 02:37 AM
---