« Obama Stop Talking and Let The Kid Sleep! LOL Must See! | Main | Mark Levin on Rush Limbaugh's Wedding »
June 08, 2010
Ginni Thomas Wife of SC Justice Clarence Thomas Says "We are in a Fight for our Country's Life"
The wife of Supreme Court Justice Clarence Thomas has harsh words for Democrat-controlled Washington.
.
The Democrats' control of the White House and Capitol Hill has resulted in tyranny, says Virginia "Ginni" Thomas, founder of LibertyCentral.org.
Ginni Thomas, the wife of Supreme Court Justice Clarence Thomas, has harsh words for President Obama and the Democrat-controlled Congress.
"I've never seen in my 30 years in Washington an agenda that's so far left," Thomas tells Newsmax.TV. "It grabs a lot of power so that Washington elites can pick winners and losers."
Washington has turned away from our Founding Fathers, says Thomas, a former consultant to The Heritage Foundation.
They gave us a government that's supposed to make us "citizens, not subjects; to be self-governed, not to be ruled by a tyranny in Washington," Thomas says.
"Whether it's a soft tyranny or a hard tyranny, it's time to put our foot down. If we don't stop this train that's headed for a cliff right now, we won't have the country we grew up in."
With Democrats in control, there are no checks and balances in Washington now, says Thomas, a native Nebraskan who founded her website in November to promote grassroots political activism.
The Democrats aren't listening to the people, she says, adding, "I've never seen anything like it."
The Bush administration did a much better job of listening, Thomas believes. When it proposed immigration and Social Security reform that the public resisted, the White House backed off.
That's not the case now, "even though the citizenry is rebelling and trying to speak," she says. "I've never seen Washington not listening like what we're seeing now. We're either going to be self-governed or ruled."
Hopefully citizens will take out their frustrations in November "and make sure people who aren't listening will have a new job," Thomas says.
As for Liberty Central, it inspires citizens to action on behalf of five major principles:
■Limited constitutional government
■Individual liberty
■Personal responsibility
■Free enterprise
■National security

Washington is deficient in all these areas, so people need to start participating in government more, Thomas says.
Tea partyers represent the first political responders to Washington's follies, Thomas says.
"That's because they're the people figuring this power grab out quicker than most," she says.
"This is truly a grass-roots movement. I don't think we've seen anything like this in our lives. It's very inspirational. I appreciate all they've done."
The left's ridicule of the tea partyers just shows their merit, Thomas says.
"The left goes after the people they're most afraid of. It's important in this political environment to have the right friends and enemies. If the left is calling you names, you're someone we want to pay attention to."
Thomas voices high praise for Sarah Palin. The former Alaska governor appeals to people because of her authenticity, Thomas says.
"She's a breath of fresh air. People want to hear real people talking about what's really happening. That's why she's so effective."
.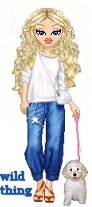 Wild Thing's comment........
I bet Judge Thomas is proud of her! I am also grateful for Judge Thomas, his courage to adhere to his conservative principles despite the incredible levels of ridicule and scorn from others.
May God bless this dear woman, her husband Supreme Court Justice, Clarence Thomas, and her organization.
She speaks very well.
Posted by Wild Thing at June 8, 2010 03:50 PM
---
Comments
Demo-rats imposing tyranny? Oh, hell, yes! (Power is fun and they like it-- makes up for their inadequacies and lack of principles, you see.) Having people (everybody else) "spread the wealth around" makes 'em feel generous, too.
Posted by: Anonymous at June 8, 2010 05:09 PM
---
Anonymous, you said it better then I. That is exactly what they are like.
And I am so glad that Ginni Thomas is speaking out. We need all we can that love America to speak up.
Posted by: Wild Thing at June 8, 2010 07:37 PM
---