« DOJ Official Resigns OVER OBAMA'S RACISM The Black Panther Voter Intimidation Case | Main | YouCut - A Project to Change the Spending Culture in Washington »
June 27, 2010
Community Organizer Obama Wants To Bankrupt Europe Along With The USA ~ G20 Says NO Thanks To Obama!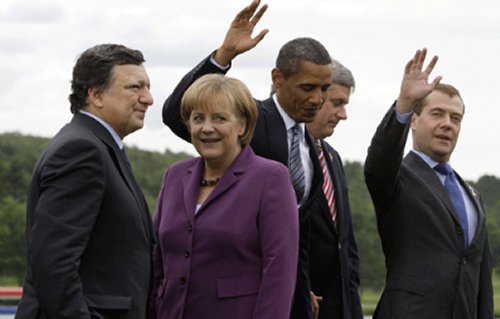 ONLY Obama/Mededev raising hands, Merkel, Harper, Barroso not (G-8 group photo)
Obama began his day by concluding a summit of the leading eight industrial democracies at a resort in Canada's forested Muskoka lakes region, then flew to Toronto for a second, expanded summit of the so-called Group of 20 nations. Those larger meetings, mostly being held on Sunday, were getting underway with a dinner.

Leaders from the Group of 20 leading economies struggled to downplay differences over how to keep the global recovery on track Saturday, as they gathered for a key summit in Toronto.
Leaders from the United States and Europe clashed on how best to prevent a fresh economic crisis, amid fears the global economy may be teetering on the brink of a double-dip recession.
"This summit must be fundamentally about growth," said US Treasury Secretary Timothy Geithner on his arrival in Canada, sending a warning shot to European countries that stress the need for budget cuts over further stimulus.
Britain, Germany and France have vowed to slash spending.
Amid the divisions, both sides have stressed a mantra that both growth and cuts are needed, but allowing for different strategies for different countries.
Canada advocates reducing deficits and putting finances on a sustainable path. Obama. advocates additional spending.

Wild Thing's comment........

The United States of America sends the community organizer Obama, who never had a job or even ran a hot dog stand and tax cheat Timothy Geithner to tell other world leaders how to run their countries. Good grief!

Never thought I'd see the day when Europeans were lecturing us to be more Conservative. God help us!

Obama wants to spend, spend, spend, so then he can tax, tax, tax and totally kill the US economy.
Even socialist Canada and Europe are starting to figure out that spending is not the answer -- all except Obama.
Posted by Wild Thing at June 27, 2010 06:47 AM
---
Comments
A bunch of savvy and experienced world leaders being told by a community organizer how to get out of debt.
Posted by: BobF at June 27, 2010 09:35 AM
---
Europe has spent 60 years in socialist mode. Now America in 18 months is sinking lower on the socialist ladder and the Europeans, includig Vladimir Putin, are telling America that we need to stop the sinking. It's like children having to ask their parents to act less like children. How ironic.
Posted by: TomR, armed in Texas at June 27, 2010 10:19 AM
---
Especially by the 'tax cheat' Geithner, he should give advice to nobody and thankfully nobody in Europe is taking it.
Omoron must really exude confidence, nobody listens to him along with his comments that the U.S. is no longer going to be a world leader, who would even want to listen to this putz.
Posted by: Mark at June 27, 2010 03:54 PM
---
BobF., I realy had to laugh a tiny bit at that. If someone had said this would happen one day I would have thought they lost their mind.

Tom, well said, yes it sure is ironic.

Mark, that really got me, that Geithner was there then on top of that spoke down to them like he did and threaten in a way too. whew what a lot of nerve he has and Obama too.

Posted by: Wild Thing at June 27, 2010 07:49 PM
---