« The Coming Resignation of Barack Obama | Main | Gov. Brewer to Senator Schumer: Secure the Border First »
June 04, 2010
Brecksville-Broadview Heights Ryan Nowlin Heading to The United States Marine Band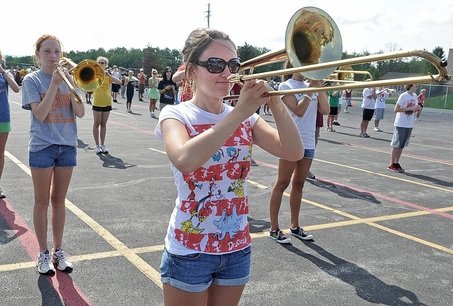 Under the direction of Ryan Nowlin, Rachel Mangan practices with the Marching Bees for the 2009 high school football season.
Brecksville-Broadview Heights ( OHIO) Marching Bee band director Ryan Nowlin heading to The United States Marine Band

Brecksville-Broadview Heights High School Band Director Ryan Nowlin announced his new position of staff arranger for"The President's Own" United States Marine Band in Washington, D.C.

Nowlin said the five-month long audition and interview for the staff arranger job was kept "close to his heart" throughout the process. He said he was not actively looking to leave his present position, which he's held for the past five years.
"The hardest day for me, without a doubt, was the day I told the students," Nowlin said. "The students were especially proud of me once they heard what I was doing. They were very encouraging and I was very touched. The impact of these students, my colleagues, and the community on my life and family has been enormous and I am forever grateful."

Nowlin learned about the pending vacancy of the Marine Band staff arranger through a musician friend in the band. Once he submitted his resume, Nowlin had to arrange several musical arrangements before the selection process began.

After the semi-final decision, he learned he was selected as one of the top two finalists upon returning from the BBHHS band trip to Walt Disney World in April.

After the review of more musical arrangements, Nowlin learned that he had been selected for the position. The other finalist was the staff arranger for the United States Air Force Band, so Nowlin thought he would be selected.
"I thought it was fun while it lasted," said Nowlin, noting that the other finalist, originally from Medina, showed up for the final interview in his Air Force dress uniform.
"This career change is something I never foresaw," Nowlin said.

Nowlin said he is pleased to say that three of his grandfathers were all in the military during World War II.
"I wasn't that man, but I can serve this way," he said. "I feel I have the skill set for this - not as the person who won five Bronze Stars and two Purple Hearts like my grandfather."
Before beginning his position in late summer, Nowlin said he will have to officially become a Marine, meet with his Marine Corps recruiter here, transfer to Washington, DC, and undergo two to four weeks of training.
The Marine Band is comprised of 130 members who perform in four musical groups; the marching band, the chamber orchestra, the concert band and chamber ensemble. The group performs at state functions for the President, including the presidential inauguration.

Additionally, the band tours nationally and performs as a back-up to musical guests at the White House among other duties.

Nowlin said his music department colleagues at BBHHS and the middle school, Jason Wyse, Steve Cocchiola, Chuck Valley, Brady Sark, Ivory Kovach, and Debbi Scheufler, and Julie Sterman have been supportive and very excited for him.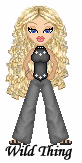 Wild Thing's comment........
How exciting for Ryan Nowlin to be chosen for this. News like this is so great to hear about with so many things happening that make us angry and frustrated.
CONGRATULATIONS Ryan Nowlin!!

.... Thank you Jan for sending this to me.
Posted by Wild Thing at June 4, 2010 05:47 AM
---
Comments
This is great. All the Military Bands are super hard to get into. Unit bands, Ship bands is not as rigorous as the one representing that Service Branch stationed in Washington DC.
This is a real honor. Good luck to him.
Posted by: Mark at June 4, 2010 07:11 AM
---
Mark, thanks for commenting on this. I agree it is wonderful.
Posted by: Wild Thing at June 5, 2010 03:32 AM
---
I am/was a student of Mr. Nowlin. Im in the 8th grade at Brecksville-Broadview Heights Middle School and he was a great director and person. We are all very proud of him even though it is sad to see him leave.
Posted by: jasjas8 at June 9, 2010 09:10 PM
---