« Obama Offers ILLEGAL Aliens Movie Nights, Bingo, Arts and Crafts, Dance | Main | Hawaii Elections Clerk: Obama Not Born Here »
June 10, 2010
Army Fires Top Two Administrators Over Mismanagement of Arlington Cemetery
.
Arlington National's superintendent, John Metzler, (r) and his deputy, Thurman Higgenbotham (l), have lost their jobs over alleged mismanagment of the gravesites. (Pentagon/Arlington National)

Army Fires Top Two Administrators Over Mismanagement of Arlington Cemetery

Army Secretary John McHugh has fired the top two officials overseeing Arlington National Cemetery over allegations of mismanagement, including burying a service member's body on top of another, Fox News has confirmed.
McHugh will announce Thursday that he is replacing Arlington National's superintendent, John Metzler, and his deputy, Thurman Higgenbotham, who had reportedly illegally hacked into the computer files of a former Arlington employee.
In November, McHugh ordered an investigation into the allegations.
"A thorough investigation and transparency in its results can help correct whatever may be wrong and ensure America's confidence in the operation of its most hallowed ground," McHugh said at the time. "We will take appropriate action as the facts dictate."
Metzler announced this week he is retiring July 2 after working for the government for 42 years, the last 19 at Arlington. He said those issues weren't as bad as had been reported.
But Army officials told NBC News that both he and Higgenbotham are being forced to step down.
The 62-year-old's father also was superintendent at the cemetery outside the nation's capital.
Metzler says the high point of his career was expanding the cemetery for veterans and their families so it could continue to take new burials until 2060.
But according to NBC News, which first reported the firings, both Metzler and Higgenbotham had come under heavy fire for keeping records of the hundreds of thousands buried at Arlington National in paper files instead of creating a computer database of gravesites, NBC reported.
Officials told NBC News that over the past couple of years, some of the 300,000 graves at Arlington were improperly marked and in some cases bodies were buried in the wrong graves.
In 2008, a master sergeant was buried on top of a staff sergeant already in the grave, but the error wasn't discovered until the widow of the first service member buried there complained to authorities that someone else's headstone had been placed on her husband's grave, NBC News reported.
Officials say McHugh also will announce today that he is creating a new position to oversee operations at Arlington National.
.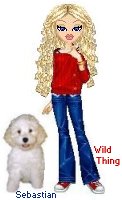 Wild Thing's comment........
Dear God this is horrible!!!!
Posted by Wild Thing at June 10, 2010 02:47 PM
---
Comments
Ruckin Fidiculous....One thing that stands out in my mind is the lack of (D) on the firing line. IF either of them asshats was a Democrat, I'm sure they would not have been held accountable. It's pretty sad but that's the way it is with our thug in chief. Look at all the (D's) that should have been fired over all the scandals and idiotic moves across the nation for the last 1.5 years. Not one Demorat has been fired. WHY? Oh yeah....nevermind.
Posted by: Robert at June 10, 2010 03:59 PM
---
Sad to say but nothing surprises me anymore. Looks like all the muck is rising to the surface. We, and our kids, have so much to clean up.
How many hours before they "blame Bush"....?
Posted by: yankeemom at June 10, 2010 05:04 PM
---
Guess the Demo-rats feel they need the veterans' vote this November... otherwise, would they fire career bureaucrats (one a minority) or even care about this? (Hell, look at the cushy deal they got... not fired or even just quit, allowed to RETIRE and keep their pensions and retiree benefits-- guess they could make a career out of screwing up.)
Posted by: Anonymous at June 10, 2010 07:09 PM
---
They still haven't put these files on computer ? What century are these two idiots living in. They do have computers the higgenbothom hacked into a computer there, What do they do all day. Had this happened under Bush's watch, you can bet the Lame stream Media would be demanding his head.
This is beyond a mistake this is pure negligence.
Posted by: Mark at June 10, 2010 07:48 PM
---
A sad story with very sad implications. Arlington is a sacred place. Even my most pessimistic thoughts would have never included something like this.
Posted by: TomR at June 10, 2010 07:57 PM
---
Thank you everyone so much.
This is like a nightmare that this has happened. To think too how it must feel to the loved ones to find this out.

Arlington is something I never thought anything could touch it in a bad way. So sad!!!
Posted by: Wild Thing at June 11, 2010 04:12 AM
---