« Fred Thompson on Obama: I'm Concerned Most When His Real Thoughts Come Out | Main | "Takin' Back Our Country" Joyce Shaffer »
May 02, 2010
What Arizona Must Live With by Mark Steyn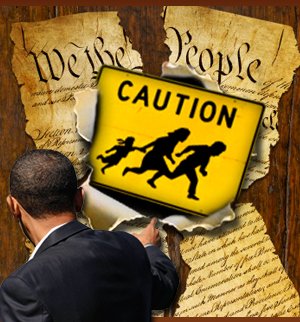 What Arizona Must Live With
by Mark Steyn
As I write, I have my papers on me — and not just because I'm in Arizona. I'm an immigrant, and it is a condition of my admission to this great land that I carry documentary proof of my residency status with me at all times and be prepared to produce it to law-enforcement officials, whether on a business trip to Tucson or taking a 20-minute stroll in the woods back at my pad in New Hampshire.
Who would impose such an outrageous Nazi fascist discriminatory law?
Er, well, that would be Franklin Roosevelt.
But don't let the fine print of the New Deal prevent you from going into full-scale meltdown. "Boycott Arizona-stan!" urges MSNBC's Keith Olbermann, surely a trifle Islamophobically. What has some blameless Central Asian basket case done to deserve being compared to a hellhole like Phoenix?
Boycott Arizona Iced Tea, jests Travis Nichols of Chicago. It is "the drink of fascists." Just as regular tea is the drink of racists, according to Newsweek's in-depth and apparently non-satirical poll analysis of anti-Obama protests. At San Francisco's City Hall, where bottled water is banned as the drink of climate denialists, Mayor Gavin Newsom is boycotting for real: All official visits to Arizona have been canceled indefinitely. You couldn't get sanctions like these imposed at the U.N. Security Council, but then, unlike Arizona, Iran is not a universally reviled pariah.
Will a full-scale economic embargo devastate the Copper State? Who knows? It's not clear to me what San Francisco imports from Arizona. Chaps? But, at any rate, like the bottled-water ban, it sends a strong signal that this kind of hate will not be tolerated.
The same day that Mayor Newsom took his bold stand, I saw a phalanx of police officers doing the full Robocop — black body armor, helmets, and visors — as they marched down the street. Goosestepping? No, it's actually quite hard to goosestep in those steel-reinforced kneepads. So just regular marching. Naturally, I assumed they were Arizona state troopers performing a routine traffic stop. In fact, they were the police department of Quincy, Ill., facing down a group of genial tea-party grandmas in sun hats and American-flag T-shirts. They were acting at the behest of President Obama's Secret Service, who rightly recognized a polite knot of citizens singing "God Bless America" as a clear and present danger to the republic.
If I were a member of the Quincy PD, I'd wear a full-face visor, too, because I wouldn't be able to look myself in the mirror. It's a tough job making yourself a paramilitary laughingstock.
And yet the coastal frothers denouncing Arizona as the Third Reich or, at best, apartheid South Africa seem entirely relaxed about the ludicrous and embarrassing sight of peaceful protesters being menaced by camp stormtroopers from either a dinner-theater space-opera or uniforms night at Mayor Newsom's reelection campaign.
Meanwhile, in Britain, a flailing Prime Minister Gordon Brown was on the stump in northern England and met an actual voter, one Gillian Duffy. Alas, she made the mistake of expressing very mild misgivings about immigration. And not the black, brown, and yellow kind, but only the faintly swarthy Balkan blokes from Eastern Europe. And actually, all she said about immigrants was that "you can't say anything about the immigrants." The prime minister brushed it aside blandly, made some chit-chat about her grandkids, and got back in his limo, forgetting that he was still miked. "That was a disaster," he sighed. "Should never have put me with that woman. Whose idea was that . . . ? She's just this sort of bigoted woman."
#page
After the broadcast of his "gaffe," and the sight of Brown slumped with his head in his hands as a radio interviewer replayed the remarks to him, the prime minister found himself going round to Gillian Duffy's home to abase himself before her. Most of the initial commentary focused on what the incident revealed about Gordon Brown's character. But the larger point is what it says about the governing elites and their own voters. Mrs. Duffy is a lifelong supporter of Mr. Brown's Labour party, but she represents the old working class the party no longer has much time for. Travis Nichols may be joking about "the drink of fascists," but, in the same way as Gavin Newsom and Keith Olbermann, Gordon Brown genuinely believes Gillian Duffy has drunk deeply from the drink of bigots for so much as raising the subject of immigration. How dare she! Ungrateful bigot!
Gillian Duffy lives in the world Gordon Brown has created. He, on the other hand, gets into his chauffeured limo and is whisked far away from it.
That's Arizona. To the coastal commentariat, "undocumented immigrants" are the people who mow your lawn while you're at work and clean your office while you're at home. (That, for the benefit of Linda Greenhouse, is the real apartheid: the acceptance of a permanent "undocumented" servant class by far too many "documented" Americans who assuage their guilt by pathetic sentimentalization of immigration.) But in border states, illegal immigration is life and death. I spoke this week to a lady who has a camp of illegals on the edge of her land: She lies awake at night, fearful for her children and alert to strange noises in the yard. President Obama, shooting from his lip, attacked the new law as an offense against "fairness." Where's the fairness for this woman's family? Because her home is in Arizona rather than Hyde Park, Chicago, she's just supposed to get used to living under siege? Like Gillian Duffy in northern England, this lady has to live there, while the political class that created this situation climbs back into the limo and gets driven far away.
Almost every claim made for the benefits of mass immigration is false. Europeans were told that they needed immigrants to help prop up their otherwise unaffordable social entitlements: In reality, Turks in Germany have three times the rate of welfare dependency as ethnic Germans, and their average retirement age is 50. Two-thirds of French imams are on the dole.
But wait: What about the broader economic benefits? The World Bank calculated that if rich countries increased their workforce by a mere 3 percent through admitting an extra 14 million people from developing countries, it would benefit the populations of those rich countries by $139 billion. Wow!
As Christopher Caldwell points out in his book Reflections on the Revolution in Europe, "The aggregate gross domestic product of the advanced economies for the year 2008 is estimated by the International Monetary Fund at close to $40 trillion." So an extra $139 billion works out to a spectacular 0.35 percent. Caldwell compares the World Bank argument to Austin Powers's nemesis, Dr. Evil, holding the world hostage for one million dollars! "Sacrificing 0.0035 of your economy would be a pittance to pay for starting to get your country back." A dependence on mass immigration is not a gold-mine or an opportunity to flaunt your multicultural bona fides, but a structural weakness, and should be addressed as such.
The majority of Arizona's schoolchildren are already Hispanic. So, even if you sealed the border today, the state's future is as a Hispanic society; that's a given. Maybe it'll all work out swell. The citizenry never voted for it, but they got it anyway. Because all the smart guys in the limos bemoaning the bigots knew what was best for them.
.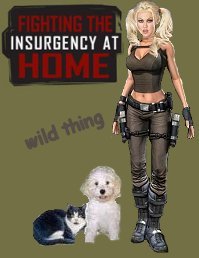 Wild Thing's comment.......
This is classic Mark Steyn, but this time some anger is noticeable in his satire .He is fantastic.

They were acting at the behest of President Obama's Secret Service, who rightly recognized a polite knot of citizens singing "God Bless America" as a clear and present danger to the republic.
Says it all - the current regime does find the Constitution, and those who support it, to be its biggest threat.
Posted by Wild Thing at May 2, 2010 05:45 AM
---
Comments
Maybe us moving to arizona will help balance the demographics. Hell, Texans might have to flee to arizona after the governor's election. I mean with the way the polls are looking, bill white is going to have the ATF burning us Gun Owners at the stake (literally), giving amnesty to all of these little illegal parasites, and sending the once-great-state of Texas down the road of kommiefornia.
Posted by: JohnE at May 2, 2010 03:58 PM
---
Hi JohnE, great to see you. ((Hug))
I pray for Texas to be ok forever, these elections are so huge for the future of our country.
I love Texas so much, if I ever win the lotto and can afford to move again Nicholas and I want to move to Texas.
Posted by: Wild Thing at May 2, 2010 07:04 PM
---