« Obama's New Term for the 'War on Terror': CVE "Countering Violent Extremism" | Main | Falling Obama! LOL »
May 21, 2010
Obama Continues His Destruction Of America As Sweeping Wall Street Reform Bill Advances
Dr. Coburn on Fox with Neil Cavuto Discussing the Financial Reform Bill
.
Scott Brown Key to Wall St. Bill Passage
The Senate voted 60-40 to end debate on the bill as U.S. stocks fell sharply. Barney Frank, the Democratic head of a key House committee, told CNBC television news it is important to get financial reform approved quickly to ease market uncertainty. He said he expected Obama could sign a bill into law well before July 4.

In January, he broke the Democrats' lock on the Senate.

On Thursday, he gave it back.

Sen. Scott Brown (R-Mass.) effectively became the 60th vote to cut off debate on Wall Street reform Thursday – a far cry from when Republicans were hailing him as the 41st GOPer who was going to stand up to the Democrats' agenda. Brown also voted "yes" on final passage.

Brown's vote allowed Democrats to move swiftly toward final passage of one of President Barack Obama's top legislative priorities, a day after he was accused of breaking his word by Senate Majority Leader Harry Reid, who said Brown had promised to vote yes Wednesday.

By Thursday, though, Brown switched from no to yes, after a talk with Reid and a full-on sales-pitch from Democrats in the Massachusetts delegation, including Sen. John Kerry, who made the pitch that the bill is good for the state. Brown met Kerry at the Democrat's Georgetown home at 6 a.m. Thursday for a bike ride where they discussed the pending bill extensively, Brown said.
"I spoke at length over a 40 mile bike-ride with Senator Kerry about it," Brown said exiting the floor after casting his vote Thursday. "It was this morning, and he's a very good athlete."

Kerry, who had hip replacement surgery in January, rode with Brown all the way to Great Falls, Md., an aide to the Democrat confirmed to POLITICO.

House Financial Service Chairman Barney Frank (D-Mass.) also talked to Brown – telling him that his concerns about the impact on home-state financial firms such as Fidelity and State Street would be addressed.

It wasn't simply home-state pride. Democrats needed Brown when it became clear that the 'no' votes of Democratic senators Maria Cantwell of Washington and Russ Feingold of Wisconsin couldn't be flipped.

The vote – and perhaps even his long conversation with Kerry – seem sure to give Brown trouble with the government-wary Tea Party movement that backed his candidacy to take Sen. Ted Kennedy's seat. Grassroots supporters who once heralded Brown responded to the senator's vote immediately on social media such as Facebook and Twitter, accusing him of being a "liar" and "Republican in name only."

In some ways, Brown was only facing the challenge many predicted he might:

Would he be the champion of the conservative causes that swept him into the national spotlight? Or would he find himself ideologically aligned with the traditionally Democratic state of Massachusetts?

By breaking with his party, Brown joined fellow New England Republicans Olympia Snowe and Susan Collins of Maine as the vote that pushed Democrats over the top and continued to cement himself as a key player for Democrats who lost their filibuster-proof 60-vote majority with his election.

When Brown arrived to Washington in January, he received a hero's welcome from a Republican party still reeling from huge defeats in 2008. Senate Minority Leader Mitch McConnell (R-Ky.) even went so far as to dub Brown "41."

But as Thursday's vote demonstrated, perhaps the filibuster-boosting moniker was a bit premature. In statements made throughout the voting process on Wall Street reform, Brown has chosen to emphasize Massachusetts first.
"I supported moving the financial bill forward today because I received assurances from Senator Reid and his leadership team that the issues related to Massachusetts in the financial reform bill will be fixed before it is signed into law," Brown said in a statement.
"I will continue working with Senator Kerry and the rest of the Massachusetts delegation to ensure that businesses in our state can continue to operate as they have been doing for decades — creating jobs and helping grow the economy."
Brown was already in the spotlight this week, viewed a likely Republican "yes" vote all along. On Wednesday night, Reid took a shot at Brown, saying "a senator broke his word with me" just minutes after the Massachusetts Republican told reporters he initially said to Reid he would be a "yes" on cloture.

Brown insisted that he had not broken his promise — that his vote was contingent on the resolution of issues he saw with Volcker Rule language in the bill — but Reid's focus on the Republican, both in front of reporters and on the Senate floor, were indicative of Brown's relative importance to the majority leader.
"When he told me that I let him down, I told him straight-up that I certainly felt badly about it but the bottom line is that representations were made, these issues were not resolved, and here we are," Brown said Wednesday. "Him saying what he said — I never take any of this personally. I know he's under a lot of pressure."
.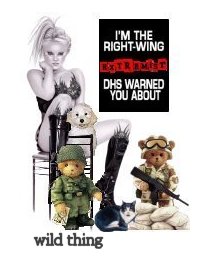 Wild Thing's comment........
This is the WORST bill, it literally will destroy the entire concept of "America" as we know it. The Finance Reform Bill attacking Wall Street and much much more of course.
Jim Demint called this the "worst bill that's ever been in the Senate."

It's the financial regulations bill that basically turns control of every single little aspect of the private sector over to Obama. He now has more power than Castro.
I just can't believe the vacant souls on the Hill. What are they thinking? One man speaking for 300 million people and not with the voice of the majority. What are they thinking?
THREE Republicans: Brown, Snowe, and Collins vote for Cloture.
It will be hard for any law to exceed the damage that will eventually be done by ObamaCare, but this ill-conceived monstrosity, aka the Financial Reform Bill, will ultimately be right up there with socialized healthcare when it comes to contributing to the destruction of America as we have known it.
It will be known as the Mother-of-All-Unintended-Consequences Bill. This is the one that allows them to track each and every financial transaction. every credit card, debit card, check, deposit and withdrawal.
And the consequences will not be good.
Posted by Wild Thing at May 21, 2010 07:55 AM
---
Comments
I think it's funny how many Conservatives lifted up Scott Brown as a politics reformer and even had talk of him running for president in 2012. Now that he's in office, he's nothing more than a Massachusetts RINO. You don't get elected to office in Massatwoshits by being a true Conservative.
Posted by: BobF at May 21, 2010 09:31 AM
---
All I can say is that the new government approved EXECUTIONERS are going to be very busy in 2012
Posted by: Eddie (A libs worst nightmare) at May 21, 2010 09:53 AM
---
Well we all knew Brown was not a conservative, but a republican in name only. The energy during the Health care debate put him over the top. Now it's gone and the Rino comes out of him. Now we know for sure who he is A target to be gotten rid of in the next election.
But why is onbama getting a free pass. He has gotten everything he's asked for. They all can't be leftist Statists ? Nobody but a few die hard Republicans have the stones to question what obama is doing. You will never convince me that they, congress, don't see what this Soutpiel Puppet is doing. He is not hiding anything. The Gulf oil is still leaking, Tennesee is still flooded people are in dire shape there and his only interest is in stealing money, the wealth of this nation and giving it to the rest of the world.
And nobody can see this ????? He has neglected the security of the country, quaddruppled the deficit with nothing to show for it redefined the ROE's of our troops and is currently turning them into an Army of nursemaids for the Taliban. He has shredded the Constitution, these are all high crimes and misdeamors.
Posted by: Mark at May 21, 2010 12:40 PM
---
BobF., your so right. I remember how some were way over the top excited about Brown.
Posted by: Wild Thing at May 22, 2010 04:09 AM
---
Eddie, for the life of me I will never understand why our country stopped executing traitors.
Posted by: Wild Thing at May 22, 2010 04:11 AM
---
Mark, thank you so much. People tend to forget that he would not have gotten elected if he had been a conservative down the line.
I don't get it either why people still are not getting what obama is about and his agenda. He has not wavered one bit to do things that destroy our country. Why don't these people that won't wake up love America, why. What the heck is wrong with them.
Posted by: Wild Thing at May 22, 2010 04:14 AM
---