« Dictator and Constitution Hater Obama Making Direct Hits At Patriots That Love America | Main | Crist A No-Show On CNN ~ Bye Bye Charlie Get Lost! »
May 02, 2010
Car Bomb Found in Times Square
Heroic cops stopped a car bomb from blowing up in the heart of Times Square Saturday night.

Three heroic cops and a quick-thinking street vendor stopped a madman from detonating a car bomb in the heart of Times Square Saturday night, law enforcement officials told the Daily News.
The T-shirt vendor - a Vietnam vet - told Officer Wayne Rhatigan there was smoke coming from a Nissan SUV on the southwest corner of 45th St. and Broadway about 7 p.m., sources said.
Rhatigan approached the car, saw the smoke, and sprang into action.
"I did a lap around the vehicle. The inside was smoking," Rhatigan told the Daily News Saturday night. "I smelled gunpowder and knew it might blow. I thought it might blow any second."
He grabbed two rookie female cops patrolling the area. Together, they pushed hundreds of people away from the scene as they called for backup, he said.
The Fire Department and bomb squad rushed to the scene.
What they found was stunning: a running SUV packed with three propane tanks, two red 5-gallon plastic jugs of gasoline, a clock, electrical components and a canister of gunpowder, police sources said.
"We are very lucky," Mayor Bloomberg said at an early morning press conference at the scene, still wearing a tuxedo and red bow tie. "Thanks to alert New Yorkers and professional police officers we avoided what could have been a very deadly event."
The two rookie cops reported seeing a man running away from the scene as they approached the car.
Police spokesman Paul Browne said cops were investigating a report that someone was seen running from the vehicle at some point and are reviewing security videotapes.
"It looks as if the perp was trying to light it up, and was interrupted by the cops, panicked and took off," a law enforcement source said.
"It looked like someone tried to detonate it and we got to it in time," a police source said. "This is a big deal. It has the makings of a real car bomb."
Cops began evacuating the Crossroads of the World as the bomb squad used a robot to get inside the car.
Tourists rushed out of the Marriott Marquis hotel and several Broadway shows.
Seven big shows went dark, including "Billy Elliot" and "The Lion King," which is located directly behind the would-be car bomb.
The curtain at "God of Carnage" and "Red" went up a half hour later than usual, but those shows were not canceled, said spokesman Adrian Bryan-Brown. Restaurants like Sardi's and TGI Friday's were also evacuated, witnesses said.
Police said the blue Pathfinder appeared to be stolen and had Connecticut license plates belonging to another car.
The man seen fumbling with the device vanished into the crowd and had not been found as of early this morning.

The Homeland Security Department was aware of the situation, but the NYPD was the lead agency involved in the investigation, sources said.
"The matter is being taken seriously," said Paul Bresson, head of the FBI's public affairs office at bureau headquarters in Washington.
.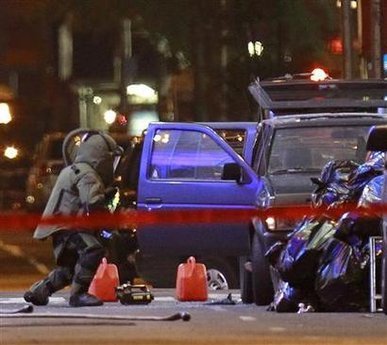 Car Bomb Found in Times Square
Thousands of tourists, theatergoers cleared from Crossroads of the World
Updated 3:25 AM EDT, Sun, May 2, 2010
The NYPD has removed an improvised car bomb from a sports utility vehicle parked in Times Square, including propane and gasoline tanks, consumer-grade fireworks and an "amateurish" wiring device which included a clock and wires.
Thousands of tourist and theatergoers were cleared away in response as police cordoned off a large portion of the Crossroads of the Road on a warm and crowded night.
"We avoided what we could have been a very deadly event," Mayor Michael Bloomberg said. "It certainly could have exploded and had a pretty big fire and a decent amount of explosive impact."
An alert T-shirt vendor spotted the suspicious vehicle, which had white smoke billowing from it and smelled of gunpowder, and notified a member of the NYPD mounted patrol at about 6:30 this evening, Bloomberg said at a press conference shortly after 2:15 am.
An NYPD robot arm broke windows of the dark green Nissan Pathfinder to check for explosive materials while heavily armed police and emergency vehicles shut down Times Square, teeming with taxis and theatergoers.
"We have no idea who did this and why," said a tuxedo-clad Bloomberg who rushed to scene, along with Police Commissioner Ray Kelly, from Washington DC where they attended the annual Washington Correspondents Dinner.
Kelly says the car contained three propane tanks, consumer-grade fireworks, two filled 5-gallon gasoline containers, and two clocks with batteries, electrical wire and other components. He says a black metal box resembling a gun locker was also recovered. The mayor said authorities were reviewing security videotapes.
Sources said the license plate on the Pathfinder traces back to a Ford, not a Nissan. The mayor said the police contacted the person who last legally had the Connecticut license plates, That person said the Connecticut plates were last legally used in car that was junked, Bloomberg said.
The car was suspicious in more ways than one: It was not parked right at the curb, the flashers were going and there was a "light smoking haze" in the passenger compartment.
President Barack Obama has been briefed on the situation. In a statement, the administration said that the president, who also attended an annual dinner for White House news correspondents Saturday night, praised the quick response by the New York Police Department.
Obama has also directed his homeland security and counterterrorism adviser, John Brennan, to advise New York officials that the federal government is prepared to provide support.
The Joint Terrorism Task Force was on the scene as an ever widening radius of blocks was closed as a precaution. Police evacuated several residential and commercial buildings and cleared several streets of thousands of tourists milling around on a warm Saturday night.
Shelly Carlisle, of Portland, Ore., said police crowded into her Broadway theater after the curtain closed on "Next to Normal," a show on the same block where the SUV was found.
"At the end of the show, the police came in. We were told we had to leave," Carlisle said. "They said there was a bomb scare."
In December, a van without license plates parked in Times Square led police to block off part of the area for about two hours. A police robot examined the vehicle. Clothes, racks and scarves were found inside.
In March 2008, a hooded bicyclist hurled an explosive device at a military recruiting center in the heart of Times Square, producing a flash, smoke and full-scale emergency response. No suspect was ever identified.
In December, police evacuated thousands of holiday tourists from Times Square after finding a white van that had been parked there for days without license plates and blacked-out windows. No bombs were found, and police later said they overlooked the van because it contained a parking placard for a nonprofit police group.

.
New York mayor Michael Bloomberg says a suspicious vehicle in Times Square "did indeed contain an explosive device." Police found the device in the smoking sport utility vehicle Saturday evening.

.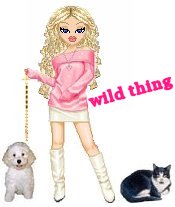 Wild Thing's comment.........
While all this was going on Obama was at the WH correspondants dinner .
The car bomb was parked outside the entrance of MTV Networks, the parent company of Comedy Central. I am not sure but isn't that where they do South Park???

The T-shirt vendor - a Vietnam vet - told Officer Wayne Rhatigan there was smoke coming from a Nissan SUV on the southwest corner of 45th St. and Broadway about 7 p.m., sources said.
Thank God no one killed or injured and a huge thank you to the Vietnam Veteran.
Posted by Wild Thing at May 2, 2010 05:55 AM
---
Comments
This was a SALUTE to their hero KLM and his upcoming NYC trial?
Posted by: darthcrUSAderworldtour07 at May 2, 2010 07:42 AM
---
The suspect was seen; I wonder why no description was give? Could the suspect have been of Middle Eastern descent?
Posted by: BobF at May 2, 2010 08:46 AM
---
Nope the suspect was NOT Middle Eastern.. The first clue is THE DRIVER LEFT. Whoever did this was a little smarter than your average jihadi in that regard. BUT, he was much dumber in the bomb making area.
This is going to be a "McVeigh" type of moron, some idiot that was pissed off at something and decided to blow something up. The materials used were low grade at best, most folks have enough stuff in their kitchen and garage to make something better than what he did...
Posted by: Robert at May 2, 2010 10:47 AM
---
Yeah, must be a right-wing McVeigh type. Only trouble is theirs usually work. Its those Nasty,evil God Loving, Bible thumping, right wing extremist who believe in the Constitution and what this country was founded on...i.e., Liberty. Got to watch those Jeffersonians boy they are dangerous.
No I don't think it was a "McVeigh" type. If it was a muzzie tho, you can bet obama will sweep it under the rug, just like he's doing to Fort Hood, Arkansas, the Panty bomber on the Airplane, and cetera. This will make obama think he hasn't apologized enough to the stinking arab world.
We were lucky this time and a heads up to the Vet. But they only have to miss once.
Posted by: Mark at May 2, 2010 02:02 PM
---
Posted by: BobF at May 2, 2010 05:41 PM
---
Darth, they sure won't say it was a Muslim, that always makes me think the person that did it absolutely was a muzzie. It could be like you said too Darth, about the trial.
Posted by: Wild Thing at May 2, 2010 06:19 PM
---
BobF., that is what I am thinking too.
Posted by: Wild Thing at May 2, 2010 06:20 PM
---
Robert, interesting I had not thought of that.
Posted by: Wild Thing at May 2, 2010 06:21 PM
---
Mark, I am so glad they said the man was a Veteran and a Vietnam vet too. For awhile on Tv today they would not say one word about him, then FOX just did a step by step how it all came to be noticed and they brought up the Veterans. I was so glad they did that.
Posted by: Wild Thing at May 2, 2010 06:25 PM
---
BobF., thank you sooo much for the link and information.
Posted by: Wild Thing at May 2, 2010 06:26 PM
---