« Troops in Afghanistan Perform 'Telephone' | Main | Mark Levin Caller: Man That Said He Was On Oil Rig Explosion was NOT Terrorism »
May 01, 2010
Buddies, Hometowns Honor Last Two Marines Killed in Vietnam War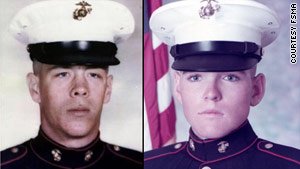 Cpl. Charles McMahon, left, and Lance Cpl. Darwin L. Judge were the last Marines killed in the Vietnam War
.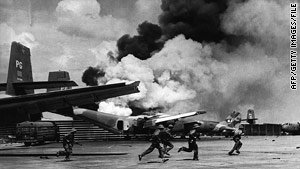 South Vietnamese soldiers run across the tarmac during an attack April 30, 1975, at Saigon's Tan Son Nhut Airport.
Buddies, hometowns honor last two Marines killed in Vietnam War

A blue-eyed Eagle Scout from Iowa and an athletic daredevil from Massachusetts hold a place in history that no one wanted for them.
On April 29, 1975, Lance Cpl. Darwin L. Judge, 19, and Cpl. Charles McMahon, 21, became the last Americans killed in action in the Vietnam War.
After the U.S. withdrawal in 1973, about the only Americans left in South Vietnam were a few dozen Marines assigned to guard the U.S. Embassy in Saigon and four consulate offices in other cities.
As North Vietnamese and Viet Cong forces pressed in on the South Vietnamese capital in April 1975, McMahon and Judge were sent to the air base at Tan Son Nhut Airport to help with the evacuation of U.S. diplomats.
"They had only been in country for about seven days," said John Ghilain, who was a member of the Marine Security Guard Battalion with Judge and McMahon. Their commanders had sent them to the air base thinking it would be safer for the new arrivals.
"It was just a harsh reality that when everything went south, that's where they were," said Ghilain, 55, of Medford, Massachusetts.
About 4 a.m., an enemy rocket scored a direct hit on the checkpoint Judge and McMahon were manning, killing both instantly, said Ken Crouse, 55, of Folsom, California, who also served with them.
Judge had graduated from boot camp at the top of his class and probably was assigned embassy duty as a reward, said Crouse, who had trained with him for guard duty in Arlington, Virginia, outside Washington.
"That's not the type of duty that most people would end up with on their first tour out of boot camp," he said.
By all accounts, Judge was an outstanding young citizen of Marshalltown, Iowa, even before he joined the Marine Corps. He played guitar in his youth group at Hope United Methodist Church and carried groceries for customers at Clifton's grocery, said his older sister, Lori Desaulniers of Marshalltown.
He played second base for his Little League team and helped his brother Loren with his paper route before getting his own. Darwin and his friends rode dirt bikes, and he often rode out to the countryside to help farmers load hay. He was a gifted woodworker, Desaulniers said; his last project, a grandfather clock, keeps time to this day in the home of his 85-year-old mother, Ida.
He was cute, too.
Last to die?
Marine Cpl. Charles McMahon and Lance Cpl. Darwin Judge are generally believed to be the last U.S. military personnel killed in action on the ground in the Vietnam War. However, some would argue that others are more accurately described as the last Americans killed in the conflict.
• Capt. William C. Nystul and 1st Lt. Michael J. Shea perished when their helicopter crashed during a search-and-rescue mission from the aircraft carrier USS Hancock about 18 hours after McMahon and Judge were killed. Their bodies were never recovered.
• Two weeks after the war ended, a U.S. merchant ship, the Mayaguez, was captured by Cambodia's new Khmer Rouge regime. Although the crew had already been released, 41 U.S. Marines, sailors and airmen were killed during the rescue operation.
• Numerous U.S. service members have died since the war of injuries and ailments sustained during the conflict.
RELATED TOPICS
Vietnam War
U.S. Marine Corps
Iowa
Massachusetts
Boy Scouts of America
"Gorgeous, gorgeous blue eyes. Long eyelashes of which I was very envious," his sister said. "His baby face was so incongruent with the military uniform."
Marshalltown is the kind of wholesome place that could produce a boy like that, said Crouse, who visits the town annually to present a $1,000 scholarship in Judge's honor.
"He was an Eagle Scout in Marshalltown and grew up just a real active, positive, vibrant member of the community," Crouse said. "Everyone that I speak with is always, 'Oh, Darwin did this for me. Darwin did that for me.' His mother still flies the flag on the flagpole that he built as an Eagle Scout project. Marshalltown is purely the heartland of America ... and I think that a lot of those qualities and a lot of that character really exemplified itself in the Marine that I met in Washington and later showed up in Saigon."
Charles "Charlie" McMahon of Woburn, Massachusetts, was a fun-loving Pied Piper who attracted followers effortlessly, said George Holland, his best friend from the age of 10.
The two boys met at the Woburn Boys Club, where they swam in the pool and played games. Together they became lifeguards and then swimming directors at the club, and McMahon was named president of its community service group, Holland said.
"To give a speech or something on that end, not his cup of tea," Holland said. "He led by example. He was president of our Keystone Club there at the club. He definitely had leadership ability. People just gravitated toward him: If Charlie was doing it, everybody wanted to do it."
He had a bit of a wild streak, too, Holland said. The boys spent summers at Massachusetts' Hampton Beach, where they got jobs as lifeguards.
"He would express himself through activity, like jumping off the Hampton Beach bridge during Labor Day traffic -- you got cars backing up bumper to bumper. ... You're going out with Charlie, you know you're going to have a blast."
McMahon's initial plan was to join the Marine Corps, train as a military police officer and then come out and become a state police officer, said Holland, 56, a heavy-equipment operator in Woburn. But after some time in the service, the military started to look more like a career.
"He loved the Marines as much as anybody I ever saw in the Marines," said Holland, who served in the Corps for four years. "Hard to say, but I think he would have stayed in the Marines a long time."
It's been a long time since those Marines fought their way out of Saigon, but in the spirit of Semper Fi, they never forget.
The survivors formed the Fall of Saigon Marines Association to keep McMahon and Judge's memories alive. The association, with 65 surviving members, awards $1,000 scholarships each spring to an Eagle Scout in Marshalltown and to the "Top Boy" and "Top Girl" at the Boys and Girls Club of Woburn.
"They're a great group of guys," said Desaulniers, Judge's sister. "Several of them send Christmas cards to my mother, which she really appreciates. She calls them her boys."
On Saturday morning, Desaulniers and about 40 members of that exclusive club will gather at the Vietnam Veterans Memorial in Washington to remember.
When the group first went to Marshalltown in 2000, Desaulniers questioned their motives, Ghilain said.
"I looked at her, and I said, 'There's nothing in this for us. ... Nobody's making a thing off of this. But what you will see is that something good is going to come out of this.' "
.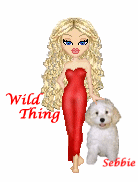 Wild Thing's comment.........
We will never ever forget the warriors that have served our country and given so much and so many that will always be missed.

This story above is from HERE, a link at Facebook about our Marines........ and I also wanted to share about this. Marine Week is coming to Boston May 3 - 9, 2010. The week-long event will honor and recognize the contributions of Marines with air-ground demos, Marine band performances, sports clinics and much more.
Posted by Wild Thing at May 1, 2010 06:47 AM
---
Comments
"Gwladgarwyr Tra M�d Tros Ryddid Collasant Eu Gwaed"
(Patriots To The Core, For Freedom They Shed Their Blood)
Posted by: Jack at May 1, 2010 01:19 PM
---
When I read this I was angry and sad all at the same time. When we look back and remember what happened and what we did, we use to be able to say, with pride, yes I did that we gave everything we had, some made the ultimate sacrifice
Now the same people who called us every vile name in the book, spit on us and defiled our Flag and tried to sell the country down the drain, are now the leaders of our country, I use the word 'leaders' only for lack of a better word, and it makes me wonder if our sacrifices were all in vain.
I still have vivid memories of that God forsaken place and I will not forgive those sons of bitches, I do not mean the Viet Cong or the NVA but these ruthless bastards who are running and ruining this country.
God bless their families and Eternal rest, grant unto them, O Lord.
Posted by: Mark at May 1, 2010 05:51 PM
---
God bless you both, Jack and Mark. (((Hug))))
Posted by: Wild Thing at May 2, 2010 06:54 AM
---