« The Ultimate Hijacking | Main | Awesome Liz Cheney Says in "Age of Obama" it is "More Dangerous to Be America's Friend than Our Enemy" »
April 10, 2010
Wise Netanyahu Does Not Attend U.S. Nuclear Summit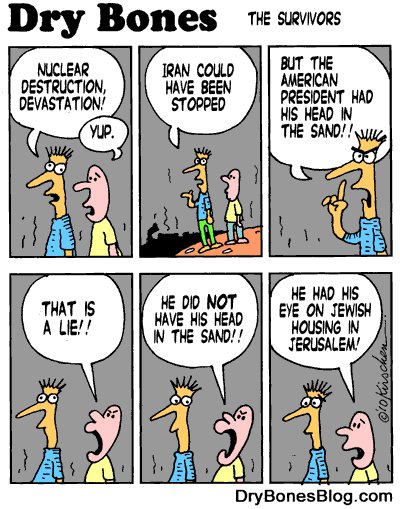 Cartoon is from Dry Bones Blog........thank you Yaakov Kirschen!!! ~ Wild Thing

.
Netanyahu ducks U.S. nuclear summit, fearing censure
Israeli Prime Minister Benjamin Netanyahu has withdrawn from a nuclear security summit in Washington next week, fearing Muslim delegates will demand Israel give up its assumed atomic arsenal.
Netanyahu, who plans to send a deputy and two senior advisers to the April 12-13 conference instead, canceled "after learning that some countries including Egypt and Turkey plan to say Israel must sign the NPT," an Israeli official said.
Arab diplomats countered that they suspected Netanyahu had canceled mainly to avoid further confrontation with U.S. President Barack Obama over Jewish settlements, and denied having any plans to press Israel on atomic policy.
Netanyahu's attendance at the 47-country summit would have been unprecedented. Israeli premiers long shunned such forums, hoping to dampen foreign scrutiny on their nuclear secrets.
By staying outside the 1970 Non-Proliferation Treaty (NPT), Israel has not had to forswear nuclear arms nor admit international inspectors to its Dimona reactor, which experts believe has produced plutonium for between 80 and 200 warheads.
Aides said Netanyahu had agreed to attend the summit after being assured it would focus on efforts to secure fissile materials and shun language challenging Israel's nuclear "ambiguity" policy.
Such coordination between the allies has been clouded by rifts over stalled Israeli-Palestinian peace talks.
EVADING PALESTINIAN ISSUE?
But two senior Arab officials accused Netanyahu of trying to evade questions on the Palestinian issue that has lately clouded Israel's ties with its largest U.S. ally.
"We believe that Netanyahu withdrew from the summit because he did not want to face President Obama and is using Egypt and Turkey as an excuse," a senior Egyptian diplomat said.
Another senior Arab diplomat intimately involved in the negotiations said Arab states had no plan to "politicize" the venue and raise the Israeli issue there.
"We are surprised that the Israeli prime minister would use this as a pretext for not attending," the second diplomat told Reuters, speaking on condition of anonymity.
But Turkey's Foreign Ministry said Prime Minister Tayyip Erdogan would demand at the summit that Israel disarm as part of a nuclear-free Middle East.
The French newspaper Le Monde quoted Erdogan as saying in Paris this week that "Israel is the principal threat to peace in the region today."
"Israel has nuclear weapons but doesn't belong to the NPT. Does that mean that those who don't sign the NPT are in a privileged position?"
The White House welcomed Netanyahu's stand-in, Deputy Prime Minister Dan Meridor, to the summit. Meridor will be accompanied by Israeli National Security Adviser Uzi Arad and Shaul Horev, head of the Israel Atomic Energy Commission, aides said.
"We obviously would like to have the prime minister but the deputy prime minister will be leading the delegation and it will be a robust Israeli delegation," U.S. National Security Adviser Jim Jones told reporters.
U.S.-Israeli contacts are "ongoing and fine and continuous," he said.
Netanyahu had planned to drum up support at the summit for sanctions against its foe Iran, which the West suspects of seeking nuclear weapons despite denials from Tehran. Neither Iran nor North Korea will be attending.

.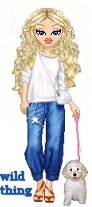 Wild Thing's comment.......
Sheesh this article is SO slanted against BiBi. It is good to see just how much they write pushing Israel to cave.....know the enemy!!!!! Screw them. BiBi is absolutely right now to go, he sees what is happening and it is his choice not to attend. He loves his country more then he cares about having to kiss up to Israel hating Obama.
Stay strong BiBi. Obama is against everything America has stood for including our friendship with Israel.
God bless BiBi and Obama you can go to hell!


....Thank you Mark for sending this to me.

Mark
3rd Mar.Div. 1st Battalion 9th Marine Regiment
1/9 Marines aka The Walking Dead
VN 66-67


Posted by Wild Thing at April 10, 2010 03:45 AM
---
Comments
Netanyahu is taking the right course. That NPT summit will just be an anti-America and anti-Israel convention. It will fit right into obama's program. We should also boycott the silly damn conference.
Posted by: TomR at April 10, 2010 11:44 AM
---
Tom, I agree, he has a way about him that I love so much. I agree about the conference too Tom.
Posted by: Wild Thing at April 10, 2010 05:05 PM
---