« Hanoi Jane - Communist and Traitor Said On Larry King Show "Hanoi Jane 'Myth' 'Created by Right-Wingers,' | Main | Karzai Stands By Vote Fraud Claims Against West and Threatens To Join Taliban »
April 07, 2010
Vietnam-era Photo hanging in a Cafe Unearths Memories, Emotions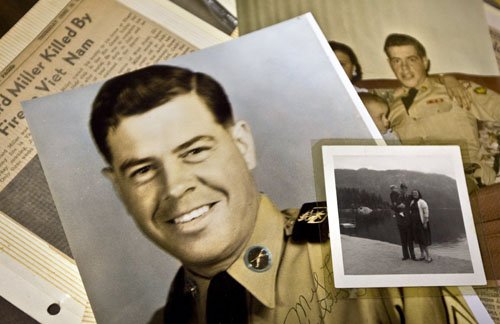 Family photographs of Army Sgt. John E. Miller, who died in Vietnam in 1966, lay on a table at the West Side Cafe in Fort Worth, Texas.
.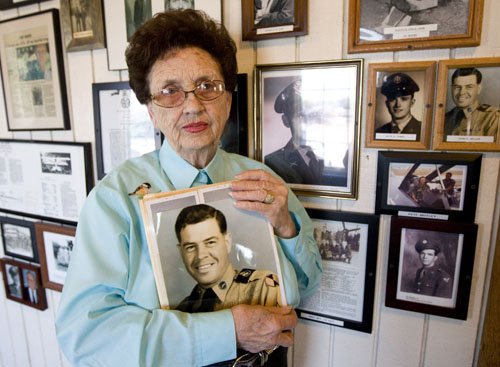 Ada Randall, sister-in-law of Army Sgt. John E. Miller poses for a portrait at West Side Cafe in Fort Worth, Texas
Vietnam-era photo hanging in a cafe unearths memories, emotions
FORT WORTH, Texas

War has a way of surfacing at the most improbable times and unlikely places.
The hostess and waitresses at the West Side Cafe can attest.
Not long ago, on an ordinary, crowded Thursday morning, a man visiting from Ohio came in for a plate of bacon and eggs, saw a photo on the wall and dissolved into tears, unable to speak.
The small portrait, just a few steps from the cash register, was of Army Sgt. John E. Miller, a man he had fought to save in a battle in South Vietnam nearly 44 years ago.
Within the span of a few minutes, Galen Taylor's spring break visit to Fort Worth had transformed from seeing the kids and grandkids to reuniting with Miller's family. The process unearthed distant memories and raw emotions — not all of them exactly welcome.
"I just couldn't believe seeing that picture down there," Taylor said by phone, having returned to Cincinnati.
Miller's sister-in-law, Ada Randall, could hardly believe it either. It was her idea to hang Miller's picture on the cafe wall a few months ago, not expecting to talk to someone who had been among the last to see him alive.
"It was like I had gotten a message from Johnny," she said. "It shook me up for several days."
Taylor had no idea of Miller's connections to Fort Worth.
Miller's hometown was always listed as West Point, Ill., where he grew up with six siblings. In 1954, at 18, he enlisted in the Army and found his way to Fort Wolters in Mineral Wells.
That's where he met Bonnie Ashby, who lived in Weatherford with her family. They married on June 1, 1955, in her church in Weatherford.
The Army seemed to take Miller away regularly. He did two tours in South Korea, another in Germany. His wife and two sons kept their home in Granbury.
"They had very little time together, except when he was on leave," Randall said.
He arrived in Vietnam in October 1965 as part of the initial buildup of major combat forces. He was with his two best friends from Fort Wolters days — Wade Linder and Vicente Rodriguez, all of them members of Alpha Company, 2nd Battalion, 28th Infantry.
Rodriguez was killed May 12, and per his request, Miller had escorted his body from Vietnam back to Pharr in the Rio Grande Valley.
Before he headed back, he sat on the porch of Randall's house in Fort Worth.
"He didn't think he would come back," Randall said of that conversation. "I said, 'Oh, don't say things like that.' "
On June 11, 1966, about 9:30 in the morning, Miller was fatally shot in the head just after he single-handedly attacked and silenced a machine gun nest with grenades during a fierce battle in a rubber plantation. He earned the Silver Star posthumously for his bravery.
Thirty-four men from 2nd Battalion would die that morning in the same firefight.
Taylor survived his wounds, received as he laid down fire for two other men to retrieve Miller's body.
"He was all Army," Taylor said of Miller. "He was there to look out for his men. He was a good man."
Miller had been back in Vietnam three days.
Linder — the only one of the three best friends still alive — escorted Miller's body to Granbury, where he was buried by the same minister who married him. Linder, who insisted on seeing his friend's body in state, pinned the Silver Star on his uniform and closed the casket forever.
"I still remember Eddie running out of the church and waving as they loaded his dad's casket in the hearse," Randall said of Miller's oldest son.
Taylor, whose children have lived in the Fort Worth area for years, had eaten in the West Side Cafe many times. He even ate there several days on this visit. But the difference on that Thursday was that he had to wait for a table, which gave him time to look at the photos on the walls.
"I saw this big man just burst into tears," said Angela Rowell, the morning hostess at the cafe. "I asked him, 'Are you OK, sir?' He just pointed at that picture."
Eventually, he managed to get out: "That's the man whose body I pulled out of Vietnam."
Everyone at the cafe hoped to see Randall that morning, but she was running late after having dropped off uniform alterations at Naval Air Station Fort Worth. Taylor had just left when she walked in the door.
"We couldn't wait for her to get here," Rowell said. "We attacked her as soon as we saw her."
Over the next three days, Taylor met with Randall, two more of Miller's sisters, and finally, his two sons. (Miller's widow, Bonnie, died in 2001.)
Eddie and Ronnie Miller, both young boys when their dad was killed, still live in Granbury.
For Taylor, the visit proved to be deeply satisfying, but exhausting too. He has been going to counseling the last two years for post-traumatic stress, feelings and thoughts from Vietnam that seemed to manifest themselves after he retired from working.
"The visit took its toll on me mentally and physically," he said. "But I was very happy to find that picture."
.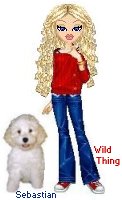 Wild Thing's comment........
What a great story. Amazing!

.... Thank you Jim for sending this to me.


Posted by Wild Thing at April 7, 2010 06:48 AM
---
Comments
Whew, that's a moving story. Thank you for sharing Chrissie, must have something in my eyes.
Posted by: Jack at April 7, 2010 10:32 AM
---
That is a hell of a story. I hope Galen Taylor's heart is a bit lighter after meeting with miller's kin.
Posted by: TomR at April 7, 2010 10:59 AM
---
I believe the 2/28 came Cu Chi when the 25th came over from Hawaii. I arrived in 66 and the big rubber plantation I remember was the Filhol where we had some nasty fire fights. Course we also visited the Michelin plantaion and several others since Vietnam was a major rubber producer.
Posted by: Eddie (Enemy of the State) at April 7, 2010 11:40 AM
---
Galen Taylor's quote "The visit took its toll on me mentally and physically," he said. "But I was very happy to find that picture."
That hit me hard, it was only last Thursday that I met Bruce Crandall for the very first time in the VA hospital waiting room, we were both in tears. What a wonderful man he is.
Semper Fi Gang
Posted by: Jack at April 7, 2010 12:28 PM
---
You are all so special to me. I love you all so very much.
Posted by: Wild Thing at April 8, 2010 03:02 AM
---
any one in the a.co.2nd.bn.28th.inf that remembers me please contact me 12/65 to 9/66 at galen37362GMAIL.COM SOME OF THE GUYS CALLED ME BIG T ::::::: COALSON,SCALES BRADFORD,MAGEE ,WHITTING GIST CHIMELOSKY GERCIO SEXTON GROSS ZEEDYK BLANFORD BEVEL DUKE AND ANY MEMBERS OF THE FAMILY OF LARRY WHITCOME WHO DIED APX;9/25/66
Posted by: galen r taylor at April 13, 2010 10:16 PM
---