« Al Sharpton: We're Ready to Commit Civil Disobedience Over Arizona Immigration Bill | Main | Islamic Infiltration Within Our Own Government By Bill Whittle »
April 26, 2010
Thousands In New York Rally Protest Against Obama Threatening Existence Of Israel
Pamela Geller ( Atlas Shrugs blog ) Speaks NYC Pro-Israel rally Against Obama's Anti-Israel Policies

.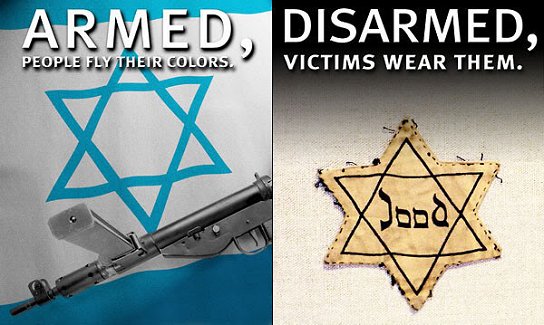 Thousands of Jews and Israel supporters protested in the rain outside of the Israeli Consulate in New York City today against Barack Obama's anti-Israel policies. Thousands withstood the weather for this historic gathering to shout that we will never again be silent.

Thousands of Jews gathered outside the Israeli Consulate Sunday to protest President Obama's position towards Israel.
Organizers said the event supports "Israel's right to build and live in its own country," as well as its right to unite Jerusalem under Israeli sovereignty. They are also protesting the Obama Administrations' alleged disregard of the democratic Jewish state.
"We are outraged that President Obama is scapegoating Israel and wants to expel Jews from their homes in Jerusalem. President Obama and Secretary Hillary Clinton show more anger about a Jewish family building a home in Jerusalem than Iran building a nuclear bomb," states Beth Gilinsky of the Jewish Action Alliance. "Vast segments of the Jewish community will not tolerate the President's continuing attacks on Israel. Grassroots Jewry will not be silent."
Former New York Mayor Ed Koch addressed participants in a pro-Israel rally as well.
Jewish and Christian protesters will raised large signs : "Jerusalem: Israel's United and Eternal Capital," "Hillary Clinton: Pressure Iran, Not Israel!", "Obama: Stand up for America, Stop Bowing to Saudi Kings!", and "Obama: Jews Will Not Be Silent."
The rally-goers are alarmed at how the Obama Administration has been making statements and taking measures that everyone knows give license for the Arab population within Israel and on its borders to renew intifada and rioting that will severely harm the individual Israeli, as is already being done."
"Those attending the protest believe Obama is encouraging other Western countries, as well as Arab countries, to treat Israel as a diplomatic pariah and even question Israel's legitimacy as a state itself. The Obama Administration will hear the disappointment and anger of the Jewish Community."

.

Wild Thing's comment........
This is great and they had an awesome turn out. Take THAT obama-islam!


....Thank you Mark for sending this to me.


Mark
3rd Mar.Div. 1st Battalion 9th Marine Regiment
1/9 Marines aka The Walking Dead
VN 66-67


Posted by Wild Thing at April 26, 2010 02:40 AM
---
Comments
Pam Geller is a real fireball. She is a good spokesperson for conservative causes. She gathers information, especially about the Israeli situation, that the MSM does not tell us. I wish I had hlf her energy.
Posted by: TomR at April 26, 2010 10:10 AM
---
The dnc released a video of osambo trying to rally his base. Short memories, these same people protesting his handling of the Israeli situation are his voters too. Only they all have been disenfranchised by none other than obama.
His base is shrinking daily and he can't even see it.
Posted by: Mark at April 26, 2010 11:31 AM
---
Tom, she always has a lot of information on Israel and I really appreciate that. I agree she
is a good spokesperson.
Mark, yes they are many of them. I am hoping so much that they wake up big time.
Posted by: Wild Thing at April 27, 2010 12:13 AM
---