« New York Times Makes It Official: Obama Has Shifted U.S. Policy Against Israel | Main | Arrogant Charlie Crist ( RINO ) Desperate And Not A Man of Leadership Considers Run As Independent »
April 20, 2010
Obama Tip Toes With Ahmadinejad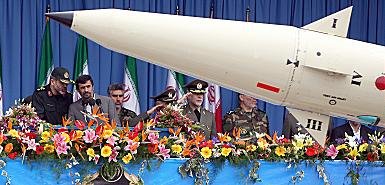 Ahmadinejad, second left, confers with his Defence Minister, Ahmad Vahidi, during yesterday's parade
Obama administration now open to Iran nuclear fuel deal despite doubts
The United States said on Monday it was still willing to discuss a nuclear fuel swap deal with Iran, but only if Tehran takes clear steps to address international concerns about its nuclear program.
.

Pentagon chief raises threat of attack as Iran taunts U.S. with missile display
The Pentagon was ratcheting up pressure for military action against Iran last night as America's top uniformed official said for the first time that a strike on nuclear targets would "go a long way" towards delaying Tehran's uranium enrichment programme.
The remarks by Admiral Mike Mullen, Chairman of the Joint Chiefs of Staff, were his strongest yet in support of a strategy that both the Pentagon and the Obama Administration still regard as a last resort and possibly a recipe for a regional war.
They came as President Ahmadinejad taunted the US with a potent display of missile technology, while a leaked top-secret memo by Robert Gates, the US Defence Secretary, forced the White House to insist that it was preparing for all contingencies.
The war of words in Washington may reflect a power struggle between an Administration still committed to a diplomatic approach to Iran and an increasingly impatient Pentagon.
Speaking at Columbia University, Admiral Mullen said last night of the Iranian nuclear programme: "Military options would go a long way to delaying it. That's not my call. That's going to be the President's call. But from my perspective . . . the last option is to strike right now."

Against this background Mr Gates wrote a memo described by those who have seen it as a "wake-up call" to General James Jones, Mr Obama's National Security Adviser. It warned that the Administration had no effective plans to deal with Iran should it assemble the components of a nuclear weapon but stop short of building one. Mr Gates also noted that detecting a shift from such a "virtual" nuclear capability to fully armed status would be almost impossible and that no coherent strategy was in place to face down Tehran once such a shift was made.
The memo was written in January but its existence was disclosed by The New York Times at the weekend. Ben Rhodes, a White House spokesman, said that it was "absolutely false" that the document had forced the Administration to reassess its options on Iran, while General Jones told the newspaper: "The fact that we don't announce publicly our entire strategy doesn't mean we don't have a strategy that anticipates the full range of contingencies — we do."
It was unclear yesterday who was behind the leak of the Gates memo but the vehemence of the White House response suggests that senior Pentagon figures may be responsible. A similar pattern shadowed Mr Obama's decision to deploy 30,000 more troops to Afghanistan last year.
.
Gates warns White House over 'Iran nukes' policy: report

US Defense Secretary Robert Gates has warned the White House it does not have an effective policy for dealing with Iran's alleged nuclear weapons push, The New York Times reported late Saturday.
Citing unnamed government officials, the newspaper said one senior official described the secret memorandum, which was written in January, as "a wake-up call."
According to the report, the document sparked efforts in the Pentagon, the White House and the intelligence agencies to develop new options for President Barack Obama.
They included secret military operation against Iran if international sanctions failed to force the country to change its approach, the paper said.
Gates wrote in the memorandum about several of his concerns, including a scenario that many experts consider the most likely, The Times said.
Under this scenario, Iran would assemble all the major parts required but stop short of actually making a fully operational weapon.
In that case, Iran could remain a signatory of the Nuclear Nonproliferation Treaty while becoming what experts call a "virtual" nuclear weapons state, the report said.
The memorandum also urged the White House to think about how the United States might contain Iran if it decided to produce a weapon; and how to deal with the possibility that nuclear fuel or weapons could be obtained by one of the militant groups Iran supports, the paper said.

Iran Army Day parade displays missiles capable of carrying nuclear warheads
The forum, which Iran said was attended by representatives of 60 countries, gave Teheran a platform for challenging Washington's assertion that it wants to see a world without nuclear weapons and for defending its own nuclear program. It criticized what it called a double-standard by some nuclear powers that urge disarmament while ignoring the nuclear arsenal Israel is widely believed to possess.
A nuclear weapons-free Middle East requires "the Zionist regime to join the NPT," said the concluding statement of the conference read out by Iranian Foreign Minister Manouchehr Mottaki.
The conference's statement, also took issue with perceived threats by the US and Israel to attack Iranian nuclear facilities.
"The conference expressed its concerns about the continued existence of Weapons of Mass Destruction — nuclear arms in particular — as well as their application or threat to apply them," the statement said.
Teheran was angered by Obama's announcement this month of a new US nuclear policy in which he pledged America would not use atomic weapons against nations that do not have them. Iran and North Korea were pointedly excluded from the non-use pledge, and Iranian leaders took that as an implicit threat.

.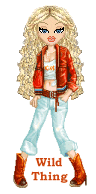 Wild Thing's comment........
Obama can't blame Bush on this one. He has to make a decision but of course only after he let's Iran do whatever they want. Maybe a beer summit in the Rose Garden Obama? sheesh

....Thank you Mark for sending this to me.


Mark
3rd Mar.Div. 1st Battalion 9th Marine Regiment
1/9 Marines aka The Walking Dead
VN 66-67


Posted by Wild Thing at April 20, 2010 04:45 AM
---
Comments
Once again, the nubian homo wannabe emperor of the universe has made the most powerful nation on earth look like raggedy ann's dollhouse.
Traitorous bastard!
Posted by: cuchieddie(Enemy of the State) at April 20, 2010 04:33 PM
---
They not only don't have a clue, they don't have a coherent plan on what to do if Iran does bypass their appeasement policies and goes straight for the jugular and try to nuke Israel. They think Adolf Ahachmadineejab is someone you can deal with. He is unpredictable and they can't even see that.
Posted by: Mark at April 20, 2010 06:48 PM
---
Look for Admiral Mullen and Sec. Gates to be gone soon. They're obviously not 'team players.'
Our adversaries are taking advantage of our weakend position with regards to our (lack of) leadership. Obama is way out of his league.
Posted by: Jim at April 20, 2010 07:23 PM
---
Thanks so much.
I agree Jim too I think Gates will get out as soon as he can.
Posted by: Wild Thing at April 20, 2010 08:43 PM
---