« Obama The Most Anti-America President In History | Main | Obama Directs NASA To Focus On Muslim Outreach »
April 09, 2010
Anti-Semite Obama Doing All He Can To Destory Friendship With Israel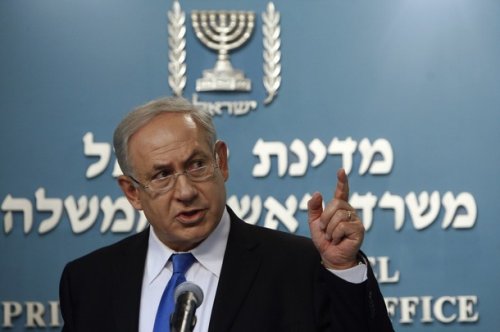 Obama Administration Denies Visas to Israeli Nuclear Scientists......This is a declaration that Israel is an OPPONENT not an ALLY. ~ Wild Thing

translation by Roger L. Simon
For Hebrew speakers, here is original article
http://www.nrg.co.il/online/1/ART2/090/174.html?hp=0&loc=101&tmp=9022#after_maavaron

The Obama administration is now denying U.S. visas to Israeli scientists who work at that nation's Dimona nuclear reactor. This startling reversal of traditional policy was reported April 7, 2010, in the Israeli website/newspaper NRG/Maariv .
This could be yet another flashpoint in the increasingly sensitive relations between the administration, the American Jewish community, and Israel. The revelation in Maariv came only a day before the arrival in New York of Tariq Ramadan — controversial grandson of Muslim Brotherhood founder Hassan al Banna — whose visa was reportedly championed by Secretary of State Clinton. Yesterday as well, new rules disavowing the term "Islamic radicalism" were announced by Secretary of Defense Gates.
According to Maariv: "…. workers at the Dimona reactor who submitted VISA requests to visit the United States for ongoing university education in Physics, Chemistry and Nuclear Engineering — have all been rejected, specifically because of their association with the Dimona reactor. This is a new policy decision of the Obama administration, since there never used to be an issue with the reactor's workers from study in the USA, and till recently, they received VISAs and studied in the USA."
Israeli defense officials are stating these workers have no criminal records in the U.S. or Israel and have been singled out purely because of their place of employment. Moreover, nuclear materials for the Dimona reactor apparently do not come from the U.S. Zeev Alfasi — head of nuclear engineering at Israel's Ben Gurion University — states that "the United States doesn't sell anything nuclear-related to the Dimona reactor, and that means absolutely nothing. Radiation detectors, for example, have to be purchased now in France because the USA refuses to sell these to Israel."
.


THE OBAMA ADMINISTRATION IS BLOCKING SALES OF NUCLEAR RADIATION DETECTION EQUIPMENT TO ISRAEL, INCLUDING EUQIPMENT SPECIFICALLY TO PROTECT CIVILIAN POPULATION CENTERS.
The United States is denying summarily all visas for nuclear physicists from Israel, and blocking sales of ALL Nuclear Research hardware and equipment to the Nuclear Research Universities in Israel, including Ben-Gurion, which includes nuclear radiation detection equipment for civilian population protection.
link (in Hebrew) :
http://www.nrg.co.il/online/1/ART2/090/174.html?hp=0&loc=101&tmp=9022#after_maavaron
Professor Zeev Alfasi, Head of Nuclear Engineering Department at Ben - Gurion, who knows what is going on, describing the deterioration of the American attitude regarding the nuclear reactor. "Some people did not receive visas to the United States because they are employees of Nuclear Research Center," explained Professor Alfasi, "The United States does not sell anything nuclear to the Nuclear Research Center, which includes everything. Radiation detectors, for example, the Nuclear Research Center in Dimona has buyers in France, that Americans are not knowning about for Nuclear Research Center. "

.


Unprecedented: U.S. bargaining on behalf of Palestinians
In an unprecedented move, the U.S. has been conducting negotiations with Israel on behalf of the Palestinian Authority, according to a senior PA negotiator and sources in the Israeli government.
The U.S. has been calling for the resumption of indirect talks, with Obama administration officials publicly proposing to serve as a go-between to facilitate dialogue between Israel and the PA. Sources in both the PA and Israeli government told WND talks are underway on a number of issues, including future borders and security controls for a Palestinian state.
A senior PA negotiator, speaking on condition of anonymity, said rather than act as an intermediary, the U.S. has been negotiating with Israel on behalf of the PA, assuming all Palestinian positions and bargaining with Israel from the Palestinian side.
The account was confirmed with sources in the Israeli government, who said such behavior by the U.S. government is unprecedented.
Yesterday, Israel's Haaretz newspaper quoted confidants to Prime Minister Benjamin Netanyahu stating the Israeli leader told them he would oppose attempts to impose a peace plan on Israel.
The comments follow a Washington Post story that Obama is weighing the possibility of submitting a new U.S. Middle East peace plan by this fall that would include talks between Israel, Jordan, the PA and Syria. The plan would reportedly link Israeli-Palestinian peace to efforts to confront Iran over its nuclear program.
The Palestinian negotiator said the PA is "pleased" with the position taken by the Obama administration on Israeli-Palestinian issues.

.

Netanyahu Cancels Trip to Obama's Nuclear Summit
Prime Minister Benjamin Netanyahu canceled his trip to Washington next week for President Obama's global nuclear summit in the wake of escalating tensions between the two nations over Israel's planned housing expansion in East Jerusalem, Fox News has confirmed.
But Netanyahu's cancellation reportedly stems from concern about other Middle Eastern countries, not the United States.
The Israeli government is concerned that some countries, particularly Egypt and Turkey, would seek to turn the summit into an anti-Israel event, one person briefed on the change in Netanyahu's plans told the Associated Press, confirming reports in Israeli media.
Instead, Netanyahu will send Dan Meridor, minister for Intelligence Affairs, as the country's representative to the summit.
Netanyahu got a chilly reception at the White House last month after Israel announced plans to build 1,600 new apartments for Jews in East Jerusalem – the section of the holy city claimed by the Palestinians.
.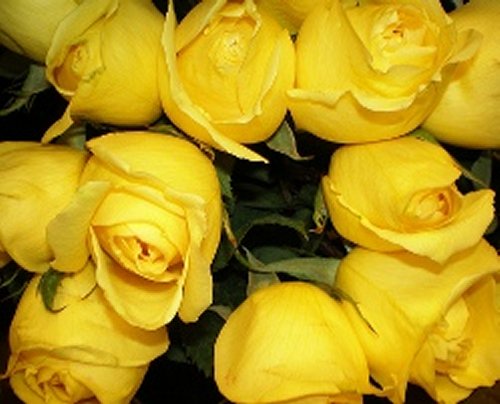 10,000 flowers sent to Netanyahu after White House 'ambush'
'Obama needs to wake up and smell the roses; Americans stand with Israel'sending nearly 10,000 yellow roses to Israeli Prime Minister Benjamin Netanyahu as a sign of friendship following what the effort's organizers are calling "the worst treatment from any president in American history."
As WND reported, following a meeting last month in which President Obama walked out on Netanyahu and the Israeli delegation, WND columnist Janet Porter of Faith2Action organized an The Israel Friendship Project to send roses to the prime minister as a show of American support.
Included in each dozen roses is a card that reads, "Dear Prime Minister Benjamin Netanyahu: Be encouraged, Americans stand with you. God bless you."
The cards concludes with the biblical verse, "The Lord builds up Jerusalem," from Psalm 147:2.
Now, Porter is reporting, the response has been overwhelming, with nearly 10,000 flowers ready to be delivered by a Jerusalem florist.
"Americans are showing their support for Israel in a fresh, tangible way," said Porter in a statement. "When this historic delivery fills the offices of the prime minister – with friendship flowers on every desk and in every cubicle, the beautiful aroma of friendship may well spill over to the Knesset, Israel's parliament, and to the people of Israel.
"Soon the Prime Minister and all of Israel will know they are not alone: Israel has a beautiful friendship with people in the United States – who will be here long after this administration is gone," she added.
.
Look at this photo of Obama and BiBi and how Obama all it says about Obama. GRRRRRRRR what a POS Obama is through and through.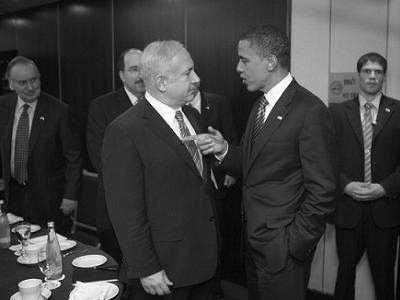 .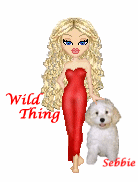 Wild Thing's comment........
Obama is taking us on the road to hell.
Obama is intentionally destroying all our alliances: Britain, Canada, Israel, Poland, etc.
Obama and his Jew Hating Administration will come to regret their madness.
The US has become an enemy state of Israel and the US government is working hard at becoming an enemy government to the American people.
Prayers going up for Israel, and Bibi.

....Thank you Mark for sending this to me.


Mark
3rd Mar.Div. 1st Battalion 9th Marine Regiment
1/9 Marines aka The Walking Dead
VN 66-67


Posted by Wild Thing at April 9, 2010 05:50 AM
---
Comments
He's doing all he can to insult and alienate our closest allies. I bet he would allow Iranians to visit the US to work on that reactor.
Posted by: BobF at April 9, 2010 09:00 AM
---
obama hates Israel, just as he hates America. The Israelis know that most Americans support them. obama and his group are doing what they can get by with to undermine Israel and encourage the PLA, Hamas and Hezbola.obama is making the wotld more dagerous.
Posted by: TomR at April 9, 2010 10:04 AM
---
I just wonder how much farther Netanyahu can be pushed before he says enough. Then we will lose our most steadfast ally.
Also all the Liberal Jews who voted for obama and there were 78% of them. How do you like your hopy changy now?
Posted by: Mark at April 9, 2010 12:11 PM
---
That said, I must add:
For Zion's sake I will not be silent, for Jerusalem's sake I will not be quiet, Until her vindication shines forth like the dawn and her victory like a burning torch.

Posted by: Mark at April 9, 2010 01:59 PM
---
Great input thank you all so much.

Well said Mark, I like that.
Posted by: Wild Thing at April 9, 2010 11:42 PM
---