« Happy Easter To All Of You | Main | Survery: Four in 10 Tea Party Members are Either Democrats or Independents »
April 05, 2010
7.2 Mag Quake Hits Baja California; Big Aftershocks Are 'Likely,' Caltech Says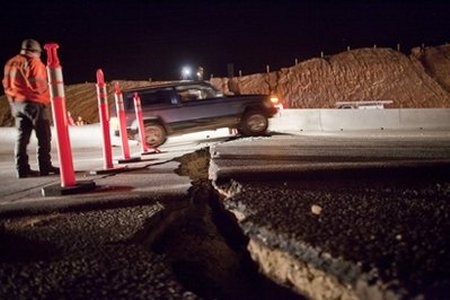 Magnitude 7.2 quake felt by at least 20 million people from Los Angeles to Phoenix to Tijuana
Caltech seismologists said Sunday's magnitude 7.2 Mexicali earthquake was the strongest to strike the region in nearly two decades and that an estimated 20 million people felt it across the Southwest U.S. and Mexico.
Caltech scientist Lucy Jones said an aftershock in the 6-magnitude range is "reasonably likely" in the next few days, and the chance of quake larger than 7.2 magnitude is fairly unlikely but still possible.
"The fault is pretty long, approximately 50 miles," Jones said. "We are seeing aftershocks heading northwest." Jones said the direction of the strike-slip fault runs northwest into California, about six miles beneath the earth's surface.
A man was killed when his home collapsed just outside Mexicali, a civil protection chief told the Associated Press. A two-story parking garage also collapsed in the border town of 653,000.
Oscar Silas, a firefighter at a station 10 miles west of Mexicali, said that at least six homes were destroyed by fires caused by the quake. The blazes started when household propane tanks were damaged and electricity lines were severed, he said.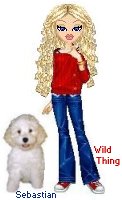 Wild Thing's comment.......
We have readers for this blog in Calif. and I just want them to know we are glad you are ok and if you have not checked in with an email, we hope all is well. I also heard from Phoenix that they felt it there as well.
Posted by Wild Thing at April 5, 2010 04:40 AM
---
Comments
Was that an earthquake or did cuchieddie touch off Rabbi Mossberg?
Posted by: TomR at April 5, 2010 01:56 PM
---
My youngest was in a theatre in San Diego watching a movie when it hit. He thought it lasted about 40 seconds or so. A pretty good shake he said.
Posted by: Jim at April 5, 2010 03:13 PM
---
Tom, LMMO good one.
Jim, thanks for sharing about your youngest. I am glad he is OK.
Posted by: Wild Thing at April 5, 2010 11:53 PM
---