« Happy Passover, and God Bless Our Friend and Ally, Israel! | Main | Militia Accused of Plotting to Kill Cops »
March 30, 2010
Serious Threat From The Anti-Semite Obama Against Israel ~ US 'may not veto UN resolution on Jerusalem'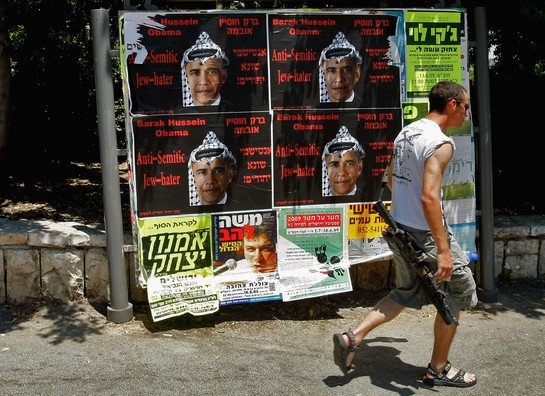 An Israeli soldier on leave from his unit passes anti-Barack Obama posters that went up overnight, on June 14, 2009 in Jerusalem, Israel. The posters, credited to an extremist right-wing Jewish organization, call the US President an anti-Semitic Jew-hater.

U.S. To Allow Anti-Israel Resolution at U.N. Security Council?

The United States has a hard time getting a sanctions resolution against Iran through the U.N. Security Council because Iran has two protectors (Russian and China) among the five permanent members with veto power.
Israel has only one reliable veto-wielding friend on the Security Council, the U.S.
That protection may be on the verge of going the way of the special relationship.

There is an article from the BBC.
US 'may not veto UN resolution on Jerusalem'

The US is considering abstaining from a possible UN Security Council resolution against Israeli settlements in East Jerusalem, sources suggest to the BBC.
The possibility surfaced at talks in Paris last week between a senior US official and Qatar's foreign minister.
The official said the US would "seriously consider abstaining" if the issue of Israeli settlements was put to the vote, a diplomat told the BBC.
US officials in Washington have not confirmed the report.
It is likely that the US is considering how to maintain pressure, and a UN resolution would be one way, says BBC state department correspondent Kim Ghattas.
The US usually blocks Security Council resolutions criticising Israel.
If true, this would mark a very dangerous development because U.N. resolutions, even if not containing explicit sanctions, are one of the primary tools for delegitimizing Israel. Depending upon the wording of the resolution, the damage could be severe.
This could be the change Israel's enemies were hoping for.

.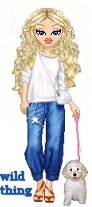 Wild Thing's comment........
Obama the Anti-Semite!
Without a US Veto a UN resolution can/will do a lot of damage to Israel because if they don´t comply this leads to sanctions. And given Israels size and location. Sanctions will definitely harm them.
Hussein Obama is a street thug ....ordering nations around like a dictator with Hillary nodding in agreement.
Three--fourths of the House signed a letter to Secretary Clinton expressing their dismay over the tone and direction of U.S.-Israeli relations.
The US has always been pro-Israel — until Obama got elected, who is very clearly anti-Israel.
Under US law as of 1995, Jerusalem is considered the capital of Israel. There is no reason whatsoever for Israel to seek approval of the Obamanoids or the UN thugs before building houses in its own capital. As BiBi noted, "This is not a "settlement," this is our capital."
The whole deal is just more Jew-hating from Obama and the UN.

Email address of the Israeli Embassy:

....Thank you Mark for sending this to me.

Mark
3rd Mar.Div. 1st Battalion 9th Marine Regiment
1/9 Marines aka The Walking Dead
VN 66-67


Posted by Wild Thing at March 30, 2010 06:48 AM
---
Comments
I believe obama is trying to start a war in the middle east and end Israel's existance once and for all.
Posted by: Mark at March 30, 2010 08:24 AM
---
Always keep in mind that obama is a closet muslim.
He has accidently said he was a muslim. obama's actions as President, his associations, his speeches and his diplomacy show that he hates Israel.
Yes. obama is making the MidEast a more dangerous powder keg. Israel understands this. Luckily they are led by a very astute and capable man, Netanyahu. He will do what he deems needs to be done.
Posted by: TomR at March 30, 2010 10:41 AM
---
If anyone wants a different view on Israel and what is happening go over to our friend Joseph Wouk's site at
http://warsclerotic.wordpress.com/
You will find things that you ordinarily may not see or read.
Posted by: Bob A at March 30, 2010 12:58 PM
---
Mark, it sure looks that way, I agree Mark. He is the one causing the problem, he won't listen to BiBi just like he won't listen to we the people. What a horrible person.
Posted by: Wild Thing at March 30, 2010 09:07 PM
---
Tom, your right that fact of his being a muslim has a lot to do with his extreme hate of Jews and Israel.
Posted by: Wild Thing at March 30, 2010 09:08 PM
---
Bob A., thank you for the link. I watched the video they have there it is z good one.
Posted by: Wild Thing at March 30, 2010 09:10 PM
---