« Obama And His Expanding the IRS To Be His Obamacare Auditing and ENFORCEMENT Arm | Main | A Message To Hewlett Packard Support LOL Got To See This »
March 23, 2010
Last Haditha Defendant Seeks to Dismiss Charges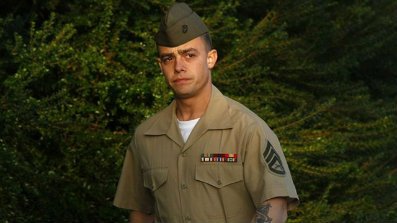 Staff Sgt. Frank Wuterich

Last Haditha Defendant Seeks to Dismiss Charges
The story is also at FOX News so that is good. I would hate to think FOX had dropped their interest in this.This story and anything about these Marines should be in all the media and newspapers. Too many only want to be a part of it when it began. ~ Wild Thing
Eight Marines were charged in the biggest criminal case against U.S. troops to arise from the Iraq war. Six have had charges dismissed, and one was acquitted.
Whether the only remaining and perhaps highest-profile defendant stands trial may hinge on what happens this week in a military courtroom.
Lawyers for Staff Sgt. Frank Wuterich will ask a judge to dismiss charges against the former squad leader in a case involving the deaths of 24 Iraqi men, women and children in Haditha in November 2005, arguing that a general who oversaw the case was improperly influenced by an aide.
Wuterich, 30, is charged with voluntary manslaughter, aggravated assault, reckless endangerment, dereliction of duty and obstruction of justice. He is currently assigned to administrative work at 1st Marine Division headquarters at Camp Pendleton.
Gen. James Mattis is expected to testify at the pretrial hearing Monday about his role in the case, which included bringing charges against Wuterich when he was commander of the Marine Corps Forces Central Command and 1st Marine Expeditionary Force at Camp Pendleton.
The four-star general was later promoted to commander of NATO's Supreme Allied Commander Transformation and U.S. Joint Forces Command. He left the NATO post last year but still commands U.S. Joint Forces in Norfolk, Va.
A courtroom appearance is rare for such a high-ranking officer but Mattis has done it before in the Haditha case.
In 2008, a military judge dismissed charges against Lt. Col. Jeffrey Chessani for failing to investigate the Haditha killings after deciding that Mattis had been unduly influenced by the aide.
"The trail basically has already been blazed," Neal Puckett, one of Wuterich's attorneys, said Sunday.
A Marine Corps spokesman, Lt. Col. David Griesmer, declined to comment on the government's case.
The defense argues Mattis was improperly influenced by Col. John Ewers, who investigated the killings and later became a top legal advisor to the general. Military policy prohibits Ewers from offering legal advice on Haditha because he was also an investigator in the case.
Mattis testified in 2008 that he never talked with Ewers about Haditha, although the aide was at meetings where the case was discussed.
Wuterich's case is before a different judge, Lt. Col. David Jones.
And, while Mattis brought charges in 2006, his successor, Gen. Samuel Helland, court-martialed Wuterich a year later after a preliminary hearing. In Chessani's case, Mattis brought charges and ordered the court-martial.
Wuterich's attorneys say Helland sat in on the same meetings as Mattis.
"(Helland) was probably in the same sort of information flow as Gen. Mattis," said Puckett, who predicts Helland may also testify. "It's going to be the judge's call whether that also taints him."
The deaths occurred after a roadside bomb hit a Marine convoy, killing the driver of a Humvee and wounding two other Marines.
Wuterich and a squad member allegedly shot five men by a car at the scene. Investigators say Wuterich, of Meriden, Conn., then ordered his men to clear several houses with grenades and gunfire, leaving women and children among the dead.
At his preliminary hearing, Wuterich said he regretted the loss of civilian life in Haditha, but said he believed he was operating within military combat rules when he ordered his men to attack.
The pretrial hearing is scheduled to last up to one week.
Puckett said the judge has told attorneys he expected to rule by the end of this week. If the defense argument fails, attorneys for both sides have agreed to go to trial in September, he said.
.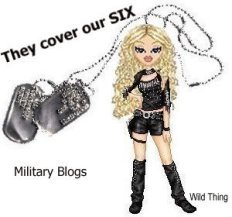 Wild Thing's comment........
I can't imagine being 'wronged' over this long of a period. September is not an option..end it now. Charges were brought 3 years 3 months ago and they were under investigation before that.
The continued persecution of Frank is an abomination.

Judge, Lt. Col. David Jones is the one to come through for SSgt. Wuterich.
There is also this from June of 2006:

Haditha Child: I Knew of Bomb Plot to Kill Marines

There were no "innocent" civilians in those houses at Haditha. The occupants were either insurgents or collaborators. They were either "with us or against us". Clearly, they were against us:
A 12-year old survivor of the alleged massacre of innocent civilians by U.S. Marines patrolling Haditha has admitted she had prior knowledge of the plot to detonate an IED as their convoy was passing by her house on the morning of Nov. 19, 2005.
In a CNN interview broadcast Wednesday, Safa Younis - who says eight members of her family were killed by U.S. troops - recalled that she was getting ready for school as the Marine Humvee approached.
"I was planning to go to school. I was about to go out of bed. I knew the bomb would explode so I covered my ears," the youngster said, according to a CNN translator. "The bomb [then] exploded," she explained. "The bomb struck an armored vehicle. I don't know if it was a Humvee or an armored vehicle. When the bomb exploded, they came straight to my house."
The "innocent" occupants of those houses knew about the impending deadly ambush and watched it happen. They chose to collaborate with terrorist insurgents, and those insurgents used them as human shields. Now look at them.... Que sera sera.

....Thank you Mark for sending this to me.

Mark
3rd Mar.Div. 1st Battalion 9th Marine Regiment
1/9 Marines aka The Walking Dead
VN 66-67


Posted by Wild Thing at March 23, 2010 04:50 AM
---
Comments
Maybe the judge will rule in favor of Wuterich and this whole incident will be ended.
Posted by: TomR at March 23, 2010 09:49 AM
---
This is what you said it is, nothing more than a persecution. The brass involved are covering their politically correct asses, this case should be the recruiting poster for all branches of service.
The total lack of support and leadership from the CIC all the way down to staff level, send a warrior to do your dirty work then condemn them for getting enemy blood on themselves. Don't judge the man unless you've been in his boots.
Serve at your own risk for a country and a military who doesn't support you.
Posted by: Jack at March 23, 2010 11:52 AM
---
The dead Rep Murtha was behind this. This miscarrige needs to by burried with Murtha...
Posted by: willy at March 23, 2010 02:07 PM
---
Excellant Jack, that was a pure case of the brass covering their sorry asses. As they use to say shit rolls down hill, and Lt. Calley caught it.
In this current they don't even have a legitimate witnes for any prosecution.
"Wuterich, 30, is charged with voluntary manslaughter, aggravated assault, reckless endangerment, dereliction of duty and obstruction of justice."

The first three defines what he was doing there in the first place, it's called a "War" and that the United States sent him there to do exactly that. The last two are a joke.
This whole trial has been an abortion from the gitgo, a kangeroo court.
Posted by: Mark at March 23, 2010 02:41 PM
---
Tom, I sure hope so, this has been so horrible and hard on his family too. They evenhave a website supporting him that they update.
Posted by: Wild Thing at March 23, 2010 05:34 PM
---
Posted by: Wild Thing at March 23, 2010 05:37 PM
---
Willy, yes, it has got to end.
Posted by: Wild Thing at March 23, 2010 05:40 PM
---