« American Rancher Rob Krentz Murdered By ILLEGALS in AZ | Main | More BIG Government From Obama With His Sudent Loan Program »
March 31, 2010
Hey Obama THIS Is How You Talk To Terrorists!
Putin talks tough after Moscow subway bombings

MOSCOW
The old Vladimir Putin is back, confronting a terrorist attack in Moscow by using the same kind of coarse and colorful language that helped him win the presidency a decade ago.
A day after twin suicide bombings in the subway that killed 39 people, the powerful prime minister told Russians that he is certain the masterminds of the attacks would be found. The security services have blamed extremists from the North Caucasus, a predominantly Muslim region in southern Russia that includes Chechnya.
"We know they are lying low, but it is already a matter of pride for the law enforcement agencies to drag them out of the sewer and into broad daylight," Putin said, directing a transportation security meeting that was shown on Russian television Tuesday.
The choice of the gutter language recalled Putin's famous threat to "wipe out the Chechen rebels in the outhouse" after they were blamed for a series of apartment building bombings that terrorized Moscow in 1999.
Putin, as prime minister at the time, sent in overwhelming military force to pound the region into submission and was elected president the following year.
Now in his second stint as prime minister after serving two full terms as president, Putin has an excuse to revert to the tough line that shored up his authority following past terrorist attacks. While welcomed by many Russians, it also is raising fears that civil liberties may be further sacrificed under the pretext of fighting terrorism.
Capitalizing on the outrage, members of the Kremlin-loyal parliament proposed bringing back the death penalty for terrorism. Russia has imposed a moratorium on capital punishment, but has been reluctant to outlaw it due to broad public support for the death penalty.
Monday's subway bombings, carried out by two women, are the first terrorist attacks in Moscow in six years. They have shaken a city that has been insulated from the violence still raging in the restive southern corner of the country.
Russia observed a day of mourning Tuesday, with flags at half-staff at the Kremlin and across the vast country. Relatives identified the dead at a Moscow morgue, and tearful commuters placed candles at makeshift memorials heaped with carnations inside the two stricken subway stations in the city center.
Heightened transportation security remained in effect across the capital and elsewhere. Police with machine guns and dogs patrolled subway entrances.
The attacks signaled to Russians that they are no safer than they were before Putin came to power.
No one has claimed responsibility for the attacks, but many speculated that they were retaliation for the recent killings of Islamic militant leaders in the North Caucasus, including one known for training suicide bombers.
Putin used a string of terrorist attacks in 2004 to consolidate his power further. He abolished gubernatorial elections, effectively giving the Kremlin the power to appoint governors, and pushed his liberal critics out of parliament. Since then the political opposition has been fully marginalized.
Many opposition leaders and rights activists said they feared the subway bombings would be a convenient excuse for the government to put increased pressure on the opposition, perhaps by cracking down even harder on street protests.
"Our government loves to use such events to act as they want," Lyudmila Alexeyeva, a veteran human rights activist, wrote in her blog. "So this is an excellent opportunity to further limit our constitutional freedoms, pretending they care about our security."
Lidia Yusupova, a Chechen rights activist, was more alarmist.
"The system will have its hands untied completely," she told The Associated Press. "There will be a crackdown on all walks of life. We have no rights now, but we will have even fewer soon."
.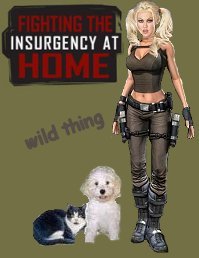 Wild Thing's comment........
Wow, for a little bit there I had forgotten what it was like to see a leader actually care about defending it's people. Putin sucks in so many ways, but he doesn't in so many ways too. Vlad IS dumb like a fox, but never underestimate the stupidity of 12th century Muslims, they'll deliver every time. Russians know how to deal with terrorists. Obama's . government only wants to 'deal with" Tea Partiers.

I miss George W. Bush. Obama's first words would have been "Let's not jump to any conclusions here..."

Obama would rather sit down and have a beer with the terrorists then to come down hard on them in any way. He is so weak when it comes to our enemies because HE is one of them.....he terrorizes our country in his BIG government take over and not listening to we the people. He forces things on us we do NOT want. In a sense we have a terrorist of sorts in power and we have got to make sure people wake up so he gets voted out or better yet, IMPEACHED. He is similar to Hugo Chaves and if there is a difference it would be that Chavez and Castro and other dictators have never apologized for their countries. But Obama sure as heck has and continues to.
Hard on terrorists??? Nah, Obama is only hard on our troops with the dangerous R.O.E. he has ordered.
.

....Thank you Mark for sending this to me.

Mark
3rd Mar.Div. 1st Battalion 9th Marine Regiment
1/9 Marines aka The Walking Dead
VN 66-67


Posted by Wild Thing at March 31, 2010 07:49 AM
---
Comments
No olive branch from Putin to these Islamis swine. I agree, take a lesson Obama.
Posted by: Bob A at March 31, 2010 09:42 AM
---
Putin does not fool around. I am sure the Russians will use interrogation methods the ACLU and Amnesty International would not approve of. Some muslims will pay the price for these bombings.
Posted by: TomR at March 31, 2010 10:40 AM
---
Nice to see Russia has their code pinkos too, but the ones in Russia really have a point.
That said, one thing the Russians do well is ferret information from suspects and the civil rights groups be damned. Putin will exact his pound of flesh and then some.
Strange isn't it, the very country the ACLU wants to emulate, does something, torture, to get answers, that if done here they would have a cow, they give a pass to.
One thing about Putin he will make these sadist, 7th century misfits pay the price and rightfully so.
Posted by: Mark at March 31, 2010 12:02 PM
---
Bob A.. I am no fan of Putin and I know what you mean, Putin gives no Olive branch to the terrorists and obama needs to learn from this.

Tom, your right, they will not hold back using interrogation.

Mark good point, yes that is interesting about the ACLU.
Posted by: Wild Thing at April 1, 2010 04:31 AM
---