« John McCain Bill Threatens Vitamins and Supplements! | Main | Pelosi: Lawmakers Should Sacrifice Jobs for Health Care »
March 01, 2010
Afghan: US Bomb Squad On The Frontlines Discuss Movie "The Hurt Locker"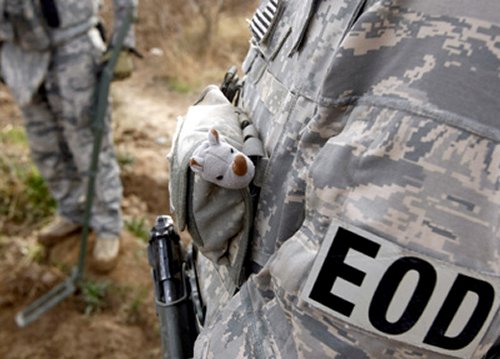 .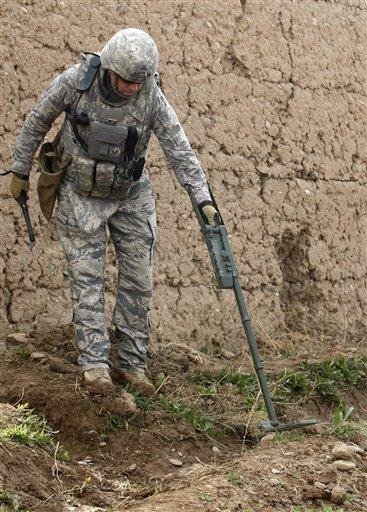 U.S. Air Force Staff Sgt. Joshua Rickert, from San Antonio, Texas, member of an Explosive Ordnance Disposal unit, checks for concealed bombs in the Badula Qulp area, west of Lashkar Gah in Helmand province, southern Afghanistan, Tuesday, Feb. 23, 2010
.
Afghan: US bomb squad on the frontlines
By CHRISTOPHER TORCHIA

BADULA QULP, Afghanistan

Staff. Sgt. Joshua Rickert hasn't just seen "The Hurt Locker," the award-winning film about an American bomb disposal squad in Iraq. He's living it - in Afghanistan.
Rickert and his team work for the Explosive Ordnance Disposal, or EOD, unit of the U.S. Air Force. Soldiers summon these men by radio when they find concealed bombs, a deadly threat to NATO forces fighting the Taliban. On Tuesday, Rickert's metal detector squealed when he ran it over a patch of earth at a chokepoint between two mud walls, a natural avenue where troops on patrol might choose to walk.
It was an IED, or improvised explosive device. Rickert saw parts of it poking above the soil.
"We're going to blow that right there," he said. Kneeling, Rickert laid down a brick of C4 explosive. He activated the one-minute fuse. Then he straightened up, weighed down by his flak jacket, helmet and other gear, and walked away - not hurrying, but fast enough.
Soldiers nearby stuck their fingers in their ears. The blast threw up black smoke. Rickert walked back to make sure the job was done.
The IED menace is constant. The Taliban hide crude bombs in culverts, doorways, walls, wherever they think Western troops will pass. Sometimes, soldiers clear an area, and insurgents go back and plant another bomb. Just about every U.S. soldier operating in support of a Marine offensive in the southern Afghan town of Marjah knows someone who was hit by an IED, often in a Stryker infantry vehicle. That someone got lucky, or was wounded, or died. A lot of soldiers were blown up themselves, recovered and went back to their unit.
Finding and destroying IEDs is, of course, slower and more nuanced than the high-octane version portrayed in the movie thriller directed by Kathryn Bigelow, which could make a run for the Oscars. In reality, Tuesday's operation in the village of Badula Qulp started well before the EOD team arrived at an area patrolled by a platoon of the 1st Battalion, 17th Infantry Regiment of the 5th Stryker Brigade.
Afghan soldiers, coordinating with the Americans, had persuaded civilians to tell them about the location of suspected bombs.
Platoon leader Sgt. 1st Class Natividad Ruiz of Fort Smith, Ark., checked out a cluster around a crop field enclosed by walls. His men blew one up as the EOD team arrived. Ruiz showed off a "trophy" - a "pressure plate" device consisting of two pieces of flexible wood wrapped in plastic to keep out debris. Once buried and stepped on, the wood pushes metal contacts together. This completes an electrical circuit that sets off the explosives, which are often fertilizer-based.
"We find them, we verify that they're there, and then we take care of it, whether these guys do it or we do it," Ruiz said. "These little ones, they're probably not going to kill you. You might have a little Superman leg or a Bat wing, but that's about it."
The insurgents, he said, know that wounding, rather than killing, a soldier can slow down the entire unit because of the rush to evacuate him for emergency treatment.
Ruiz said his men sometimes used grappling hooks to pull away brush around suspected bomb sites. He, too, has seen and liked "The Hurt Locker."
"We don't dress up in that big old suit," he says of the heavy bomb gear worn in the movie.
Rickert, of San Antonio, Texas, said his job was about teamwork, and that the movie's portrayal of "an EOD guy gone rogue" was inaccurate, though he acknowledged its entertainment value.
He recalled a scene in which the main character pulls up cords leading to a cluster of buried artillery shells. "I would walk away at that point," he said, adding that an accurate depiction of EOD men would show "six days of us doing nothing and 10 minutes of us working our ... off."
Another EOD man, Senior Airman Kyle Brown of Toledo, Ohio, felt the same way.
"Some of the things he does in the movie - quite out there," Brown said. "I wouldn't say we were that undisciplined. It makes us look like rebels in the military." The bomb disposal team rolled up to the scene Tuesday in what they called a Cougar, a vehicle that can withstand roadside bombs far better than a Stryker. They didn't use the Talon, a robot with treads and cameras that is operated with a joystick, because it wouldn't have been able to approach and examine the IEDs on the rough terrain.
Rickert recognized the signature of the bomb maker operating in the area by the type of batteries and other IED components. He showed a degree of respect for his unknown adversary, saying the bombs were well hidden.
"I take my time, go slow, and make sure I do everything for a reason," he said. And his career choice?
"I can't imagine doing anything else. It would be too boring."
.
'The Hurt Locker' sets off conflict within military
Many film critics — and awards voters — have praised "The Hurt Locker's" depiction of the U.S. military in Iraq, often singling out the bomb disposal drama for its authenticity. But as the film emerges as a favorite to win the best picture Oscar, a number of active soldiers and veterans are attacking the movie for the very things the film's supporters admire, saying "The Hurt Locker" portrays soldiers as renegades and that it fails to represent details about combat accurately.
The criticism, coming just before Oscar ballots are due Tuesday, highlights the delicate relationship between "The Hurt Locker" and the nation's armed forces.
Defense Secretary Robert M. Gates says the film is "authentic" and "very compelling" and has recommended it to his staff. But the government says it pulled its "Hurt Locker" production assistance at the last minute in 2007, saying that the film's makers were shooting scenes that weren't in the screenplay submitted to the Defense Department, including a sequence that the government believed showed troops unflatteringly. The film's producers dispute elements of the account.
While "The Hurt Locker" has numerous supporters within the military — including Purple Heart winner Drew Sloan, who participated in a "Hurt Locker" panel discussion in Hollywood with other veterans and the film's makers Wednesday night — the movie's detractors share a consistent complaint about its representation of the Army's Explosive Ordnance Disposal team as they attempt to disarm improvised explosive devices.
The film, directed by Kathryn Bigelow and written by journalist Mark Boal (who embedded with a bomb disposal team), stars Jeremy Renner as Staff Sgt. William James. Not deterred by protocol or his own safety, James is an adrenaline-addicted bomb defuser who occasionally puts his unit at risk, and at one point takes to the streets of Baghdad on a solo personal mission. Members of EOD teams in southern Iraq said in interviews arranged by the Army that "The Hurt Locker" is a good action movie if you know nothing about defusing roadside bombs or the military.
Sgt. Eric Gordon of San Pedro, Calif., an Air Force EOD technician on his second tour in Iraq, has watched the movie a few times with his friends. "I would watch it with other EOD people, and we would laugh," Gordon said.
He scoffed at a scene in which a bomb is defused with wire cutters. "It's similar to having a firefighter go into a building with a squirt bottle," Gordon said.
An EOD team leader in Maysan province, Staff Sgt. Jeremy D. Phillips, "My interest is bringing myself and my team members home alive, with all of our appendages in the right place," Phillips said.
While he was glad the film highlighted their trade, he disliked the celluloid treatment of EOD units.
"There is too much John Wayne and cowboy stuff. It is very loosely based on actual events," he said. "I'm honestly glad they are trying to convey to the public what we've been doing, and I wish maybe they had just done it with a little bit of a different spin on it," he said.
Others are more supportive.
Sloan, a former U.S. Army captain, said at the panel discussion that "The Hurt Locker" offered a perfect snapshot of modern conflict. "This is what's going on for the men and women who are fighting this war," he said.
Jim O'Neil, the executive director of the EOD Memorial, which honors those who perish defusing bombs, was equally enthusiastic about the film's accuracy. "It's not just a movie," he said at the panel discussion. "It's something that's actually occurring as we're sitting in these chairs."
Some recent veterans, however, did not share the sentiment.
"The depiction of our community in this film is disrespectful," said Paul Rieckhoff, the executive director and founder of the 150,000-member Iraq and Afghanistan Veterans of America. "We are not cowboys. We are not reckless. We are professionals. And a lot of the film would make you think the opposite."
"I didn't really care for it," said Brian Siefkes, who served in Iraq and plays an Army soldier in the upcoming movie "The Green Zone." "There were many moments where I felt they were trying to portray the actual life of EOD in Iraq but over-sensationalized it," he said.
Boal, who also produced "The Hurt Locker," said the film was not intended to be a documentary or a training film. "We certainly made creative choices for dramatic effect," he said. "But I hope the choices were made respectfully and conscientiously."
At one point, "The Hurt Locker" might have been made with government cooperation. But just 12 hours before Lt. Col. J. Todd Breasseale was to fly to Jordan to serve as the Army's technical adviser to "The Hurt Locker," he said in an interview that he heard there might be problems.
A Jordanian official told him that scenes were being shot that were not in the script that the Army had agreed to with Bigelow. Breasseale accused the producer of shooting a scene where in which soldiers act violently toward detainees. (The military does not provide help to films depicting violations of the laws of war, unless the script shows their consequences.) He also charged that the production had driven a Humvee into a Palestinian refugee camp in order to film angry crowd scenes.
"Nice working with you," Breasseale said he recalled telling a producer before the military decided to stop working with the production. "Kathryn has a lot of talent, but I cannot trust that your company will honor its contract to the soldiers and government of the U.S."
Breasseale said the filmmakers had been solicitous of the Army's opinion "trying to get the look and feel right" and they had been allowed to film at an Army logistics base in Kuwait.
Breasseale, who is now deployed, saw "The Hurt Locker" on a laptop in Afghanistan along with a soldier from one of the Army's EOD teams. He conceded it was a great story and a "spectacular looking movie. But if you're looking for realism and how military relationships really work, I believe she missed the mark," Breasseale said of Bigelow.
Others in the Pentagon's office overseeing work with Hollywood agree. "The filmmakers' interest in drama and excitement exceeded what we felt were reasonable realistic portrayals," said Philip M. Strub, the Pentagon's special assistant for entertainment media.
Boal said that while the production initially worked with the U.S. military, it parted ways when it became clear they would not approve "The Hurt Locker" script. He said they did not film on a base in Kuwait and never signed a contract.
"The Department of Defense did not support the movie. And my understanding is that they did not support 'Platoon' or 'The Deer Hunter,' Boal said of two of the most revered movies about the Vietnam War. "I am OK with that outcome because I didn't want to change the script to suit them."
The top Pentagon official, Gates, has a very positive view of the movie. "This is the first Iraq war movie that he has liked, or for that matter seen," said Pentagon press secretary Geoff Morrell. "In looking at all previous films he thought they had too much of a political agenda.
"He just thought it was a very compelling, and what he thought was authentic portrayal of what life is like for many of our troops in Iraq. Of the films that have been done about this war, that is the most authentic."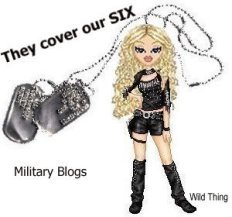 Wild Thing's comment........
We have not seen the movie yet so I have no opinion about it yet. But I do like to know what our troops have to say about it. It seems to be divided in approval. My main concern is does the film put down or slander our troops.
From the guys I know that have been there they have said this in their emails to me:
The clearing scene at the IED factory was worth the price of admission alone. But many parts I had to laugh at how wrong there were and incorrect. But I just accepted it was Hollywood version and they had to entertain as well as tell the story.
There were lots of technical mistakes, but hey that's showbiz right? Chrissie go see it. It is not that bad and has some good stuff in it. Just know it is not exactly how it is over here. Hey to Nick and hugs to you.
.

.... Thank you Jim for sending this to me.
Posted by Wild Thing at March 1, 2010 02:49 AM
---
Comments
I bought the DVD and as WAR films go it's not bad.
At least they didn't make the guys out to be drug
crazed Killers or totally stupid,, Refreshing to
say the least..NBC had an embeded Reporter with the Marines the other night and "ONE" guy went up
on a wall and disarmed a 5 gallon water jug full of 40lbs of explosive and full of nailsand nuts and bolts..They let it down on a rope dug a hole
and set it off.. The blast was huge...The were tipped off to the bomb by th Afghans...

Posted by: Gator2u at March 1, 2010 09:49 PM
---
Gator2u, thank you so much, I really appreciate it. Nick and I will be seeing it.
Posted by: Wild Thing at March 2, 2010 12:41 AM
---