« SAS and SEALs Take Out 50 Taliban | Main | Bush "Miss Me Yet" Merchandise HOT Item At Cafe Press »
February 17, 2010
Marines Face Fierce Resistance in Afghan Assault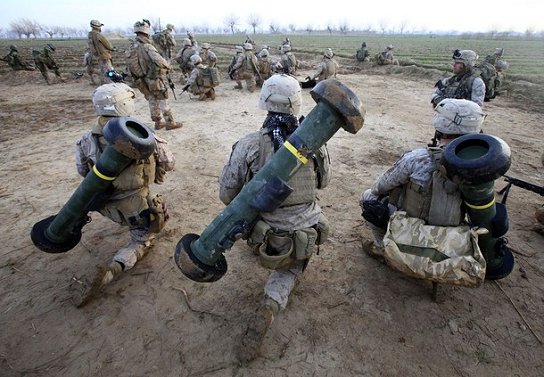 .
Troops Mass Ahead of Afghan Onslaught
.
from CNN
.

Marines push 'The Breacher' against Taliban lines....this is known as the Assault Breacher Vehicle It is used to plow out the IED's.
Another VIDEO
Marines from Bravo Company, 1st Battalion, 6th Marines

Major Afghan assault claims first Taliban casualties

.

Marines face fierce resistance in Afghan assault

MARJAH, Afghanistan

U.S. Marines leading one of NATO's biggest offensives against Taliban Islamic militants in Afghanistan are facing fierce resistance in some areas, bogged down by heavy gunfire, snipers and booby traps.
Marine units have tried twice since Sunday to reach a bazaar in Marjah, the last militant stronghold in the country's most violent province, Helmand, only to be pushed back.
Coming under heavy gunfire and sniper attacks -- one assault lasted over an hour -- they were forced to call in Harrier jets and attack helicopters with Hellfire missiles.
There have been conflicting assessments of how much progress NATO has made, but it seemed clear that the campaign to seize insurgent-held areas before a planned 2011 troop reduction could drag on for weeks.
"We are making steady progress, but being very methodical about detecting and clearing routes in an area heavily saturated with IEDs (Improvised Explosive Devices)," Marine Capt. Abraham Sipe told Reuters in reply to an e-mail, adding that counts of militants killed or captured would not be provided.
"In many parts of Marjah, we have seen very little opposition. There are areas where Marines have met with stiff resistance, but they are making steady progress throughout the area."
The assault, one of the biggest in the eight-year war, is the first test of U.S. President Barack Obama's plan to send 30,000 more troops to Afghanistan, where the Taliban have made a steady comeback since a U.S.-led invasion ousted them in 2001.
The Marines' efforts to close in on Taliban snipers in Marjah's bazaar came a day after the compound the U.S. troops are holding in the heart of the town was attacked several times, showing the Taliban are not confined to one area.
Afghanistan is a top foreign policy issue for Obama so failure here could be seen as damaging to his presidency.
Much of the operation's success in Helmand province depends on whether the administration wins residents' trust and Afghan troops are able to keep the Taliban from returning.
ARMY TRAINING CRUCIAL
"Looking to the day when we leave Afghanistan requires a government with a police and security force with the strength to deal with the Taliban. Training of the army is the most critical part of our long-term policy there," said U.S. special envoy Richard Holbrooke.
Speaking to a U.S.-Islamic Forum in Doha, Qatar, he added: "Security has to be the first criteria as we help the Afghans rebuild their nation."
Afghan officials said on Sunday that as many as 35 militants had been killed in the first two days of the offensive.
Taliban spokesman Qari Mohammad Yousuf, citing reports from Helmand, said in a statement on the group's website that its fighters had repulsed attacks by NATO troops on Monday.
NATO and the Afghan government's credibility rests on limiting civilian casualties, and NATO commanders told Marjah residents to stay at home during the offensive.
NATO rockets killed 12 civilians by accident on Sunday in the attack on Marjah, a farming area criss-crossed by canals, a breeding ground for insurgents and lucrative opium poppy cultivation, which Western countries say funds the insurgency.
Three Afghan civilians were accidentally killed in separate incidents during the offensive, NATO said. On two occasions the civilians ignored warnings to stop approaching NATO positions.
It also said that a NATO airstrike on suspected insurgents in Kandahar province, not part of the current offensive, had accidentally killed five civilians and wounded two.
Showing the dangers of fighting an unpredictable enemy, Helmand Province Governor Gulab Mangal said three would-be suicide bombers were gunned down on Sunday while trying to blow themselves up among troops.
The offensive is going as expected, he told a news conference. "The forces are extending their advances from points they have captured and the operation is going on successfully," he told a news conference.
The Taliban could not be reached for comment on Monday.
But in a statement on the 20th anniversary of the withdrawal of defeated Soviet troops from Afghanistan, after battling Western-backed mujahideen fighters for nearly a decade, the Taliban said: "The current occupiers of Afghanistan, like the Red Army, will face defeat.
"Twenty years after the defeat of the Red Army, today Obama, also in Afghanistan, has given one-and-a-half years to the commander of foreign invaders, (NATO Commander U.S. General Stanley) McChrystal, to prove his success against the Islamic Emirate."
Key Taliban Commander Mullah Baradar Captured in Pakistan
And this is the report on the capture of key Taliban Commander Mullah Abdul Ghani Baradar in Pakistan as the result of a secret operation carried out by U.S. and Pakistani operatives. Baradar is second only to Taliban Leader Mullah Omar, and was captured in Karachi about a week ago. He is reportedly now cooperating with authorities and providing intelligence.

.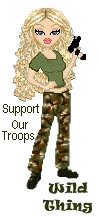 Wild Thing's comment........

Please keep all our brave warriors in your prayers.
WAR UPDATE: Afghan and Allied Forces Begin to Secure Taliban Stronghold
Summary as of February 13
-5 confirmed enemy killed. More enemy casualties likely from air strikes, but not confirmed (Taliban often hides bodies and does not advertise casualties for propaganda purposes)
-One of Marjah's bazaars has been secured
-Multiple and ongoing air strikes have been reported
-Marines are clearing landmines and booby-traps

....Thank you Mark for sending this to me.

Mark
3rd Mar.Div. 1st Battalion 9th Marine Regiment
1/9 Marines aka The Walking Dead
VN 66-67


Posted by Wild Thing at February 17, 2010 05:55 AM
---
Comments
FOX reported the Leathernecks received HOSTILE gunfire from Taliban in a house, then the three islamos threw their weapons on the ground and walked free? Thank's Pentagon for your new RULES OF NON-ENGAGEMENT! This takes the cake, big time!!
PS: They couldn't call in airstrikes either after observing the house for, get this,.... 72-hours?!
Posted by: darthcrUSAderworldtour07 at February 17, 2010 10:37 AM
---
I thought the ROE were terrible in Vietnam, but Youbomba and his girl Gates are doing this on purpose to kill as many Americans as they can......legally. I'll be watching their impeachment trials and executions with great happiness.
Posted by: Eddie (Enemy of the State) at February 17, 2010 11:21 AM
---
Wow, the ABV is awesome. And it even swims makes it really amphibian, and parks in the well deck of an LSD.
It makes you wonder how much better this thing could be going if the ROE's weren't so restrictive. I see the Marines are back to "Good Will Ambassadodors" ala Lyndon Johnson.
Posted by: Mark at February 17, 2010 01:32 PM
---
Also reported is that these Islamist cowardly pigs are placing women and children in front of them and on roofs as human shields. No enemy combatant should be taken alive. Screw the "intelligence" give them swift dispatch to their allah with bullets dipped in pig's blood.
Posted by: Bob A at February 17, 2010 01:47 PM
---
Darth, 72 very long hours. sheesh
Eddie, for Vietnam and now, have blood on their hands imo for every injury and death of any of our troops.
Mark, yes isn't it cool. I never heard of it before.

Bob A., that is so evil, pure evil how they do that.
Posted by: Wild Thing at February 17, 2010 07:04 PM
---