« Scott Brown Sworn in As U.S. Senator | Main | NFL Shout OUts To The Troops Around The World »
February 05, 2010
John Kerry Letter Supporting Code Pink's Hamas-Aid Gaza Freedom March

Sen. John Kerry Letter Supporting Code Pink's Hamas-Aid Gaza Freedom March

Massachusetts senior U.S. Senator John Kerry provided a letter on Senate stationery that supported constituents who participated in last December's anti-Israel, pro-Hamas Gaza Freedom March, led by President Barack Obama ally Code Pink.
Democrat Representative Andre Carson of Indiana's 7th District also provided a letter of support for participants in the so-called Gaza Freedom March.
Kerry is chairman of the Senate Foreign Relations Committee and was the Democratic Party's 2004 presidential nominee.
In the letter, Kerry wrote that his staff met with the Massachusetts delegation before they left, and his staff would be briefed about the trip upon their return.
Code Pink co-founders Jodie Evans and Medea Benjamin used Kerry's letter at the U.S. Embassy in Cairo, Egypt to pressure the Egyptian government to allow 1300 leftists passage into Gaza from Egypt. The leftists gathered in Cairo from around the world to mark the one-year anniversary of Israel's defense against Hamas' rocket and mortar attacks.
Images of the letters from Kerry and Carson were posted by the publisher of The Electronic Intifada, Ali Abunimah, on his blog at Posterous.com.
Abunimah wrote that he, Benjamin and Kit Kettridge met for over an hour with "three officials, including Gina Cabrera, head of US citizen services, and Gregory D. LoGerfo, First Secretary in the Office of Economic and Political Affairs. The third official, whose name I did not note, identified himself as a 'regional security' official."
Benjamin and Kettridge also met with "the embassy's Deputy Director Matthew Tuellar, in command while Ambassador Scobey was on leave," according to Abunimah.
(Margaret Scobey is a career Foreign Service officer who was appointed ambassador to Egypt by President George W. Bush in 2008.)
The Christian Science Monitor mentioned Kerry's letter in a report from Cairo, but failed to question why the chairman of the Senate Foreign Relations Committee was supporting the anti-Israel, pro-Hamas Gaza Freedom March.
The letter was written on letterhead from Kerry's Boston office. The name and phone number of staffer Christopher Wyman was included as a point of contact.
Wyman did not return a message left at that number seeking comment by Big Government. The Boston office declined comment, as did Tomeika Bowden, a Kerry spokeswoman on the Foreign Relations Committee.
Rep. Carson's press office also did not return a message from Big Government seeking comment
An article about Massachusetts residents preparing to travel to Gaza with Code Pink published by a Massachusetts paper, The Reminder, quoted Medea Benjamin saying that Hamas had given Code Pink its guarantee that the terrorist group would keep the marchers safe while they were in Gaza.
The text of Kerry's letter is below, followed by the text of Carson's letter.
December 23, 2009
To Whom it May Concern:
I am writing to express my strong support for members of the humanitarian delegation from Massachusetts that will be traveling to Israel and the Palestinian Territories from December 27th to January 15th. The humanitarian delegation from Massachusetts is sponsoring this visit and they plan to meet with non-governmental organizations, assess the health care system and observe human rights and trade union conditions among Israelis and Palestinians.
I respectfully request that every courtesy be given the members of the delegation during their visit. My staff has met with members of the group and is impressed with their ability, dedication and commitment to the peace process. We look forward to seeing them again upon their return and hearing about their visit.
For any questions or concerns please feel to contact Christopher Wyman in my Boston office at 617 565-8522
Thank you for cooperation in this very important matter.
Sincerely,
John F. Kerry
United States Senator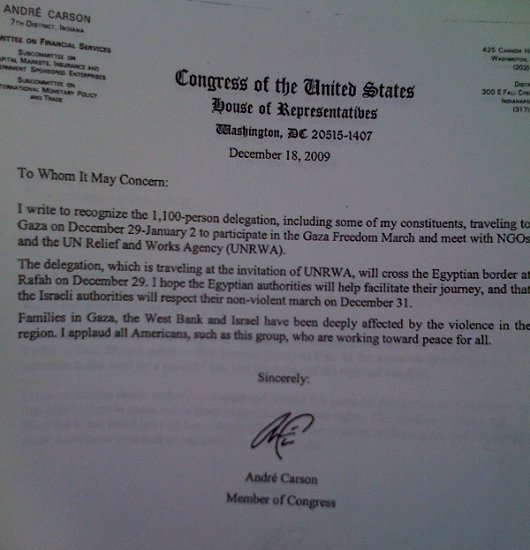 December 18, 2009
To Whom It May Concern:
I write to recognize the 1100-persons delegation, including some of my constituents, traveling to Gaza on December 29- January 2 to participate in the Gaza Freedom March and meet with NGOs and the UN Relief and Works Agency (UNRWA).
The delegation, which is traveling at the invitation of UNRWA, will cross the Egyptian borders at Rafah on December 29th. I hope the Egyptian authorities will facilitate their journey, and that Israeli authorities will respect their non-violent march on December 31.
Families in Gaza, West Bank and Israel have been deeply affected by the violence in the region. I applaud all Americans, such as this group, who are working toward peace for all.
Sincerely:
Andre Carson
Member of the Congress
Kerry visited Gaza one year ago, just after Obama took office, but made a point of not meeting with Hamas.
Code Pink has worked as a conduit between Hamas and Obama, delivering a letter from the terrorist group to Obama last June. Jodie Evans met with Obama administration official Buffy Wicks at the White House after Code Pink brought the letter out of Gaza.
Jodie Evans, who was one of Obama's top funders and donors in the 2007-2008 presidential campaign, gave Kerry $1000 in 2004 for his presidential run.
Code Pink claimed to have delivered tens of thousands of dollars worth of humanitarian aide to Hamas-controlled Gaza. The act was a reprise of the group's efforts in late 2004 to deliver humanitarian aide to "the other side" in Fallujah, Iraq while U.S. Marines were fighting to clear the terrorist safe-haven of al Qaeda in Mesopotamia and other Sunni terrorists.
That effort was aided by Democrat Senator Barbara Boxer of California and Democrat Congressmen Raul Grijalva of Arizona, Dennis Kucinich of Ohio and Henry Waxman of California.

US Terror Blacklist Whitewashes Hamas, Enables Funding
Israel National News
Published: 01/24/10
by Shimon Cohen and Gil Ronen
(IsraelNN.com) The United States Treasury has taken all but one member of Hamas off the international list of terrorists, thus enabling funds from the European Union to enter Hamas-controlled Gaza.
.
Kerry Turns Over Hamas Letter to U.S. Consulate
There were conflicting reports over whether U.S. Sen. John Kerry accepted a letter from Hamas to President Obama while traveling in the Middle East -- but his spokesman now says he has turned over the letter after learning where it came from.
Kerry spokesman Frederick Jones said the Democratic senator was not aware that the letter was from Hamas when he accepted it from a United Nations official, and only heard media reports of its origin, which prompted him to relinquish it.
News that Kerry had given up the letter came after the Israeli embassy and a former Bush adviser on Middle East affairs said Friday that Kerry should not act as mailman for a group labeled as a terrorist organization by the United States.
.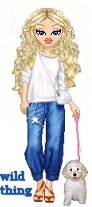 Wild Thing's comment.......

John Kerry should be hung for being a traitor, he should have been hung years ago when his testimony got more of our troops killed in Vietnam too. Kerry supported the communists in Vietnam, Cambodia and Laos. Supported communist fronts in the US. Supported the Marxist Sandinistas in Nicaragua and El Salvador. Supported Hussein's right to exist. And now CODE PINK.

What we didn't know at the time 2 weeks ago, the White House removed the Hamas members from the terrorist watchlist to provide cover just for European governments to fund Hamas, it was done so American citizens and political allies inside the Obama administration could openly fund Hamas.

....Thank you Mark for sending this to me.


Mark
3rd Mar.Div. 1st Battalion 9th Marine Regiment
1/9 Marines aka The Walking Dead
VN 66-67


Posted by Wild Thing at February 5, 2010 04:45 AM
---
Comments
I agree Chrissie, Kerry should be swinging from the end of a noose for being the traitor that he is and has always been.
Posted by: Eddie (Enemy of the State) at February 5, 2010 09:12 AM
---
Kerry will occupy a place of honor in Hell when he croaks. He can be a self serving big shot there also.
Posted by: TomR at February 5, 2010 11:16 AM
---
Another democrat POS. Supporting Hamas but stabbing Israel in the back just like his brother obama.
Posted by: Mark at February 5, 2010 01:18 PM
---
Eddie, one day I pray there will be justice for all Kerry has done.
Tom, AMEN to that.

Mark, I wish more people would realize the kind of people like Kerry is and how they really make things so much worse by the things they say and do.
Posted by: Wild Thing at February 5, 2010 04:45 PM
---
kerry & fonda(no,these names Should NOT be capitalised)swinging in a tree,or at least they SHOULD BE!!!!!!!!!!!!!!!!!
RA16931414-ARMY-1966to1969,VietNam-1967to1968(april to april)M60gunner,2endPlt.Cco.5/7Cav.1ST AIR CAV.

To ALL our TROUPS ,MAY GOD BE WITH YOU,FOR(once again) our politicians are not!
Posted by: Dennis Wright at February 5, 2010 08:30 PM
---