« A Third Billboard ~ People Speaking Out About Worst President Ever B.Hussein Obama | Main | Carnival In Germany Has Float " Obama the Loser" »
February 18, 2010
Afghan Official: Taliban Using Human Shields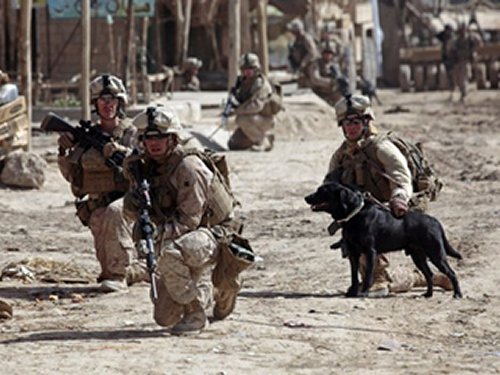 Afghan Official: Taliban Using Human Shields
MARJAH, Afghanistan
Taliban insurgents are increasingly using civilians as human shields as they fight allied troops trying to take the militants' southern stronghold of Marjah, an Afghan official said Wednesday as military squads resumed painstaking house-to-house searches.
With the assault in its fifth day, insurgents are firing at Afghan troops from inside or next to compounds where women and children appear to have been ordered to stand on a roof or in a window, said Gen. Mohiudin Ghori, the brigade commander for Afghan troops in Marjah.
"Especially in the south of Marjah, the enemy is fighting from compounds where soldiers can very clearly see women or children on the roof or in a second-floor or third-floor window," Ghori said. "They are trying to get us to fire on them and kill the civilians."
The Marjah offensive is the biggest joint operation since the 2001 U.S.-led invasion of Afghanistan and is a major test of a retooled NATO strategy to focus on protecting civilians, rather than killing insurgents.
Ghori said troops have made choices either not to fire at the insurgents with civilians nearby or they have had to target and advance much more slowly in order to distinguish between militants and civilians as they go.
Even with such caution on both the NATO and Afghan side, civilians have been killed. NATO has confirmed 15 civilian deaths in the operation. Afghan rights groups say at least 19 have been killed.
In northern Marjah on Wednesday, U.S. Marines fanned out through poppy fields, dirt roads and side alleys to take control of a broader stretch of area from insurgents as machine gun fire rattled in the distance.
The Marines found several compounds that had primitive drawings on their walls depicting insurgents blowing up tanks or helicopters, a sign that Afghan troops say revealed strong Taliban support in the neighborhood.
Lt. Col. Brian Christmas, commander of 3rd Battalion, 6th Marines, said security has improved enough in northern Marjah for Afghan police to step in. Other Marine units have taken control over main locations in the center of town.
"Bringing in the Afghan police frees up my forces to clear more insurgent zones," Christmas said.
Combat engineers were building a fortified base at the entrance of town for the police, who are expected to arrive Thursday.
Afghan police chosen for the task in Marjah were selected from other regions of the country instead of Helmand province, Marine officials said, in order to avoid handing over day-to-day security to officers who may have tribal or friendship ties to the Taliban.
A day earlier, Marines and Afghan forces moving by land from the north had succeeded in linking up with U.S. units that have faced nearly constant Taliban attack in the four days since they were dropped by helicopter into this insurgent stronghold.
The linkup between the two Marine rifle companies and their Afghan army partners will enable the U.S. to expand its control in Marjah, about 380 miles southwest of Kabul.
A top Taliban commander, Mullah Abdul Razaq Akhund, dismissed the offensive as NATO propaganda and said on the group's Web site that Marjah was militarily insignificant.
Four NATO service members have been killed in the Marjah operation. An American and a Briton were killed on Saturday, while two others whose nationalities were not identified were killed Tuesday. One Afghan soldier also died Tuesday, Afghan officials said.
The Marines and Afghan troops "saw sustained but less frequent insurgent activity" in Marjah on Wednesday, limited mostly to small-scale attacks, NATO said in a statement.
Marine officials have said that Taliban resistance has started to seem more disorganized than in the first few days of the assault, when small teams of insurgents swarmed around Marine and Afghan army positions firing rifles, machine guns and rocket-propelled grenades.
Troops are encountering less fire from mortars and RPGs than at the start of the assault, suggesting that the insurgents may have depleted some of their reserves or that the heavier weapons have been hit, Ghori said.
Nevertheless, Taliban have not given up. Insurgent snipers hiding in haystacks in poppy fields have exchanged fire with Marines and Afghan troops in recent days as they swept south.
Insurgents tried but failed to shoot down an Osprey aircraft with rocket-propelled grenades as Cobra attack helicopters fired missiles at Taliban positions, including a machine gun bunker.
NATO said it has reinstated use of a high-tech rocket system that it suspended after two rockets hit a house on the outskirts of Marjah on Sunday, killing 12 people, including at least five children.
The military coalition originally said the missiles went hundreds of yards off target but said Tuesday that it determined that the rockets hit the intended target.
Afghan officials said three Taliban fighters were in the house at the time.
Violence and NATO strikes have continued elsewhere in the country.
In neighboring Kandahar province, four Afghan policemen were killed and four others were wounded when their vehicle struck a roadside bomb on Tuesday, the Afghan Interior Ministry said.
And in the east, NATO said it killed more than a dozen insurgents in an airstrike near the Pakistani border.
.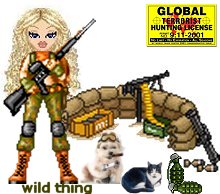 Wild Thing's comment.......
"The Taliban Is Using Human Shields"
The Traitor-in-Chief told them to with his "rules of disengagement."

OBAMA is getting more of OUR troops killed. Our soldiers are dying due to this insnane ROE !
From a New York Times article: "Troops: Strict War Rules Slow Afghan Offensive "
February 15, 2010
"MARJAH, Afghanistan (AP) — Some American and Afghan troops say they're fighting the latest offensive in Afghanistan with a handicap — strict rules that routinely force them to hold their fire. "
Although details of the new guidelines are classified to keep insurgents from reading them, U.S. troops say the Taliban are keenly aware of the restrictions.
''I understand the reason behind it, but it's so hard to fight a war like this,'' said Lance Cpl. Travis Anderson, 20, of Altoona, Iowa. ''They're using our rules of engagement against us,'' he said, adding that his platoon had repeatedly seen men drop their guns into ditches and walk away to blend in with civilians.
If a man emerges from a Taliban hideout after shooting erupts, U.S. troops say they cannot fire at him if he is not seen carrying a weapon -- or if they did not personally watch him drop one.
What this means, some contend, is that a militant can fire at them, then set aside his weapon and walk freely out of a compound, possibly toward a weapons cache in another location. It was unclear how often this has happened. In another example, Marines pinned down by a barrage of insurgent bullets say they can't count on quick air support because it takes time to positively identify shooters.
''This is difficult,'' Lance Cpl. Michael Andrejczuk, 20, of Knoxville, Tenn., said Monday. ''We are trained like when we see something, we obliterate it. But here, we have to see them and when we do, they don't have guns.''
more of my comment........
All the enemy has to do is drop their gun and they are "civilians"?? They can't even be detained? AND a civilian who permits a terrorist killer to "blend in" with him is not an "innocent" civilian.

....Thank you Mark for sending this to me.


Mark
3rd Mar.Div. 1st Battalion 9th Marine Regiment
1/9 Marines aka The Walking Dead
VN 66-67


Posted by Wild Thing at February 18, 2010 05:50 AM
---
Comments
These ROE's are extreme for combat. They make it much more difficult for our guys to kill Taliban. However, the Taliban are not going to win the war of hearts and minds by using civilians as body armor. I saw this same situation in Vietnam, although our ROE's were much less restrictive. One result was the support we got from South Vietnamese civilians during Tet 68. They did not like the abuse put on them by the VC.
Posted by: TomR at February 18, 2010 11:15 AM
---
Yep, Tom is right, the ROE's suck. I had an indigenous crew up north, one day one of them said 'you no come tomorrow', meaning not to come into the city. I heeded that warning, the following day was a mess, but I saw why, the locals had ambushed the enemy and left them strung up in the wire as a warning. I yearn for the day when the citizen turns on the oppressor in ragheadland.
Posted by: Jack at February 18, 2010 02:07 PM
---
Maybe the Marines could use dead Taliban as human shields on the humvee. Body armor.
Have to rotate them every few days though.
Posted by: Jim at February 18, 2010 02:16 PM
---
Taliban, AlQaeda and their brother Muslims are a cowardly, barbarous cult of sub-human beasts. You can't reach out to them with diplomacy or a hand in peace. They will lie and cut it off. They have proven that. Reach out with a bullet, no prisoners taken.
Posted by: Bob A at February 18, 2010 02:19 PM
---
"Maybe the Marines could use dead Taliban as human shields on the humvee. Body armor.
Have to rotate them every few days though."
Hi Jim, maybe they should use live captured Taliban/AlQaeda as "body armor.
Posted by: Bob A at February 18, 2010 02:28 PM
---
Posted by: Anonymous at February 18, 2010 05:26 PM
---
The enemy knows the ROEs as well as our troops do and this is what they've been waiting for but this would be an ideal situation for Scout/Sniper teams.
Obama is an inept, incompetent leader. More than his failure to pass his domestic agenda he's failing in foreign policy too. His Rules of Engagement wouldn't in a snowball fight and don't even come close to Combat.
Impeach Now.
Posted by: Mark at February 18, 2010 06:18 PM
---
Tom, thank you so much for sharing about that and the comparison too.
Jack, thanks for sharing that, very interesting. I agree too, I would love for that day to come, when they wake up and get strength inside themselves to have had enough and really fight back. They need to realize it is their country and that is always worth fighting for.


Jim, LOL good idea.
Bob A., exactly and the Generals etc. need to face that fact and lay into Obama about it. Obama is the enemy as much as the terrorists.
Anonymous,GREAT speech, thank you so much.

Mark, ditto all you said!!!!
Posted by: Wild Thing at February 18, 2010 06:52 PM
---