« Lt. Col. Ralph Peters Calls Pentagon Report On The Fort Hood Shooting A "whitewash" | Main | The Quiet Man »
January 17, 2010
Scott Brown Files Criminal Complaint , UPS Ticked At Democrats and Great Scott Brown Rally in Quincy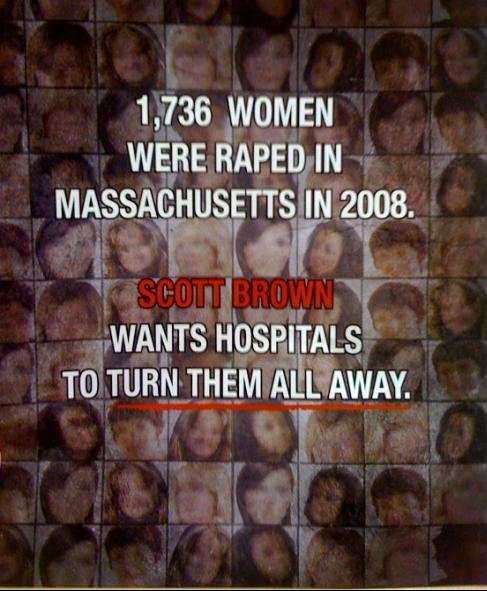 This is the disgusting Coakley rape flyers that were sent out that the Brown Campaign is upset about:
Scott Brown to File Criminal Complaint against MassDems
Scott Brown Campaign filed a complaint against the Democratic Party for spreading lies that Scott Brown would not allow rape victims to receive treatment. They are giving the Massachusetts Democratic Party until Tuesday morning to renounce the lies against Scott Brown.
Dan Winslow, Brown campaign counsel, spoke to reporters about the campaign's filing of a criminal complaint against the Massachusetts Democratic Party regarding a recent mailing paid for and sent by the Massachusetts Democratic Party.

FOR IMMEDIATE RELEASE: CONTACT: Felix Browne
January 16, 2010 617-335-8333
MEDIA ADVISORY FOR TODAY
Dan Winslow, counsel for the Scott Brown for U.S. Senate campaign, will hold a media availability to announce the filing of a criminal complaint against the Massachusetts Democratic Party regarding a recent mailing paid for and sent by the Massachusetts Democratic Party. Winslow will make a statement and take reporters' questions at MassGOP Headquarters in Boston TODAY at 4:00 PM.
Massachusetts GOP Headquarters
85 Merrimac Street, 4th Floor
Boston.
.

It's not the first time they've filed charges…..
The Scott Brown Campaign filed charges against the SEIU in December.

BOSTON - Republican Senate hopeful Scott Brown has filed a complaint with the State Ethics Commission after a report that a union backing rival Martha Coakley used state resources to urge workers to volunteer for Coakley's campaign.
The report by FOX25 said the Service Employees International Union used state computers and e-mail addresses to direct state employees to volunteer for Coakley, the Democratic state attorney general.
Coakley's campaign referred questions to the attorney general's office. A spokeswoman said the attorney general's office has received the letter from Brown's attorney and will review it before commenting.
.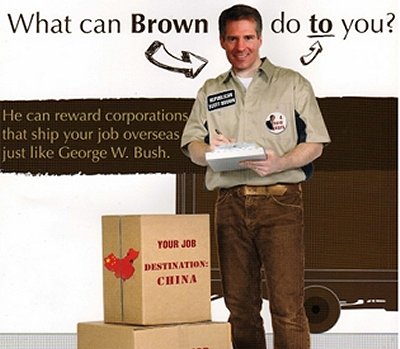 The United Parcel Service has threatened the Massachusetts Democratic Party with Legal Action as a result of their negative campaign against Scott Brown.
Shipping giant UPS isn't amused by a Democratic Party campaign pamphlet attacking Republican Senate candidate Scott Brown that plays off the company's slogan "What can Brown do for you?"
Atlanta-based United Parcel Service, known for its ubiquitous brown trucks, demanded yesterday that the Massachusetts Democratic Party, which is listed as paying for the pamphlet, stop distributing it.
The mailer asks "What can Brown do to you?" It shows Scott Brown dressed up as a UPS driver and says, "He can reward corporations that ship your job overseas just like George W. Bush."
It's unclear how many of the mailers had gone out.
"Our legal team sent the Massachusetts Democratic Party an e-mail today," company spokeswoman Susan Rosenberg said yesterday. "As part of ongoing UPS brand protection, we asked that no further copies be distributed."
As of late yesterday, Rosenberg said UPS had not received a response. The Massachusetts Democratic Party did not respond to a message left at its headquarters in Boston by the Herald.

.
Scott Brown rallies in Quincy
.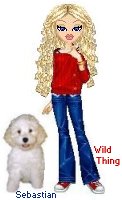 Wild Thing's comment..........
Coakley is showing both desperation and stupidity. She's quite the modern day democrat. LOL. She is the gift that keeps giving. Keep it up Coakley.!
The funny thing concerning the whole trademark infringement is that as the Massachusetts' Attorney General she knows that she shouldn't be doing this.
The UPS guys I have met that have delivered packages ( in Calilfornia and also here in Florida where we live now) have all listened to Conservative talk radio and were registered Independents and a few registered Republicans. One of them here I give him our Rush Limbaugh letter ( magazine) we get each month when we are done with it.
He loves it. UPS driver makes a point of telling me that Obama is destroying the country. He told me libs are just plain rude. LOL
I'd be embarassed if I were one of her supporters.
1. The campaign mispelled Massachusetts in a campaign ad.
2. Put the a picture of the World Trade Center in a campaign ad.
3. Called Curt Shilling pitcher of the RedSocks a Yankee Fan.
4. Said there were no more terrorists in Afghanistan when a fairly large terrorist attack had happenned not long before.
5. Said something to the effect that Catholics shouldn't be working in Emergency Rooms if they had a problem with abortion.
This lady and her campaign are the most incompetent campaign since Creigh Deeds here in Virginia. She almost makes him look electable.
Martha has a big problem and I don't think there is anything the Democrats can do about it. If they do not lose this seat it will not be for lack of trying.
Posted by Wild Thing at January 17, 2010 05:48 AM
---
Comments
UPS is Unionized too. They are really dedicated employees and take their job seriously. Something like this is just putting cokely farther behind the 8 ball. And Willie Mosconi is ready to break.
Posted by: Mark at January 17, 2010 10:04 AM
---
That last one is bothersome, Abortions are now done in Emergency Rooms ? Has Massachusetts changed the rules for ER's ? And if abortions bother Catholics they shouldn't work in Hospitals ? Of course, maybe this runs parallel with obama's death panels, which would include Abortion and Eugenics. That would preclude 70-80% of the state of Massachusetts. Because not all Catholics are as two faced as John Kerry and his late pal Ted Kennedy and Martha Coxless.
Posted by: Mark at January 17, 2010 10:16 AM
---
Those arrogant elitist anal warts thought they had MassATwoShits sewed up. They didn't reckon that the Tea Party was serious, braying and haw hawing that they were mere 'tea baggers' well I have sharpened stakes for the undead!!! Will pound stakes for free!!!
Posted by: Jack at January 17, 2010 11:59 AM
---
With beauties like Helen Thomas and Janet Reno, the URGE just wouldn't be there, would it?
Posted by: darthcrUSAderworldtour07 at January 17, 2010 08:16 PM
---
Good Grief, Darth! What posessed you to mention those two crones? Are you an ugly old lady pervert? I was enjoying my Pepsi Throwback, and you mentioned those two. OMG man, have you no respect?
I suspected for years that Helen Thomas was Jimmy Hoffa in drag.
"Never Forget 9/11/01 or 11/5/09 and the lives lost or affected then."
Posted by: Frankly Opinionated at January 17, 2010 09:23 PM
---
Big thank you all sooo much for your awesome
input.

Darth. LOL YIKES well it might.

hahahaahahahahhaa
Posted by: Wild Thing at January 18, 2010 12:25 AM
---