« No Rise of Airborne Fraction of Carbon Dioxide in Past 160 Years | Main | Searching and Information »
January 07, 2010
New "Interactive" Al Gore Ice Sculpture To Be Unveiled In Fairbanks, AK
He's back with a vengeance in 2010, this time blowin' more smoke than before!
"Smokin' and Frozen Al Gore!" - January, 2010 - Fairbanks, Alaska

FOR IMMEDIATE RELEASE - January 4, 2010
New "Interactive" Al Gore Ice Sculpture to be unveiled in Fairbanks, AK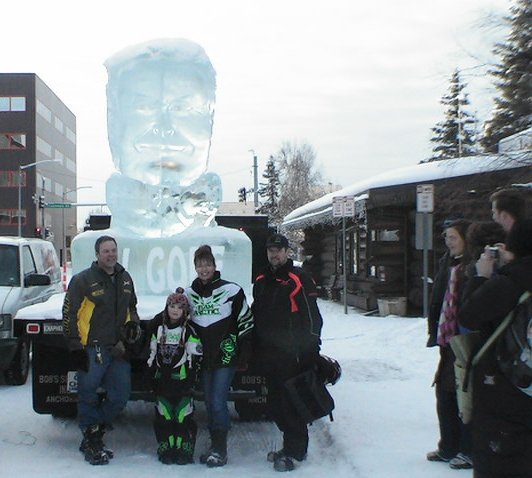 LAST YEAR......
Sarah Palin stopped by to see the Frozen (Al) Gore ice sculpture in Fairbanks, in February 2009,
along with daughter Piper, husband Todd (on right) and Craig Compeau.
(The Frozen Gore sculpture, crafted in January 2009, made it until May 1 before melting.)

Fairbanks, AK- In an ongoing effort to attract Former Vice President Al Gore to come to Fairbanks
and debate his man-made global warming theories, a unique interactive ice sculpture will be
unveiled Tuesday, January 5th in downtown Fairbanks.

The new sculpture, a 6' tall, 4,000 lb, likeness of Mr. Gore will be uncovered at the corner of
Airport Road and Cushman Street next to Thrifty Liquor. This year the carving features an audio
dub of Mr. Gore's Dec. 2009 Copenhagen speech suggesting the entire Polar Ice cap will likely
disappear in the next 5 to 7 years, and urging us to upgrade our light bulbs.

As the audio is played, hot air will be emitted from the mouth of the statue, signifying the dangers
to the environment of all types of man-made emissions. The source of the hot air will be the
Ford F-350 flatbed truck on which the sculpture sits, with a 2" hose from the tailpipe of the vehicle,
through a hole bored in the back of the head of the carving, and pumped out through the mouth of
the statue. Local businessmen Craig Compeau and Rudy Gavora commissioned the frozen artwork,
by world class sculptor Steve Dean.
"We're not giving up easy", Compeau told onlookers as the statue was receiving its
final touches Sunday evening. "We invited Mr. Gore to Fairbanks last January (one of the coldest in
decades) to debate his planet-melting theories. His people responded via email, that although Mr. Gore
would love to attend, there was a scheduling conflict." Compeau was confused by the response
since he had not suggested any specific date or time.

Locals are welcome to stop by and get their photos taken with the artwork at any time of day,
although the frigid temperature may keep them away, or cause cameras to freeze up.
Temperatures in Interior Alaska have recently fallen to the -30 to -40F range.

In conjunction with the release of the new statue, Compeau has incorporated a "Local Warming"
contest that will raise money to provide warm winter clothing for homeless Fairbanks residents.
The contest asks participants to estimate how many hours the Ford F-350 would have to
run (at idle) to equal the carbon output of a round-trip visit from Tennessee to Copenhagen aboard
a Lear jet. The winner will receive a warm Ski-doo winter jacket, long underwear, thermal socks, and an
Al Gore Bobblehead doll.
Alaska's KTVA reported that Local businessmen Craig Compeau and Rudy Gavora contracted the piece from award-winning sculptor Steve Dean and say they'll keep erecting one each winter until Gore accepts an invitation to discuss the global warming issue in Fairbanks.
Maybe they should wait a couple of years until things warm up in Alaska. Al Gore warned two years ago that the Arctic polar cap would disappear in 5 years.
.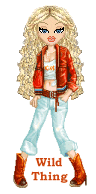 Wiild Thing's comment.......
LOL I love it! Great idea to do this. heh heh

....Thank you Mark for sending this to me.

Mark
3rd Mar.Div. 1st Battalion 9th Marine Regiment
1/9 Marines aka The Walking Dead
VN 66-67


Posted by Wild Thing at January 7, 2010 02:48 AM
---
Comments
LOL Gosh, there is so much talent out there when given free reign!!!!
Posted by: jan at January 7, 2010 08:41 AM
---
I found this site and thought it was a hoot, Frozen Gore. In his speeches he uses the phrase 'et cetera' an awful lot. It was said at one time that phrase is latin for "...and I don't know anymore".
First Venus is 67 Million miles from the sun, Earth about 96 million and Mars is 130 million miles, gee, do you think that may have something to do with temperature difference.
I found an article from NASA, " Mars is experiencing climate change" of 0.5 degrees C the same as it is here. How is that possible, there are no evil Americans living there to use all the fossil fuel ? Then the article said, "Maybe this climate change is a naturally occurring phenomenon".
Even in that speech Gore can't help himself and he slides the content of the speech to the "Poor third world", and the truth is covertly let out of the bag, "Redistribution of Americas Wealth". Which is the whole idea behind Goron's phony Global Warming.
Posted by: Mark at January 7, 2010 09:04 AM
---
Gore is a bore. And he is very easy to make joke of since he utters some of the most ignorant statements. Gore would be the ideal contestant on "Are you smarter than a fifth grader?".
Posted by: TomR at January 7, 2010 11:31 AM
---
Ah, ice fishing on the Tanana, gore for bait.
Posted by: Jack at January 7, 2010 07:35 PM
---
Jan, haha there sure is. I love our side, we have a sense of humor to get our point across. The left just stays angry about everything.
Posted by: Wild Thing at January 8, 2010 12:42 AM
---
Mark, oh wow hahaha thanks.
This photo is all over the place now. It is very
popular. heh heh

Thanks again Mark.
Posted by: Wild Thing at January 8, 2010 12:43 AM
---
Tom, LOL yes he would. I agree he is a huge
bore.
Posted by: Wild Thing at January 8, 2010 12:45 AM
---
Posted by: Wild Thing at January 8, 2010 12:46 AM
---