« Mother Teresa: Should a Saint Get Postal Service's Stamp of Approval? | Main | Former U.S. Surgeon General C. Everett Koop Speaks Out On Obamacare »
January 31, 2010
Limbaugh Let's Loose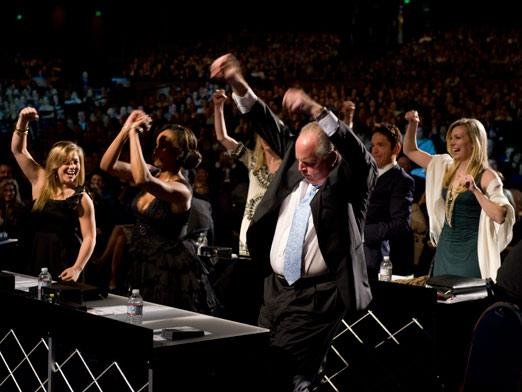 Rush during the preliminaries at the Miss Americva Pageant on Thursday night ( Rush was one of the Judges)


.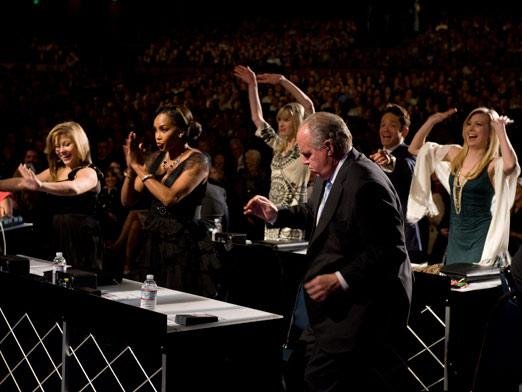 Limbaugh gets down to Lady Gaga's "Poker Face".
In this pic look at the guy in the second row pointing at Rush...looks like they all had a great time.
.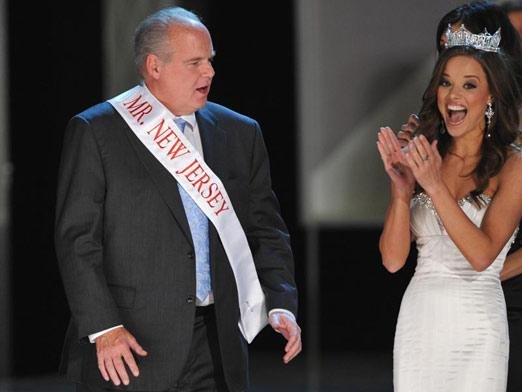 Rush dons a Mr. New Jersey sash while Miss America 2009 Katie Stam ( also a conservative and big supporter of our troops ) laughs along in the fun
.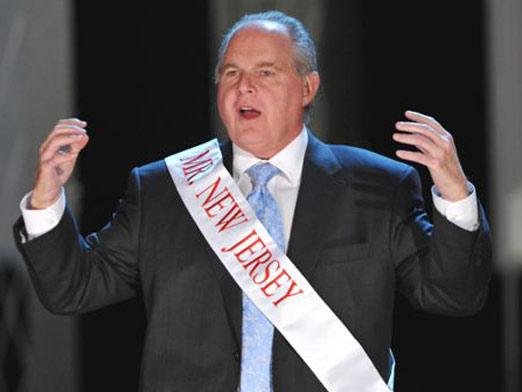 Rush reacts to winning " Judge of the Night".

Rush Limbaugh is already creating buzz as a judge at the Miss America pageant: Seems the man knows how to bust a move.

On Thursday night, in between rounds of competition, the judges competed for their own crown: "Judge of the Night."

While competing in the dance-off, Limbaugh stood up and boogied to Lady Gaga's "Poker Face" alongside fellow judge Vivica A. Fox.
"Rush Limbaugh has exceptionally impressive fist pumping skills," tweeted Miss America Live.
Limbaugh's moves won him the "Judge of the Night" title. His prize: a "Mr. New Jersey" sash bestowed upon him by the host, Miss New Jersey 1995 Dena Blizzard.
One question remains: Will the conservative talk show host be the favorite judge on the final night of the pageant?
The Las Vegas pageant airs live on Saturday night — when Limbaugh will presumably throw a few curve balls to top contestants during the interview portion of the competition.
Wow... listen to the applause from the crowd! Rush is getting so much love from the audience... it's nice to hear.

.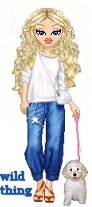 Wild Thing's comment........

This is GREAT! What a hoot. The MSM and Democrats must be having fits at the coverage Rush is receiving.
I loved it when there was such a healthy round of applause and cheers that Rush received when he was introduced.
Good to see Rush is back in full health.
Besides his eternal optimism, or perhaps because of it, Rush never fails to enjoy himself. This infuriates the liberals, which makes him enjoy himself even more!

This is a transcrpt from Rush about last Thursday night:
"Speaking of this Miss America Pageant, I was going to bring this up because I frankly had forgotten it until this guy's call. They've had a different emcee each night of the preliminaries: Tuesday, Wednesday, and Thursday night. Last night was the final night of the preliminaries. Last night's emcee was Dena Blizzard, comedienne from New Jersey. She involved, off the cuff, us six judges. She said, "You know, it's time for us to judge the judges. The judges get to sit here and judge everybody else." So we're caught up in this, and we have to play along and there was only one thing we had to perform, and that is we all had to stand up on cue and dance — all six of us — and then the audience is going to vote as to which one of us was the winner. So I got up and I started dancing and I did the Jersey fist bump because that's what she said she wanted, and I was doing the Jersey fist bump and I went kind of nuts there for 30 seconds. And, lo and behold, if I didn't win it! I won the judge talent show last night, was called up on stage. The retiring current Miss America, Katie Stam, crowns the new Miss America on Saturday night, gave me a... They didn't have a Mr. America sash, so they created one that said "Mr. New Jersey," and there was a picture of me wearing that and they couldn't find a coffee cup named Rush so they got me one with the name Roy on it and gave me that. Katie Stam, the current Miss America signed it, and all the Miss America Pageant contestants are on stage. This is at the end of the night. So I just wanted you people to know: I won a talent contest here at the Miss America Pageant, but I was not competing against the girls."

......Thank you RAC for sending this to me.

RAC has a website that is awesome. 336th Assault Helicopter Company

13th Combat Aviation Battalion - 1st Aviation Brigade - Soc Trang, Republic of Vietnam


Posted by Wild Thing at January 31, 2010 05:55 AM
---
Comments
LOL here. What? He's not measuring up to the expectations of the skags on The View. Tsk tsk Rush, their 'Gravitas' is showing, paging Dr. Dean, Paging Dr. Dean!!!
Posted by: Jack at January 31, 2010 08:29 AM
---
Enjoying thinking of all those little progressive populists' heads exploding...
They'll have nightmares for weeks...months!
Posted by: yankeemom at January 31, 2010 10:41 AM
---
Outstanding, looks like he had a great time and a boost for America. Like 'Yankeemom' said, the progressive's head's will implode, probably won't take much after what has happened.
Posted by: Mark at January 31, 2010 10:45 AM
---
Looks like Rush enjoyed that "job". What a contrast to the gay guy, something Paris, that caused quite the stir last year.
Posted by: TomR at January 31, 2010 12:51 PM
---
LOL love your comments. I agree with all of you. This will be fun to watch the left explode oh just soooo sweet.
Posted by: Wild Thing at January 31, 2010 03:50 PM
---
How come HELEN THOMAS wasn't a judge, or Janet Reno, or Maxine Walters?
Posted by: darthcrUSAderworldtour07 at February 1, 2010 09:49 AM
---