« 13 Republican Attorneys General Threaten Lawsuit Over Health Care | Main | USO With Our Troops In Atlanta New Years Eve »
January 01, 2010
Injured Airman Senior Airman Tre Porfirio Has Groundbreaking Surgery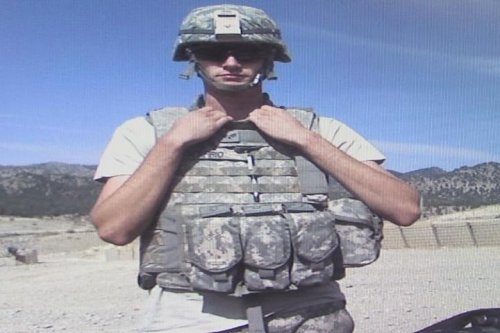 Senior Airman Tre Porfirio needed several surgeries and lost his spleen, pancreas and small intestine.
While serving with an Army unit in Afghanistan, 21-year-old Air Force Senior Airman Tre Porfirio was shot three times in the back by an insurgent Nov. 21. Seventy-two hours and 8,000 miles later, Porfirio was at Walter Reed with injuries so extensive it would require 11 surgeries to reconstruct his abdomen.
.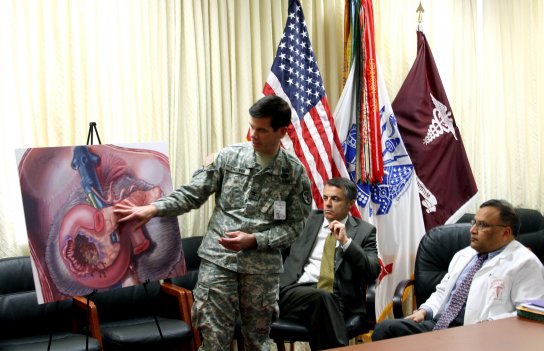 Army Col. (Dr.) Craig D. Shriver, chief of general surgery at Walter Reed Army Medical Center in Washington, D.C., describes groundbreaking pancreas islet cell transplant surgery performed Nov. 26, 2009, to reporters during a Dec. 15, 2009, news conference. Dr. Pascal Goldschmidt, dean of the Miller School of Medicine at the University of Miami, and Dr. Rahul Jindal, transplant surgeon, also were on hand to take reporters' questions.
Injured airman has groundbreaking surgery
By Tom Spoth - Staff writer

Three shots rang out.
Senior Airman Tre Porfirio went down.
To save his life, doctors had to remove his pancreas during one of 11 surgeries to repair the damage caused by an Afghan insurgent.
Without his pancreas, Porfirio would normally face life as a severe diabetic, with daily insulin injections and a higher risk of blindness, kidney failure, amputations and strokes.
But groundbreaking surgery at Walter Reed Army Medical Center, Washington, D.C., is expected to keep that from happening. Surgeons at Walter Reed, working with a Florida doctor who developed the procedure, took cells from Porfirio's pancreas and injected them into his liver.
The surgery was the first known successful transplant of insulin-producing cells after severe trauma resulting in the complete loss of the pancreas, according to Walter Reed officials. If all goes as planned, the cells inside Porfirio's liver will produce insulin that normally would come from his pancreas.
The procedure began the night before Thanksgiving, when doctors at Walter Reed packed Porfirio's pancreas in ice and shipped it by airplane to Dr. Camillo Ricordi at the University of Miami.
Ricordi's team spent six hours isolating the "islet cells" that produce insulin, then suspended the cells in a special cold solution and sent them back to Walter Reed. On Thanksgiving Day, Walter Reed doctors performed the transplant.
"Being able to serve a wounded warrior who risked his life to defend us all, I can think of no better way to spend Thanksgiving," Ricordi said.
Porfirio had been in Afghanistan for about three months when he was shot three times in the back Nov. 21 while inside a combat operations post, said his father, Karl Porfirio.
The 21-year-old communications technician remained conscious until he was being flown back to Bagram Airfield and "remembers holding his guts in his hand," his father said.
Credit for his son's survival can be traced all the way back to Afghanistan and the first soldier who picked him up, Karl Porfirio said.
"By all means he should've bled to death and he didn't," he said. "He's a lucky man and I'm a lucky dad."
The surgery is so far viewed as a success.
"The liver is doing the job of the pancreas," Karl Porfirio said. "They already have evidence that it's working. They're hoping he won't be insulin dependent."
Tre Porfirio is still recovering at Walter Reed. His father said in late December that Tre had begun eating solid food, and could speak in a whisper and get up for short periods. He made his first trip to the cafeteria on Christmas, and met a special visitor to the hospital — Vice President Joe Biden.
Porfirio also had some visitors of his own, from Wright-Patterson Air Force Base, Ohio, where he is assigned to the 88th Communications Squadron — squadron commander Lt. Col. Rick Johns and Porfirio's best friend, Senior Airman Scott Cross.
"It's absolutely a miracle that he's alive and making this rapid progress," Johns said. He noted that the nonprofit organization Luke's Wings has helped provide transportation for Karl Porfirio, as well as Tre's two brothers and his girlfriend, to visit Walter Reed.
Karl Porfirio said Tre will probably be at Walter Reed for at least 30 more days. Once he is released, he hopes to rejoin his squadron at Wright-Patterson, his father said.
"I'm proud of my son — he's a good guy, he's a good airman," Karl Porfirio said. "We don't know what's going to happen down the road, but we're hopeful."


A little more as well from this other article: LOVE the quotes by the doctor.~ Wild Thing
Doctors Perform Groundbreaking Surgery at Walter Reed

Over the last eight years of war, doctors at Walter Reed have seen only 28 pancreatic injuries, and only one of this devastating nature, officials said. The surgical team called the University of Miami and put together a plan to ship the damaged pancreas to Florida to harvest the cells that produce insulin -- called islet cells -- and immediately ship them back to Walter Reed to be transplanted into Porfirio's liver.
All of this had to be done overnight, the day before Thanksgiving.
"I knew who the main players were in this case," said Dr. Rahul Jindal, transplant surgeon. "I picked up the phone and called [Dr. Camillo Ricordi, chief of cellular transplantation, University of Miami] and, without hesitation, he said, 'For a wounded warrior, I'll bring my whole team.'"
"Being able to serve a wounded warrior who risked his life to defend us all, I can think of no better way to spend Thanksgiving," Ricordi said.
Porfirio's blood tests show his harvested islet cells are functioning well, and he is gaining back his strength every day, doctors said.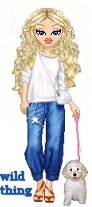 Wild Thing's comment.........
Blessings on everyone involved. Thank you for caring about our heroes.
Thank you thank you!!!! Heroes all.
Prayers for all our wounded heroes! And God bless those wonderful doctors!
.

....Thank you Jack for sending this to me.


United States Army
1965-1971
Army Combat Engineers
Quang Tri & Chu Lai '68 -'69
67-69


Jack's blog is Conservative Insurgent

Posted by Wild Thing at January 1, 2010 05:48 AM
---
Comments
What a great story to start off the New Year. A lot of good people and organizations involved in getting this surgery sucessfully done. I hope Tre can continue on in the Air Force if that is what he wants.
I wonder if this procedure can be done to cure diabetes. It will sure help a lot of people if the liver can be used to produce the insulin normally produced by the pancreas.
Posted by: TomR at January 1, 2010 10:11 AM
---
Think of the all those Agent Orange victims this has the potential of helping, it will never halt the damage already done but it would make everyday life a bit better to get off the needle and slow further damage. No babies being aborted for science either. Anathema to the Democrats way of thinking at a time they are pushing genocide.
What the Anal Warts in Congress fail to recognize is this is a breakthrough in medicine due to a battlefield necessitated procedure, like many other life saving procedures from war's destruction. We don't have any leaders in there with military experience or knowledge, they will not even visit a combat hospital.

The MSM isn't going to carry this banner.
Thank you Chrissie.
Posted by: Jack at January 1, 2010 01:54 PM
---
Tom, I hope so too, it would be great for him to
know he can do that.
That would be so awesome if they can use this
to help people with diabetes. I bet one day they will
be doing ths a lot.
Posted by: Wild Thing at January 1, 2010 06:43 PM
---
Jack, great point, oh that would be a real
answer to prayer, to be able to help Agent Orange victims.
Posted by: Wild Thing at January 1, 2010 06:47 PM
---
Medicine has made great strides recently, especially in light of the war, it seems wars bring out the best in surgeons, they are then most innovative and creative. Out of necessity but now the Pancreas that has really been the last frontier in conquering internal medicine.
Posted by: Mark at January 1, 2010 09:50 PM
---
I would like to thank everyone for what they did for my brother Tre. He is a great soldier, and has and will serve our country well. From the old country Italia to the United States of America. We all salute you Tre. You're a blessing and a miracle, and I am proud to have you as a brother. You're awesome.
Thank you to everyone.
I love you.
Damiano Porfirio
Posted by: Damian Porfirio at January 4, 2010 04:36 AM
---