« Anger All Around For Democratic Leaders | Main | Obama's Jobs Speech Last Week In Ohio~ He Refers To Himself 132 Times In ONE Speech! »
January 27, 2010
Busted! Obama Praise Planted In U.S. Newspapers

.
Busted! Obama praise planted in U.S. newspapers
Bogus messages from 'president's supporters' infest American print

Obama supporters are flooding newspapers with pro-Obama letters purportedly from average citizens – with duplicate messages appearing in more than 70 publications across the nation.
One writer identified as "Ellie Light" has published identical form letters in newspapers around the country. Sabrina Eaton of the Cleveland Plain Dealer reported Light claims to have different hometowns within the respective newspaper readership areas. Each letter is nearly identical in grammar, style and subject.
"Today, the president is being attacked as if he'd promised that our problems would wash off in the morning. He never did," she writes. "It's time for Americans to realize that governing is hard work, and that a president can't just wave a magic wand and fix everything."
The following is Light's letter posted on USA Today's website in which she lists Long Beach, Calif., as her home: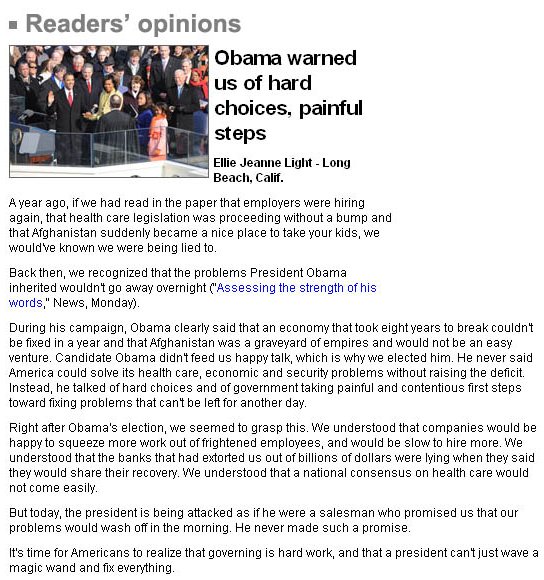 .
A similar letter appeared in Alabama's Huntsville Times, signed Ellie J. Light. But this time the woman claims to be from Huntsville: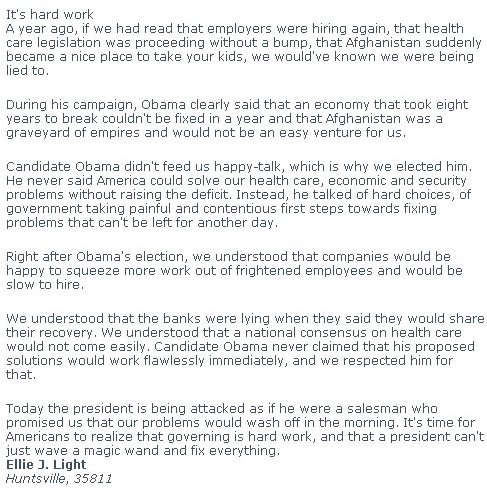 In numerous letters, Ellie Light lists various hometowns in at least 31 states and the District of Columbia.
The Patterico's Pontifications blog posted links to 65 local publications, three national publications and two foreign publications that posted Light's letters. The blog invited readers to share additional links. Dozens of tips leading to additional publications are still pouring in.
The website noted that Obama "Astroturfers are coming out of the woodwork."
Aside from Light's messages, duplicate pro-Obama letters have been submitted to dozens of publications by writers identified as "Jan Chen," "Gloria Elle," "Cherry Jimenez," "Janet Leigh," "Earnest Gardner," "Jen Park," "Lars Deerman," "John F. Stott," "Gordon Adams," "Nancy Speed," "Sheila Price," "Clarence Ndangam," "Vernetta Mason," "Greg Mitchell," "Ermelinda Giurato," "J. Scott Piper," "Robert Vander Molen" and "Terri Reese."
Just as news of Light's duplicate messages broke, readers began finding various letters written by "Mark Spivey," a man who simultaneously claims to live in San Diego, Calif., and Naples, Fla. His pro-Obama letter, "Considering Afghanistan," was published by the Minnesota Daily, the Baltimore Chronicle, the San Diego Union-Tribune and Naples News.

~ snipet ~
The blogosphere is buzzing with speculation about the true identities of pro-Obama letter writers. Some comments include the following:
Anyone agree that this Ellie Light is none other than the POTUS (president of the United States) himself?
What we have here is a real mystery. Not! The White House pays people to do this. There are Obama "supporters" paid to post on lots of sites. You can recognize the names and the talking points that the White House is putting out. … That is what they are paid to do. Fool the press into thinking that Obama is not tanking.

A new low for Obama, writing his own letters in support of himself.

I guess we know what Anita Dunn is now doing these days.

Rahm Emanuel is my guess.

She probably works for ACORN.
Ellie is obviously Robert Gibbs' alter ego.
It's George Soros! They finally found him! The one real supporter of "hero" Obama has gone underground as a female citizen. Wow!
It's definitely organized, and I'm not surprised by the lies and phoniness of it all. That's how the president and Democratic Party operate.
Why would Obama need letters in newspapers making excuses for the horrible job he's doing? He's already got most of the mainstream media covering for him and singing his praises like Obama was a religion seven evenings a week.
This administration is becoming more and more of a carnival show with every passing day: It's rigged. Nothing is real, and in the end it costs you a lot of money and you walk away with some worthless little prize.
You know, it never ceases to amaze me, the depths Obots have plunged my former party. You'd think I would be used to it by now, but no. You take another nosedive every two weeks or so.
Ellie Light = Keith Olbermann.
.
.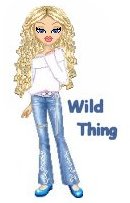 Wild Thing's comment.......
Good grief! Desperation if it is Obama. I would not put it past him to do this or have someone do it.

....Thank you Mark for sending this to me.


Mark
3rd Mar.Div. 1st Battalion 9th Marine Regiment
1/9 Marines aka The Walking Dead
VN 66-67


Posted by Wild Thing at January 27, 2010 05:48 AM
---
Comments
You can bet either he or one of his minions knew of this.
Posted by: BobF at January 27, 2010 08:02 AM
---
I can't believe the papers that printed it didn't research it first! This is something I would expect to see in the Star or the National Enquirer! But real stories are chopped to heck and put on the bottom of a back page where no one will see them. I can't trust the newspapers as far as I can spit and to think I wanted to be a freelance journalist when I was a junior in high school.
Posted by: Lynn at January 27, 2010 02:04 PM
---
Plants writing letters. What a low for the Democrats. A desperate low.
I quit reading newspapers six years ago. Decided there was just too much garbage plus they raised their price by too large an amount. We used to have suburban papers that I liked but they have disappeared here and we are stuck with the one big city paper.
Posted by: TomR at January 27, 2010 02:21 PM
---
Posted by: Curmudgeon at January 27, 2010 03:09 PM
---
Whoever they are they sure got the talking points spot on. Frightened workers ? and Governing is hard, I suppose it is when you've never had a real job.
Desperation for sure.
Posted by: Mark at January 27, 2010 04:00 PM
---
Mr. Blair of the New York Slimes again?
Posted by: darthcrUSAderworldtour07 at January 27, 2010 08:51 PM
---
Curmudgeon, thanks so much for the information and the link.

This is so disgusting.
Posted by: Wild Thing at January 27, 2010 11:59 PM
---