« Chief of Staff Draws Fire From Left as Obama Falters | Main | Busted! Obama Praise Planted In U.S. Newspapers »
January 27, 2010
Anger All Around For Democratic Leaders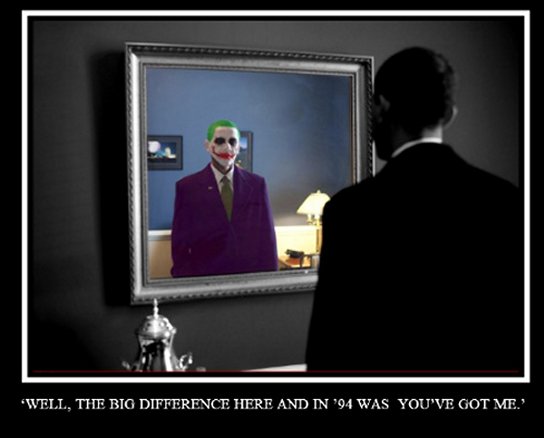 Anger all around for Democratic leaders (sweet)
Barack Obama, House Speaker Nancy Pelosi and Senate Majority Leader Harry Reid will be all smiles as the president arrives at the Capitol for his State of the Union speech Wednesday night, but the happy faces can't hide relationships that are fraying and fraught.

The anger is most palpable in the House, where Pelosi and her allies believe Obama's reluctance to stake his political capital on health care reform in mid-2009 contributed to the near collapse of negotiations now.
But sources say there's also bad blood between Reid and White House chief of staff Rahm Emanuel, and relations between Democrats in the House and Democrats in the Senate are hovering between thinly veiled disdain and outright hostility.

In a display of contempt unfathomable in the feel-good days after Obama's Inauguration, freshman Rep. Dina Titus (D-Nev.) stood up at a meeting with Pelosi last week to declare: "Reid is done; he's going to lose" in November, according to three people who were in the room.
Titus denied Tuesday evening that she had singled out Reid, but she acknowledged that she said Democrats would be "f—-ed" if they failed to heed the lessons of Massachusetts, where Republican Scott Brown won Ted Kennedy's Senate seat last week.

House Majority Whip Jim Clyburn (D-S.C.), a Pelosi ally, took his shots at the Senate on Fox radio Tuesday, describing the Senate as the "House of Lords" and accusing senators of failing to "understand that those of us that go out there every two years stay in touch with the American people."

On Tuesday, House Majority Leader Steny Hoyer (D-Md.) told reporters the legislative process in the Senate is "broken" — prompting Reid to later quip: "I could give you a few comments on how I feel about the House."

Pelosi and her allies blame the collapsing health reform negotiations, in part, on Obama's reluctance to sacrifice political capital to seal a final deal in mid-2009. House Democrats also resent that Emanuel and other White House officials forced them to take tough votes on cap and trade and health reform while allowing Reid and Senate Democrats months of fruitless frittering on the details.
"She's mad at them, but she knows it's time to move on," said one Pelosi friend, speaking on condition of anonymity because he wasn't cleared to speak on her behalf.

In recent days, Pelosi and her team have struck a new, tougher tone with the White House, resisting pressure to quickly accept the Senate's health bill, even with assurances that it would later be altered.
House Democratic leaders were equally unimpressed by Obama's vow to review his political operation and enlist 2008 campaign manager David Plouffe to help them stave off disaster in the midterm elections.
"I think it's a careful dance because, obviously, she wants to stay constructive, at least as far as health care," said a Democratic insider close to the House leaders. "For them to come around and, all of a sudden, order an 'audit' of the White House political operation, including the party committees, is laughable. At least they're starting in the right place because the White House political operation is a disaster. Everybody, including the White House, is acknowledging that."
Democrats say they've been completely focused on the danger of a populist backlash for months. One retiring Democrat — Rep. Marion Berry of Arkansas — told his local paper that Obama dismissed his concerns in a private meeting by saying the party would avoid a 1994-type debacle because of Obama's personal popularity.
"The president himself, when that was brought up in one group, said, 'Well, the big difference here and in '94 was you've got me,'" Berry told the Arkansas Democrat-Gazette. "We're going to see how much difference that makes now."
Emanuel, several Senate and House aides said, hasn't been shy about assigning blame, either. He's been especially critical of moderate senators, including Finance Committee Chairman Max Baucus (D-Mont.), for wasting months negotiating with Republican senators, such as his friend Chuck Grassley of Iowa.
While shouldering some of the blame for the Massachusetts debacle, Emanuel has reportedly criticized Democratic Senatorial Campaign Committee Chairman Robert Menendez of New Jersey — and, on occasion, even Reid himself.

Reid and his staff were infuriated when they got word Emanuel was apparently telling associates the majority leader did too little to force Baucus to accelerate his work, according to two people familiar with the situation.
A White House official said that account "couldn't be further from the truth," adding that the Emanuel-Reid relationship "couldn't be closer."

For their part, Pelosi and Reid remain on good terms personally, aides to both said.

And if there's any consolation for Obama, Pelosi and Reid, it's that the bonfire of their expectations seems to illuminate the general path ahead: Dispense with health care as quickly as possible to focus on job creation and deficit reduction.
"They understand that tearing each other down is going to tear the whole party down," said a senior House Democratic aide.


Wild Thing's comment........
This is just lovely. Do you think Pelosi will be clapping her hands and jumping up and down like a jack-in-the-box during the Obumbler's speech like she did before his other narcissistic performance in the House?
Crossing my fingers that Joe Wilson is warming up his pipes. heh heh
Democratic Underground are imploding bigtime!
Posted by Wild Thing at January 27, 2010 05:47 AM
---
Comments
And that grinchy smile of hers! She looks like the Grinch without the green fur. But at least he learned his lesson. She hasn't yet. This is the most dysfunctional administration I have ever seen and believe me, I know dysfunction. I grew up in the dysfunctional family Robinson. We all lived on separate Islands and we never saw eye to eye on anything! But at least my family had love and well, Barack's house and senate really don't.
Posted by: Lynn at January 27, 2010 02:07 PM
---
Disunity in the Democrat camp. That is good. That group may totally unhinge if the Democrats lose big in 2010. They are a group of egotists and any ability to harness that egotism for the good of America or even their own party is coming apart.
Posted by: TomR at January 27, 2010 02:08 PM
---
I love watching the libturds eating each their own but the stench must be unbearable.
Posted by: Eddie (Enemy of the State) at January 27, 2010 05:34 PM
---
Its like the Papa Polar Bear eating his young when the mama isn't looking. And when mama asks , where's my cub the father says, What Cub ?
They are too much. Greed and Power is all they're about.
Posted by: Mark at January 27, 2010 07:39 PM
---
Great comments and input thank you all so VERY much.
Posted by: Wild Thing at January 28, 2010 12:02 AM
---