« "YOU MAY BE A TALIBAN IF..." | Main | Nancy Pelosi Saying She Has The Votes To Pass Healthcare »
January 28, 2010
A Stirring Tribute by Lieutenant Colonel Oliver North USMC (Ret)
This video tribute on the front lines is the story of true patriots, told by Lieutenant Colonel Oliver North at the NRA Annual Meetings in 2009. It's a stirring profile of the spirited, courageous guardians of our precious freedoms. America's best .
.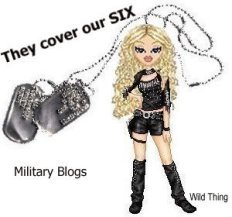 Wild Thing's comment.......
This is soooo awesome! It gave me goosebumps! Thank you Oliver North. And a HUGE thank you to all of our troops and Veterans.
.

....Thank you Mark for sending this to me.


Mark
3rd Mar.Div. 1st Battalion 9th Marine Regiment
1/9 Marines aka The Walking Dead
VN 66-67


Posted by Wild Thing at January 28, 2010 03:45 AM
---
Comments
Thanks for this posting, doll. It brought tears to my eyes. God bless every one of our brave warriors.
Posted by: petesuj at January 28, 2010 08:58 AM
---
petesuj, thank you for watching it, yesss God bless our warriors.
Posted by: Wild Thing at January 28, 2010 07:46 PM
---
God bless the Corpsmen, they put it on the line everytime they go out there. And God bless America.
Semper Fi.
Posted by: Mark at January 28, 2010 08:01 PM
---