« Music For This Christmas Day | Main | Passenger Ignites Explosive on Delta Flight, Al Qaeda Connection Reported »
December 25, 2009
Santa and Our Troops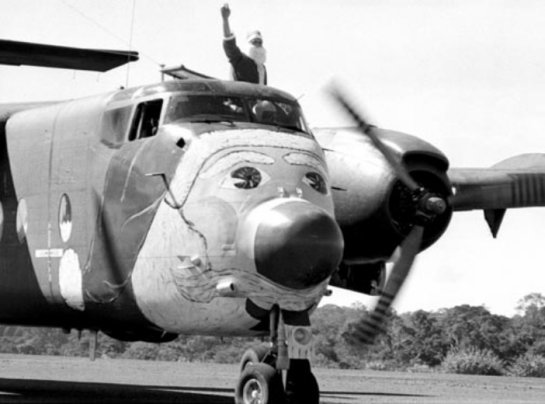 Santa made the rounds back in Vietnam, here is the caption for the next picture:
"Nhon Cho, South Vietnam, December 21, 1968: Dispensing with the normal sleigh, Santa Claus taxis along the airstrip in an artistically-modified C7 Caribou cargo plane as he arrives to bring gifts to Detachment 35, B Company, 5th Special Forces Group. The Air Force's 483rd Tactical Aircraft Wing at Cam Ranh Bay decorated seven of the planes for use in Christmas visits to the troops in the field. James Linn ©Stars and Stripes
Our Troops today:

Santa Arrives in A-10 Thunderbolt
Santa Claus visits the Selfridge ANG base near New Baltimore, MI, home of the "Red Devils" , the 107th Fighter Squadron. Who needs Rudolf when you have a 30 mm GAU-8/A Avenger Gatling gun to light your way.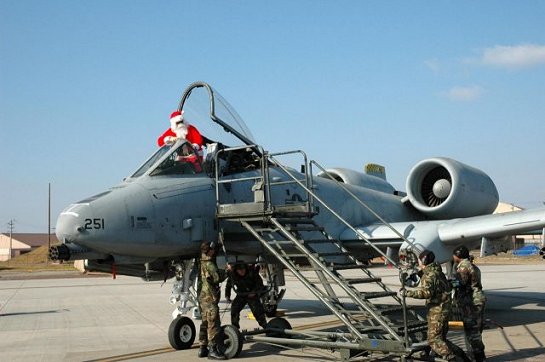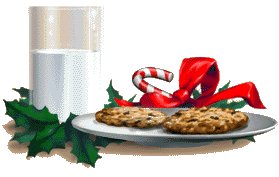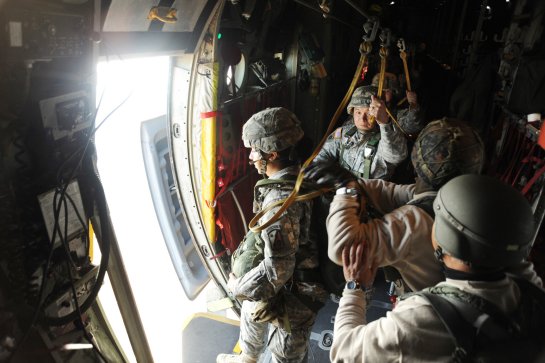 The first paratrooper to jump waits for the "green light" on board a C-130 Hercules Dec. 6, 2009, above Fort Bragg, N.C.. Crews from the National Guard's 145th Airlift Wing from Charlotte, N.C., and the Air Force Reserve's 910th Airlift Wing from Youngstown, Ohio, participated in the 12th Annual Randy Oler Operation Toy Drop event. U.S. Air Force photo by Senior Airman Peter Miller
POPE AIR FORCE BASE, N.C., Dec. 24, 2009 – You know Dasher and Dancer and Prancer and Vixen. But on Dec. 6, it was not a team of reindeer, but Air Force Maj. Jeff Dasher, a navigator in the 95th Airlift Squadron here, who guided the mission for the 440th Airlift Wing's C-130 Hercules that flew a group of "Soldier Santas" across the morning sky.
One might say he was born for this mission.
"It's the name," Dasher said with a chuckle. "I had to be on this flight."
His flight was part of the 12th annual Randy Oler Memorial Operation Toy Drop, a program sponsored by Fort Bragg, N.C., and Pope Air Force Base officials providing toys to needy children in the Fayetteville, N.C., area. The toys, donated by the participating servicemembers, are delivered to children in time for Christmas.
More than 1,200 Army paratroopers from the 82nd Airborne Division and 18th Airborne Corps suited up in their jump gear to be a part of the charity event, which brought participants from as far away as Germany.
Air Force Col. Merle Hart, 440th Airlift Wing commander, greeted the paratroopers as they checked their gear and marched toward the flightline to board Dasher's C-130.
"I'm proud that the 440th can be a part of this operation," Hart said. "This is a great outreach that our soldiers can provide and a token of our support to the children of other military members and the local community."
This year, the 440th Airlift Wing, in conjunction with the Air National Guard's 145th Airlift Wing from Charlotte, N.C., and the Air Force Reserve's 910th Airlift Wing from Youngstown, Ohio, provided airlift for the day's event.
Since its inception 12 years ago, the program has become so popular that Army paratroopers have to win a lottery to participate. To enter the lottery, each paratrooper must buy a toy for one of the needy area children. Though only 1,200 lucky winners actually jump, far more choose to participate and bring donated gifts to Fort Bragg.
For more than 1,000 children, these soldiers and airmen flew in a promise to them that they would have a very merry Christmas.
"They have a massive wrapping session," said Air Force Lt. Col. William Whittenberger, 440th Operations Group commander. "A lot of the wives and families help out. It becomes a big party."
Whittenberger was mission commander for this year's Toy Drop and also flew one of the C-130s.
"We've got 1,200 troops to drop in a fairly short time frame, so we're doing a parallel running course that's 17 miles long, and it is about 12 minutes from takeoff to drop," he said. "Our goal is five minutes between each air frame."
For Army Pfc. Caleb Wood, a 20-year-old soldier stationed at Fort Bragg, it would be only his sixth jump. Along with other members of his chalk, Wood waited in the passenger terminal shelter on the Pope flightline as other soldiers prepared their gear.
"It's my first year doing this," Wood said. "I bought a tricycle to support the event."
As Wood stood in line for his turn, Army 1st Lt. Judith Wood from 126th Transportation Company, 82nd Sustainment Brigade, waited for her turn to climb inside the fuselage of a C-130 to jump.
"I enjoy this because it's a rush, and it's great for the kids," she said. "I hope I'm here again next year. They tell you not to look down, but when you're there, you can't help it. We ask ourselves why we're doing this, but when we jump, it's all worth it."
Seated on the bleachers set out in the red sand against the stark winter-blue sky, family members waited alongside the Sicily Drop Zone on the far side of Fort Bragg for their loved ones. As the C-130 approached, they held up their hands to shield their eyes against the glare of the sun. The plane flew in smoothly, and one by one, the dark silhouettes of the soldiers dipped out of the plane and snapped straight, as one after another their parachutes ballooned into perfect mushrooms.
The line of parachutes stretched along the field as those soldiers who had already completed their flight marched in formation past the bleachers.
Posted by Wild Thing at December 25, 2009 04:55 AM
---
Comments
If they decorated an Air Force plane like that today, the ACLU would be having fits.
Posted by: BobF at December 25, 2009 09:20 AM
---
Nostalgia Chrissie, thank you so much for adding to our miserable existence at Christmas with your visits, you are our hero.
Merry Christmas
Pacific Stars and Stripes
An authorized publication of the U.S. Armed forces in the far east.
Price 10 cents.
23Dec68
GI's Small in Size But Not in Action
CHU LAI, Vietnam, (Special)

- When one thinks of a combat hero, he pictures an over six-foot, 200-pound "John Wayne" type soldier who carries a machine gun in one hand and a hand grenade in the other.
Would you believe a five foot six-inch, 105-pound Puerto Rican called "Pee Wee"?
Pee Wee is the hero of A Co., 4th Bn., 31st Inf., Infantry, of the Americal Div.'s 196th Inf. Brigade "Chargers."
Pee Wee, otherwise known as PFC Julio Colon, of Santurce, Puerto Rico, won his claim to fame in the recent seven-day battle for Nui Chom Mountain, 26 miles northwest of Tam Ky.
The week long battle cost the NVA 65 dead, 25 AK47's captured, one machine gun, 29 82mm mortar rounds, two 82mm mortar sights and 20 NVA packs.
It all began when Pee Wee made the first enemy contact.
"Our CO told me that if I could find an enemy weapon, he would give me a three-day pass," said Pee Wee, a "tunnel rat."
"I was searching about 400 meters from the company, when I found a tunnel with about 20 NVA packs in it," he said. "I started to pick up one of the packs and take it back when three NVA came up behind me.
"Being little like I am, I guess they thought I was one of them because they called me by some Vietnamese name. I turned around and fired one shot with my .45 and took off," he exclaimed. "I knew I couldn't go back the same trail, so I circled around and tried to lose them."
Pee Wee finally managed to get back to his company where a platoon was sent out to verify his story.
"We went back to the tunnel, but all we could find was one enemy weapon," he said.
Pee Wee didn't know it at the time, but his little episode with the three NVA led to the exposure of an estimated battalion size NVA force.
Pee Wee was awarded his three-day pass and elected to spend it at the "Charger Hotel" in Chu Lai.

14Jan69- Green Beret Captures Chris at Altar
Photo - CAPT. TY HERRINGTON WEDS DISC JOCKEY CHRIS NOEL IN MIAMI BEACH.

MIAMI BEACH (AP)-Chris Noel, the leggy disc jockey who went to Vietnam as the U.S. answer to Hanoi Hanna, was married Saturday to a Green Beret captain who proposed in a helicopter.
The girl whose miniskirt was her trademark wore a floor length wedding gown when she became the bride of Capt. Ty Herrington, a native of Mullins S.C.
Chris, of West Palm Beach, Fla., went to Vietnam several times to promote her twice-weekly show on Armed Forces Radio, "A Date With Chris."
"I never really listened to her," said Herrington. "I wasn't in an area where I could hear much of anything on the radio."
But the captain maneuvered to have himself assigned as Chris's escort and on her second trip, proposed to the singing blonde while flying to an appearance.
They were married by the Rev. Jonathan Aho of the Bayshore Lutheran Church in the home of Mr. and Mrs. Robert Rauthbord.
"I knew we'd be married the second time I saw him," Chris said.
Herrington, a paratrooper, was wounded three times during his 18 months in Vietnam.
The couple will honeymoon in the Bahamas and live in Los Angeles.
Chris said she would continue her radio program for the troops.
-This was placed here because there is a large following for Chris Noel among the Vietnam Veterans community-
Posted by: Jack at December 25, 2009 10:14 AM
---
A big Thank You and Merry Christmas to all the vets out there. We can celebrate Christmas because of you.
Posted by: Jim at December 25, 2009 10:45 AM
---
BobF., I bet your right. heh heh they would
hate it.
Posted by: Wild Thing at December 25, 2009 03:46 PM
---
Jack, that was great, thank you so much for
those two articles. Awesome.
Posted by: Wild Thing at December 25, 2009 03:51 PM
---
Jim, and a big thank you to your son for
his service. He is in my thoughts and
prayers every day.
Posted by: Wild Thing at December 25, 2009 03:52 PM
---
So where is the modern day Bob Hope entertaining the troops at Christmas?
Posted by: barenakedislam at December 26, 2009 01:36 AM
---
Bob Hope was in Hollywood before it became modern day pro-obamanation HOLLYWEIRDOVILLE! Tell 'em Wild Thing!! Let our massive B-52's back into this game to drop some YULETIDE CHEER on the Taliboom!!! God I miss my Myrtle Beach AFB A-10 Thunderbolt Warthog support mission GO UGLY EARLY days and nights on the Grand Strand!!!!
Posted by: darthcrUSAderworldtour07 at December 26, 2009 08:00 AM
---