« New Haven Firefighters Promoted After Winning Landmark Supreme Court Case | Main | Climate Conference Delegates Given A Warning Not To Get Hot and Heavy in Copenhagen ....... »
December 05, 2009
Rush Limbaugh To Be Guest On William Shatner's TV Show " Raw Nerve"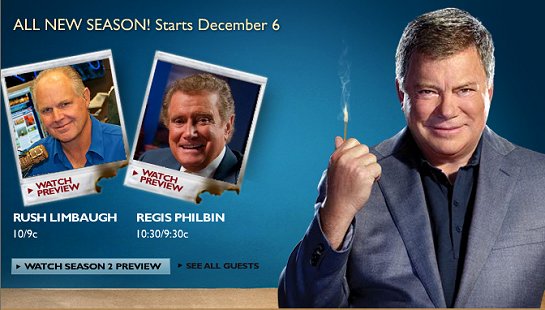 When: Sunday, December 6
Time: 10PM ET

Where: Biography channel
Preview of Rush on the show.
Conservative radio talk-show legend, Rush Limbaugh will appear on the season debut of "Shatner's Raw Nerve", (as-in William Shatner) on The Biography Channel, this Sunday, December 6, at 10:00 p.m. Eastern time and 7:00 p.m. Pacific time. The interview, which took two hours to conduct, will be edited down to squeeze into the thirty minute edgy and off-beat celebrity interview program.
Posted by Wild Thing at December 5, 2009 06:49 AM
---
Comments
I liked this trailer. Rush is an excellent debater. His quick and rational counters to questions and accusations are classic. I would rather hear him in a debate than to hear him on his show alone.
Posted by: TomR at December 5, 2009 11:31 AM
---
I don't even know if we get the biography channel. We get about 500 of them, hehehe, watch Fox and the NFL channel, Military channel and History, will have to check with the better half and see if we do I will watch it for sure.
Posted by: Mark at December 5, 2009 07:06 PM
---
We have it and I didn't even know it.
haha

Posted by: Wild Thing at December 5, 2009 11:54 PM
---