« Rush Limbaugh Talks To William Shatner | Main | Obama Economist CZAR Larry Summers Went Thug Tactics on Conservative Professor »
December 07, 2009
Palin Pokes Fun At Herself At Journalists' Dinner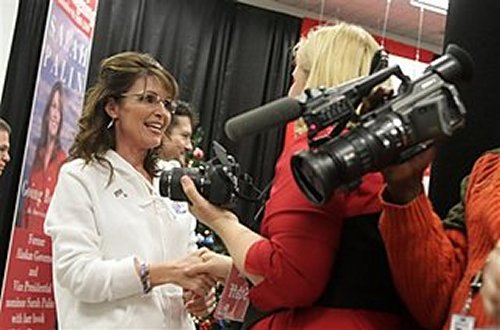 Palin pokes fun at herself at journalists' dinner

WASHINGTON
Sarah Palin poked fun at herself in a speech to journalists Saturday night, drawing laughter when she announced she "came down from my hotel room and I could see the Russian embassy."
The 2008 Republican vice presidential candidate also joked that she had orginally thought of titling her book "How To Look Like a Million Bucks, or Only $150,000" before settling on "Going Rogue." In one of the controversies surrounding her candidacy, the campaign spent about $150,000 on her wardrobe.
Palin was the Republican speaker at the winter dinner of the Gridiron Club, an organization of Washington-based journalists.
Rep Barney Frank, D-Mass., represented the Democrats.
Palin targeted her hosts, Democrats and Sen. John McCain's campaign staff, as well as herself.
If the election had turned out differently, she said, "I could be the one overseeing the signing of bailout checks and vice president Biden could be on the road selling his book, 'Going Rogaine.'" Biden has sparse hair.
The crack about seeing the Russian embassy from her hotel referred to Palin having told an interviewer during last year's campaign that her qualifications for high office included that "you can actually see Russia from land here in Alaska."
As for her hosts, she said she was glad to be appearing before an elite audience of leading intellectuals, "or as I like to call it, a death panel."
McCain's campaign staff also came in for a barb from the former Alaska governor when she said she is touring the country by bus as she sells her book.
"The view is so much better from inside the bus than under it," she said, referring to the poisonous relations between her and some of the McCain campaign staff.
Focusing on criticism she has received from Steve Schmidt, a senior strategist in McCain's presidential campaign, she said, "If I need a bald campaign manager I guess I'm left with James Carville," a Democrat.
In her book, she wrote that Schmidt felt she wasn't prepared enough on policy matters and even wondered if she was suffering from postpartum depression following the April 2008 birth of her son Trig, who has Down syndrome.
Palin, who resigned as governor following her vice presidential campaign, is a potential contender for the 2012 Republican presidential nomination.



Greta Van Susteren managed to obtain the text of her speech. Below is an excerpt:

Good evening. It's great to be in Washington and I am loving the weather. I braved the elements and went out for a jog! Or, as Newsweek calls it, a cover-shoot. It's a privilege to be here tonight at the Washington DC Barnes & Noble. Tonight, I'll be reading excerpts from my new book. Perhaps you've heard of it? "Going Rogue"
Yukon wasn't sure if I'd go with that title and somebody suggested I follow the East Coast selfhelp trend and go with, "How To Look Like A Million Bucks…For Only 150 Grand." Todd liked, "The Audacity of North Slope." Hey, I considered not having a title at all. I've said it before, but you Beltway types just don't seem to get it. You don't need a title to make an impact.
But anyway, let's get started. I'll begin my first reading on Page 209.
It was pitch black when we touched down in Arizona late on August 27, 2008. The next morning we drove to John McCain's ranch in Sedona. John was waiting on the porch. Before he can say a word, I tell him, I'm quoting now. I know why I'm here, and I'm ready. But, I'm worried. The cost of credit protection for the largest U.S. banks is rising precipitously. Have you given any thought to the run on the entities in the parallel banking system? Do you realize the vulnerability created when these institutions borrow short term in liquid markets to invest long term in illiquid assets? John said, "you betcha!" I thought, "you betcha?" Who talks that way?
Well, sometimes you just have to trust your instincts. When you don't, you end up in places like this. Who would have guessed that I'd be palling around with this group? At least now I can put a face to all the newspapers I read. It is good to be here and in front of this audience of leading journalists and intellectuals. Or, as I call it, a death panel.
To be honest, I had some serious reservations about coming to visit your cozy little club. The Gridiron still hasn't offered membership to anyone from my hometown paper in Wasilla, the Matanuska-Susitna Valley Frontiersman. And my dad thought it was just a plain bad idea to leave the book tour for some football game. He might have a point!
I've been touring this great, great land of ours over the last few weeks. I have to say, the view is much better from inside the bus, than under it! But really, I am thrilled to be with you. And I'd like to thank the Gridiron for the invitation and Dick Cooper for his introduction. To paraphrase John F. Kennedy, this has to be the most extraordinary collection of people who have gathered to viciously attack me since the last corporate gathering at CBS.
.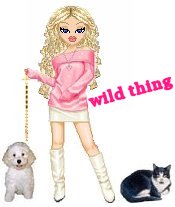 Wild Thing's comment..........
LOL I love it.
She has been through so much yet she has the ability to just smile, take it all in, and keep on laughing. This is great, sounds like she had a great time. And the media was obsessed with her, there were lines before the event with members of the press and others who attended waiting to shake her hand.

....Thank you Mark for sending this to me.

Mark
3rd Mar.Div. 1st Battalion 9th Marine Regiment
1/9 Marines aka The Walking Dead
VN 66-67


Posted by Wild Thing at December 7, 2009 05:55 AM
---
Comments
Sarah is a peach. She was in Sioux City yesterday. We wanted to go, but it was so cold out, but just reading all the naysayers makes my heart cry. They are so mean I just can't believe it. And she's been so mature, so understanding of it all, just letting it roll over her back. If she had fought back, snapped at someone, they would have never let her live that down either. And why is it her worst enemies are women? They want equal rights, but they aren't willing to do the work to get there. I guess I just don't understand how they could be against someone as intelligent, as sweet, as kind and awesome as Sarah, but they'll rally behind an old crone in Hillary.
Posted by: Lynn at December 7, 2009 07:52 AM
---
I love Gov. Palin! She's exactly what this country needs. 2012 cannot come soon enough for me.
My wife says it's women who don't care for Sarah, stragely enough. Here we finally have a bright, self-made woman who's savvy about the world and politics and women resent her. Go figure. Sarah is the role models our young girls need. President Palin will inspire many to greatness.... and hold treason trials for the Obamanites and the Pelosi/Reid gang of commie rats.
Posted by: Billy Ray at December 7, 2009 09:44 AM
---
What a shot at Biden, LOL, 'Going Rogaine'.
OH I think on her own without the impediments of the McCain staff Sarah Palin will do fine and will rally the people behind her.
She was McCain's pick for the VP slot not the staff and they didn't like her from the first day she walked in. During the convention the first two days were great McCain could almost pass as a conservative at least he said he was. Then he introduced Sarah Palin as his running the place went 'nuts' that was Tuesday.
Then on Wednesday, Lindsey Gramnesty had to be there to pour water on the conservative future victory. After that it was all down hill. That's when the staff started attacking Sarah Palin. The Rockefeller elites came out in force to steer the party to the left. This was part of the reason for the split of rino's and conservatives, it would grow as Sarah's popularity grew.
That's past now she is on her own and knows first hand how devious and underhanded the Lindsey Graham's are and the Elites of the Republican Party. These same people didn't like Reagan either. They are no big deal, they can either go along for the ride or get run over, its their choice.
Posted by: Mark at December 7, 2009 09:59 AM
---
Wearing red in Washington DC CCCP and surrounded by Beltway Baracksheviks led by Dr. Zhicago, eh Babe-Ush-Ka Comradette Wild Thingovski?
Posted by: darthcrUSAderworldtour07 at December 7, 2009 11:04 AM
---
If she can face off with moose and also the Gridiron Club, Sarah Palin can handle anything. She has class which has been out of the White House now for eleven months.
Some feminists may not care for Sarah because she is feminine, not butch. However, there are plenty of women who like her. Women are not in lock step like Blacks. It would be interesting if in 2012 the election came down to Palin and Hillary.
If Sarah runs and wins the primary in 2012, it will be interesting to see who she picks as a running mate. If Charles Krauthammer or John Bolton would not run then my next several choices would be from amongst several conservative women. Liz Cheney would certainly be one. Tht would be interesting. An all female ticket.
Posted by: TomR at December 7, 2009 12:45 PM
---
A Bachmann-Palin or Palin - Bachmann ticket. Wouldn't a landslide popular vote be nice, that would bring the GOP progressives out in force against her.
I want to puke every time I see Obama and moreso when I see McCain playing his phony outrage in public when he votes in lockstep with the Democrats in the finals.
Posted by: Jack at December 7, 2009 01:30 PM
---
I may be wrong, but it was Tina Fay on SNL who said the statement about Russia and the back porch.
Posted by: Greg Stout at December 7, 2009 09:47 PM
---
Billy Ray, I am not about that.Sarah has
a huge following of women voters that love
how she is a conservative. I have only seen
democrat women and women that are not conservaitves that don't care for her.
Posted by: Wild Thing at December 7, 2009 11:29 PM
---
Sarah is showing eveyrone how she knows how
to handle all these situations. When she
was in the campaign last year she was so
much under the wrong input from the rino
team of McCain.
Posted by: Wild Thing at December 7, 2009 11:30 PM
---
Wild Thing, it hard to keep a good gal down, and Sarah, well she could win a match with a moose. What a great gal and patriot!
Posted by: Ron Russell at December 8, 2009 12:28 AM
---