« House Votes 218-214 For Short-term Debt Ceiling Increase | Main | Fearmonger Obama Warns It Has To Be HIS Socialized Medicine Or U.S. Will Go Bankrupt »
December 17, 2009
Jihad Maneuvers Taught At New York Compound: "How to slit throats"
The video shows women marching in military formation, scaling walls, engaging in hand-to-hand combat and also reveals a Muslim confirming that the organization's own census revealed that Muslims are a majority in the United States and they are claiming it as their own.
The speaker states, "We are 100 percent sure that Muslims are the majority in America."
He continues, "Our Islamic political party has based its manifesto on this fact. We want to declare once and for all that America is our country."
According to CAN, the U.S. Department of Homeland Security in 2005 warned about Jamaat ul-Fuqra, a Pakistani-based organization that "had the capacity to attack" America.
The U.S. State Department's 1998 "Patterns of Global Terrorism" report notes the organization "seeks to purify Islam through violence."
The report continued, "Members have purchased isolated rural compounds in North America to live communally, practice their faith and insulate themselves from Western culture. Fuqra members have attacked a variety of targets that they view as enemies of Islam."

'Chilling' new video: How to slit throats
Jihad maneuvers taught at New York compound
A new video released by the Christian Action Network shows Muslim women at a compound in New York state practicing throat-slitting techniques and assault weapons attacks.
The video was distributed by the makers of the movie "Homegrown Jihad: The Terrorist Camps Around the U.S.," which documents how a jihadist group has developed dozens of training camps across the nation.
WND reported at the time how Jamaat ul-Fuqra has built 35 compounds – mostly in the northeastern corridor of the U.S.
Now the organization has posted on YouTube a "chilling" training video provided to CAN by an unnamed law enforcement source about the Muslims of America headquarters in Hancock, New York.
Muslims of America reportedly is the name Jamaat ul-Fuqra, believed to have been involved in the beheading of reporter Daniel Pearl, uses in the U.S.
The video includes segments of training exercises in which one person appears to practice a maneuver that would slit the throat of a victim. There are episodes of what appears to be automatic weapons fire at a target and incidents in which a handgun is held point-blank at a "victim's" head: ( see video above)
CAN, led by Martin Mawyer, has researched Muslims of America for years and has provided its video to the FBI, State Department and Homeland Security.
To date, there has been no response from the government, the group said.
Mawyer told WND the political correctness America has adopted ultimately will be costly.
The hands of law enforcement and investigators are tied at this point, he said, because members of the organization are part of "a minority religion," "they are African-American" "and in this particular case, are women."
"Gilani has stated he is preparing his members to the Soldiers of Allah, and he's set up the most advanced guerrilla warfare training camps," he said. "He's being true to his word.
"If the evidence is right in front of our face and we have the words from the leader," Mawyer said. "I don't know how we continue to close our eyes and be blinded by such obvious affront to American values, the Constitution and our way of life."
The organization's "Homegrown Jihad" video includes a chilling scene of Jamaat ul-Fuqra's leader Sheikh Mubarak Gilani telling followers to "act like you're his friend. Then kill him."
According to the Religion of Peace website, there have been more than 250 jihad attacks by Muslims around the globe – including two inside the U.S. – in just the last two months.
The death toll from the attacks has surpassed 1,400, the report says.


Jamaat ul-Fuqra camps
(Also known as Muslims of America and Quranic Open University)

1. Deposit, NY
2. Hancock, NY (National Headquarters) ...(If you didn't know where to look, you'd probably never find Islamberg, a private Muslim community in the woods of the western Catskills, 150 miles northwest of New York City.) Location for Islamberg ...FOX News )
There is also this blog: RETURN TO ISLAMBERG The town has its own mosque, grocery store and schoolhouse. It also reportedly has a firing range where residents take regular target practice.

3. Springfield, MA
4. Philadelphia, PA
5. Hyattsville, MD
6. Fairfax, VA
7. Bethany, WV
8. Red House, VA
9. Meherrin, VA
10. Dover, TN
11. York, SC
12. Commerce, GA
13. Jessup, GA
14. Marion, AL
15. Houston, TX
16. Talihina, OK
17. Coldwater, MI
18. Buena Vista, CO (Raided and shut down by Colorado authorities in 1992)
19. Baladullah, CA (Leader convicted of scamming state out of $1.3 million in 2006. Compound now abandoned.)
20. Oak Hill, CA
21. Onalaska, WA
There are also several that are centered around Portland. Highly active area. Look up Patrice Lamumba Ford in conjunction with the DC sniper. They ran a limo service in and around Portland among other things. That was some years ago, but the activities surrounding them has not ceased.

.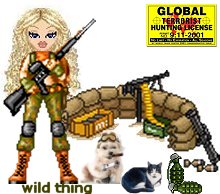 Wild Thing's comment..........

If the government permits this to go on as freedom of religion, we are casting our pearls before the swine.
Maybe it is time for Americans to train how to counteract such training so it can not be successful.
Could you imagine if a couple hundred armed American loving Patriots meet to train at some lodge a couple of times a month Then the MSM would be all over it.
And how many multiple BILLION$ are we throwing at the Dept. of Homeland Security to keep us unsafe? Meanwhile little grandmas get frisked at the nations airports.

Janet Napolitano chooses instead to go after Sheriff Joe in Arizona. If someone sent her the video, no doubt she'd investigate the sender and not what is being done in NY by the future throat slitters. There are Muslims working in Homeland Security who no doubt have a say in such things.
Poll after poll I've seen show people have little confidence in national security for our nation with this administration.
The Islamo-nazis are suing to purchase a 224 acre farm in the little town of Walkersville, MD to build a mosque and a meeting facility. So far the courts have upheld the town's decision to deny the purchase. I wonder what effect the muezzin racket will have on the surrounding dairy farms?
The terrorist traning camp..I mean religious meeting facility..just happens to be within a stone's throw of Fort Detrick (repository of all US Army weapons biological and nasty) and Camp David - Obama's weekend crib. I guess B. Hussein'll be able run down to Walkersville for prayer when the Mahmuds win their lawsuit.

....Thank you Mark for sending this to me.


Mark
3rd Mar.Div. 1st Battalion 9th Marine Regiment
1/9 Marines aka The Walking Dead
VN 66-67


Posted by Wild Thing at December 17, 2009 03:49 AM
---
Comments
This is really sad. They are using a school as a front for training terrorists. We used to go to church camp every summer and winter at Buena Vista, Colorado. Funny, I believe there is a prison in the town there as well. They are using our Freedom of Religion against us in every way possible and we are letting them do it. We don't stick up for ourselves out of fear of being sued into oblivion. What will it take for America to open her eyes and leave them open? I'm not being racist here, I'm merely stating that there are too many out there who have closed their minds and their eyes to the real problem, hoping it will all go away on its own and it won't.
I have a gun-they threaten me or my family, I will aim and shoot. I know how to do that and I'm just a girl.
Posted by: Lynn at December 17, 2009 08:20 AM
---
The US govt went ater David Koresh and his followers for a lot less than these muslims are doing and promising.

obama stated that America was a muslim country and these eggheads believe it. Eventually armed American citizens may have to clean this crap out
The Saudis are funding much of the islamic movement in America. Maybe we will have a president who acknowledges who our real enemy is.

Posted by: TomR at December 17, 2009 10:21 AM
---
This is nothing new and has been taking place for quite a while.
http://www.prisonplanet.com/another_fbi_agent_blows_the_whistle.htm
http://97.74.65.51/readArticle.aspx?ARTID=16493
In the mid-90's when I arrived at Whiteman AFB, home of the B-2 Stealth Bomber, I received my security briefing to allow unescorted access to the aircraft. We were briefed on possible terrorist concerns in the area. I was surprised to find out that the largest known cell of Hamas, outside of the Middle East, was located in Kansas City. You will also notice in the first article linked above that the FBI has identified possible terrorist training camps in Kansas City.
They're here, they've been here, they're growing, and they're getting bolder.
Posted by: BobF at December 17, 2009 10:30 AM
---
This video appears to be all or 90% "Aferican"-Americans playing black militia. Who are they preparing to attack ? Why isn't DHS investigating them too. I am sure they are not a fan of the Constitution nor any other part of American Heritage.
Can you imagine if we started a group like one of these, we would be in court in a New York minute.
Posted by: Mark at December 17, 2009 02:37 PM
---
BobF., thank you for the links and
information.
Mark, yes they do look exactly like that.

Posted by: Wild Thing at December 17, 2009 11:59 PM
---