« The WORST CIC Obama Tells Troops: "You guys make a pretty good photo op" | Main | With Obama As President ~ Americans Expect Islamic Terror Strike Within 6 Months »
November 20, 2009
TV Ratings Hannity 's Interview of Sarah Palin Zooms Ahead!
Hannity's one hour interview of Sarah Palin... Thursday night 4 million plus..also beats O'Reilly. GOOD!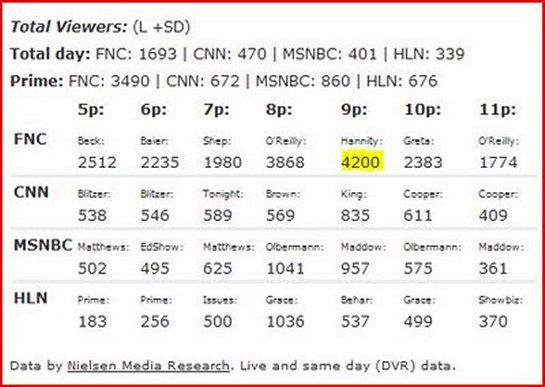 Source for these two graphics
Democrats viewing.............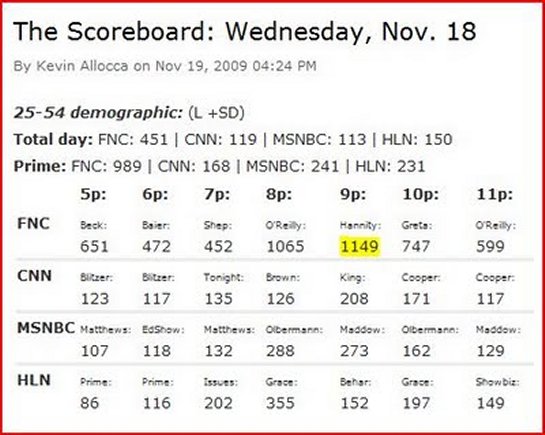 From Drudge: CABLE NEWS RACE NOV. 18, 2009
FOXNEWS HANNITY/PALIN 4,200,000
FOXNEWS O'REILLY 3,868,000
FOXNEWS BECK 2,512,000
FOXNEWS GRETA 2,383,000
FOXNEWS BAIER 2,235,000
FOXNEWS SHEP 1,980,000
MSNBC OLBERMANN 1,041,000
CNN HN GRACE 1,036,000
MSNBC MADDOW 957,000
CNN KING 835,000
MSNBC HARDBALL ....Chris Matthews 625,000
CNN COOPER 611,000
Sarah Palin's appearance on The Oprah Winfrey Show on Monday rocketed the show to its best numbers in two years, averaging an 8.7 rating/13 share, according to Nielsen.


Sarah's Book:
A HarperCollins insider told The Daily Beast that the book sold a staggering 300,000 copies on the first day alone, which was Tuesday. "Sales are phenomenal, and we are convinced that the book will continue to sell phenomenally for some time to come," says the insider.
DALLAS: Sarah Palin Booksigning Event SOLD OUT!!
SOLD OUT 2 weeks before the event....Dec. 4th.
eBay even has bids going for tickets.....Check it out.
1.5 million were ordered on Amazon.com alone before her book ever came out. That doesn't count preoreders on Barnes&Noble.com. then add in all that were orderd from other sources.
FOX News poll tonight. Sarah Palin's favorable rating is now at 47%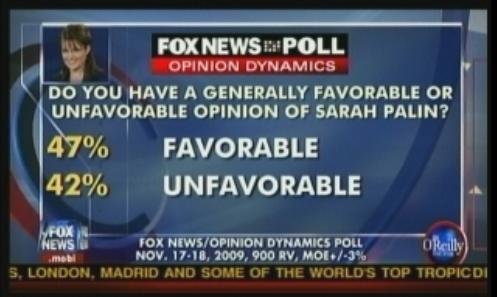 Barack Obama's job approval rating is now at 46%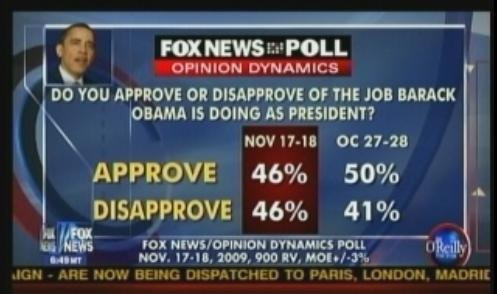 FOX News reported:
As Sarah Palin blankets the media on a whirlwind book promotion tour, the former vice-presidential contender is clearly back on America's radar screen. Despite being characterized by many as a divisive force in her party and the nation, Americans are much more likely to give Palin a positive rating (47 percent favorable) than another prominent female leader — Speaker of the House Nancy Pelosi (28 percent favorable). Moreover, about six in 10 Americans (61 percent) think Palin has been treated unfairly by the press, according to the latest Fox News poll
Posted by Wild Thing at November 20, 2009 04:55 AM
---
Comments
Fantastic, look at the disparity in viewing fans on the networks, also Opra announced she was leaving her talk show yesterday, I'd like to be a fly on that wall. How's that thrill up yer leg goin' Matthews?
Posted by: Jack at November 20, 2009 10:14 AM
---
Posted by: Lynette in Australia at November 20, 2009 11:00 AM
---
These are great ratings numbers. It will benice if they keep going in the same direction over th next year, and longer. obama's poll numbers are the most important to me. I want him very vulnerable in 2012.
I think Sarah will continue to grow in real popularity as she gets more exposure and gives her message to more people.
Posted by: TomR at November 20, 2009 12:19 PM
---
Like those numbers Wild Thing and unlike Al Gore's they are not fudged. Thanks for posting them. I suspect if Beck were on in O'Reilly's time slot his numbers would exceed Bill's.
Posted by: Ron Russell at November 20, 2009 06:24 PM
---
Lynette, thank you so much for the link.
I appreciate it. Very important, thank
you!!
Ron, Tom, Jack, me too.It really made me
smile big time to see these ratings.
Posted by: Wild Thing at November 21, 2009 12:36 AM
---
Wild Thing, please tell Sarah that she is one hot conservative hockey mom! Heard Obowmao may only run one term on FOX this morning? Hillary will go against Sarah in 2012? Hmmmm !
Posted by: darthcrUSAderworldtour07 at November 21, 2009 06:51 PM
---